Petite, soft-spoken, and funny: these are three words that perfectly describe Mayesa Delos Santos. It's no wonder that she's one of the favorite makeup artists of today's It-girls like Isabelle Daza and Georgina Wilson. In fact, when we shot with Martine Cajucom a few months ago, the Sunnies Studios creative director immediately asked if Mayesa could be on-board.
Before all the shoots, TVC's and other stints, however, Mayesa did start with almost no clue about the industry. Four years ago, she was working at a production house only to discover how many people work behind-the-scenes. "I was very clueless about makeup back then. I only knew of putting face powder and blush on my face," she admits. But that didn't stop her and her curiosity."I studied basic makeup artistry in Center for Aesthetic Studies and that's when I fell in love with the craft."
Soon enough, she found a mentor that would give her the first steps she needed to create a full-blown career in makeup, "After finishing my studies and through random meet-ups with different makeup artists, I met Paolo Maranan whom I apprenticed for almost two years. With him I got exposed to magazines, TVC's, and print advertisement shoots. He taught me everything I know."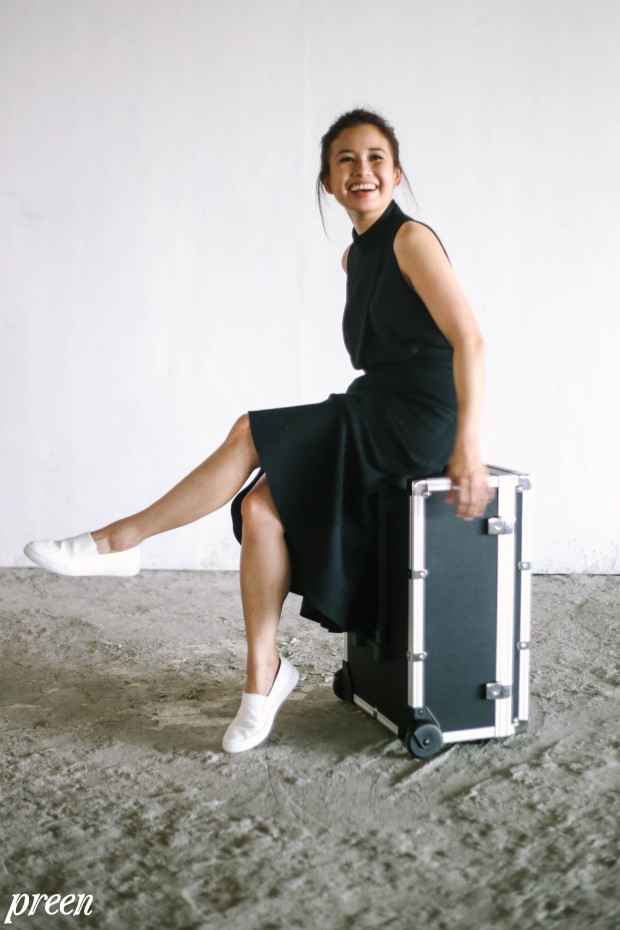 Describe your approach to beauty 
Less is more. I don't like piling on too much makeup. I adjust based on lighting but I always allow the skin to breathe.

What's the best beauty advice you've ever received from your mother? 
Don't crack your knuckles. It will make your hands loose.

When did you feel you're most beautiful? 
When I'm happy and comfortable with what I'm  wearing, and sometimes when I'm wearing false lashes.

Which product is your latest discovery? 
The new Charlotte Tilbury foundation.

If you had a signature beauty trick, what would it be?
My style of makeup is to always enhance your face. Bring out the beauty within you. And not to totally change it.

What's your guilty pleasure? 
Listening to Justin Bieber songs.

Name one beauty faux pas that women should stop immediately
Stop tweezing your eyebrows or removing most of the lower part of it.

What was your first makeup purchase ever? 
My very first makeup purchase was a Clinique blush in a rosy pink hue.

Who are your favorite celebrities to work with? 
My favorite celebrities that I work with are the Diaz cousins. I like doing Belle's makeup because she is a morena beauty and she's the first celebrity who believed in me. Belle and her cousins, Georgina and Martine are like my product consultants. They hoard makeup and are always updated with the latest products. So [as a perk of being their makeup artist], I get to try these products from their kits first before I buy them since most of the products [they recommend] aren't available here in the Philippines.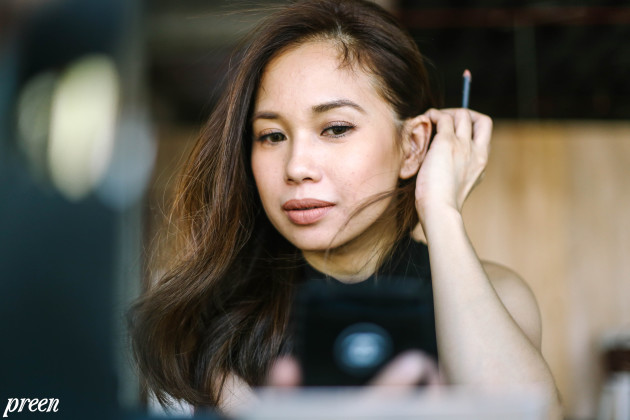 What is one signature technique you do for your clients? 
Massaging with moisturizer and giving it time to settle before applying makeup.

What is one way to really make makeup last longer? 
Always remember that your base is the most important. Start with a clean face. Use toner and then moisturizer. Blot skin using oil film to remove excessive oil. Apply primer and then start with your makeup.

How do you avoid makeup from caking up especially if you are going for a very full face? 
Wet first and then dry. Liquid or cream first before sealing it with powder. And always layer. Not depositing too much product at a time. Deposit and then blend it and over and over.Deposit and blend it until you achieve your desired intensity.

What's the best tip you have for makeup storage? 
Just store your products in a cool,dry place. Don't leave them in the car.

Who are your favorite makeup artists?
Wendy Rowe, Victor Henao, and Mario Dedivanovic

With just 10 minutes, what look is best done for the day time?
Stay as natural as you can be. Keep it fresh and just enhance your eyes and your eyebrows because it frames the total expression of your face and of course, more than anything else, we want our skin to look fresh with even tones. You can always play with lip colors and eyeliner later.

In the back of a car, what are the best products to have to elevate your look?
[Get a] brown or black eyeliner [as it] instantly changes your look from day to night, a highlight and sculpt kit, Benefit Bathina Body Balm, an eyelash curler and mascara [because] full and curled lashes opens up your eyes instantly.

What skincare products or remedies do you always have for clients?
Tea tree oil as an instant pimple remedy, Lucas' Pawpaw Ointment for dry lips, the Charlotte Tilbury magic cream―it instantly enhances your skin, and eye drops.

Tweezing or shaving? 
Tweezing

Which international celebrity do you dream of working with?
Kendall Jenner

Favorite shops: Zara, Topshop, Stradivarius, and Ever New.

Favorite vacation spot: Any white sand beach.

Favorite dish and restaurant: I don't really have a specific one as I like to explore different cuisines.

Favorite person(s) on Instagram: Mira Duma, Oraclefoxblog, Kendall Jenner, and Gigi Hadid.

Favorite person, period: My mother


Photos by Paolo Tabuena