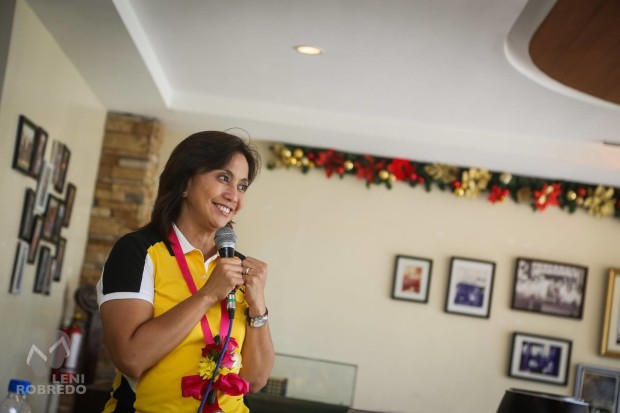 As of writing, 70 percent of the votes cast have been counted and it's clear that Davao Mayor Rodrigo Duterte will win the Presidency by a landslide. But the nation has stayed up all night as the Vice-Presidential race proves to be a nail-biter with less than .2 percent of the ballots separating Leni Robredo and Bongbong Marcos.
Voters and supporters have then taken to Twitter and various social media outlets to show their support, gathering under the hashtag #LabanLeni. This morning, the Liberal Party bet took over the lead from Bongbong who was gathering traction early on with his "Solid North" backing.
Some tweets are hopeful and serious.
Woke up to a very beautiful, and hopeful morning. #LabanLeni

— Gabriel Valenciano (@gabvalenciano) May 9, 2016
Last night I was dreaming that Leni's leading! It's foreal na pala! #LabanLeni

— JANINA MANIPOL (@janinamanipol) May 10, 2016
Let's go, @lenirobredo! #LabanLeni The last man standing will be a woman

— risa hontiveros (@risahontiveros) May 9, 2016
https://www.twitter.com/claraquiambao/status/729809018667991040
https://www.twitter.com/gabbietatad/status/729760277885915136
While others have sought to break the tension:
Hoping and praying! #LabanLeni pic.twitter.com/nQDgppdWkM

— Saab (@saabmagalona) May 10, 2016
https://www.twitter.com/dontkillglenn/status/729802195428737024
This had me in tears! 😭😭😭#LabanLeni Starter Pack pic.twitter.com/eeWX1w1z2v

— 𝐌𝐢𝐬𝐬 𝐊𝐫𝐢𝐳𝐳𝐲 (@krizzy_kalerqui) May 9, 2016
#LabanLeni folks right now. pic.twitter.com/UPFSSAazn5

— Editors of Manila 天安门广场 🇨🇳 (@edsMNL) May 9, 2016
https://www.twitter.com/nicherautomatic/status/729762341353492480
COMELEC is decided on completing the count within the day and soon enough we shall see if we will have our second female vice-president after Gloria Macapagal-Arroyo or if Duterte will have Marcos with him in Malacañang.
Photo courtesy of Leni Robredo's Facebook page