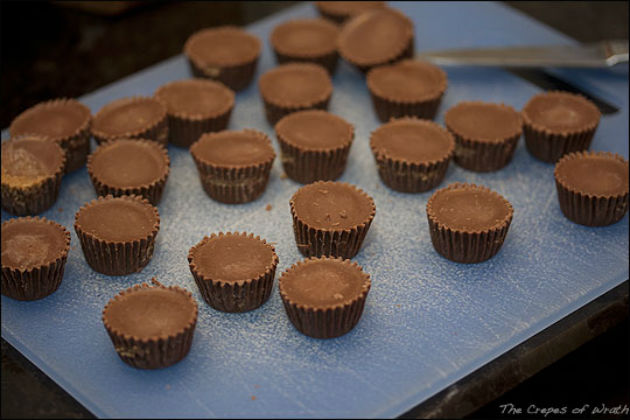 If you could have two good things at the same time, then why not do it? Old-school favorite Reese's Peanut Butter Cups might soon come out with a version stuffed with Reese's Pieces. As Eater says, "So meta."
The news comes from a leaked photo on Facebook. On the other hand, a Hershey spokesperson neither confirms nor denies the product with the following statement:
"Guess you've heard about the #Cupfusion," the spokesperson said in an email to Eater. "A leaked photo on Facebook of a potential new Reese's Cup filled with Reese's Pieces has led to a social explosion filled with conversation and speculation online. The Reese's Facebook and Twitter feeds have been flooded with thousands of comments from the brand's most loyal fans, begging for the rumors to be true.
"Would Reese's make consumer dreams come true and bring together two beloved favorites — Cups and Pieces — into one mind-blowing delicious cup of goodness? You'll just have to keep watching as it unfolds!"
Looks like Reese's is out to build the hype first, whatever they are up to next.
What do you think? Should Reese's Pieces-stuffed Reese's Peanut Butter Cups be a thing? Can you say that twice as fast?
[
Eater
]
Photo courtesy of The Crepes of Wrath