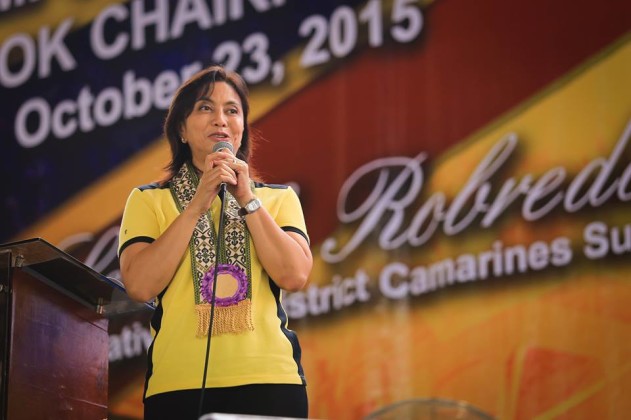 The fight isn't over for Leni Robredo. Yesterday, we woke up to her barely taking the lead from Bongbong Marcos for the VP race. Today, we're just waiting for the official declaration as the votes have all been counted, and Leni leads by just a little over 200,000 votes.
Amid accusations of cheating from Bongbong Marcos, and confusing and controversial tweets from his son Sandro, Leni supporters remain strong. This morning's trending Twitter hashtag is #LeniIsTheRealVP with close to 20k  tweets as of press time.
As usual, some are funny, noting how Leni can do a serious hair flip:
Ignorance is contagious. Just do the hair flip! #LeniTheRealVP pic.twitter.com/LhG1i2mebP

— ella (@SPACESHlFT) May 11, 2016
YASSS!Flip your hair cause you're the real Vice President #LeniTheRealVP pic.twitter.com/o1TEiSqZoz — VicePres Leni (@Madjesty1) May 10, 2016
There's also this one that's artsy:
Proud to be a Bicolano!!! #LeniTheRealVP pic.twitter.com/Qoq0qz6Ray

— junebulatao (@junebulatao) May 10, 2016
Of course, there are also many confronting Bongbong's background and alleged motive:
Dear BBM Supporters, #LeniTheRealVP pic.twitter.com/UvfQBPcDPq — Eufemio Agbayani III (@eufems) May 11, 2016
Leni invested her time helping the poor. BBM invested his time blocking payments to martial law victims. #LabanLeni #lenitherealvp

— Alu Aluzan Aran (@CreativeAlu) May 10, 2016
With the votes all in, the official proclamation from the COMELEC is just all that we're waiting for today.
Photo courtesy of Leni Robredo's Facebook page