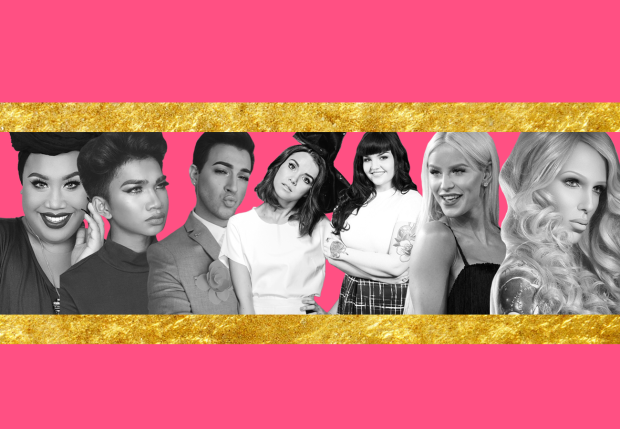 Your favorite makeup artist is most likely part of the LGBTQ community. But don't fall for the stereotype so easily. For these people, it's more than just makeup. It's all about self-expression and individuality.
It's not just about aspiring to be something you're not, but actually owning who you are, even when it comes with glitter eyeshadow and a matte lip. What's even braver is when you broadcast that to millions of subscribers. Just like these five beauty vloggers who have put themselves fearlessly out there and have elevated their tutorials to collabs and brand names.
So really, what can we learn from these individuals? The courage of doing what you love beyond the confines of stereotype and the limits of the norm.
Ingrid Nilsen
Ingrid came out just a year ago which shocked the online community a little bit. But because of that, she's seamlessly combined her love for fashion and beauty with more political and thought-provoking messages. After watching her videos you'll be encouraged to live your best life and your truest self and looking good while doing it too.
Manny MUA
"If you don't like this video, if you don't like me, please don't f*cking watch it." That's what Manny always says in every video. His unapologetic approach to teaching you how to do a  full-beat glam face has earned him collabs with Ofra Cosmetics, Makeup Geek, and Benefit. Talk about making it big!
Patrick Starrr
With millions of followers and collabs with Benefit and FormulaX, Patrick Starr has gone far from the days in which he was asked to take off his makeup because it was "too much." With a flamboyant personality and a bubbly character, he will surely win you over.
Kiera Rose
Unafraid to speak up about her passions, Kiera delves into the topic of the stereotypes of being bisexual, veganism, and body positivity. Although her following is still growing, we're sure it'll rise in no time with her down-to-earth personality and makeup know-how.
Gigi Gorgeous
Gigi Gorgeous has never been one to shy away from the camera, and in fact, goes so far as to invite you in. She openly shared her transition story on YouTube, from coming to terms with it to the many surgeries she's had. Oh, and being friends with Kylie Jenner? It's all part of the game, honey!
Jeffree Star
Definitely not for the faint of heart, prepare for plenty of NSFW jabs, delicate glitter tears, and colorful eye looks like no other. Former musician Jeffree is now giving Kylie Jenner a run for her money with his own makeup line, Jeffree Star Cosmetics which have produced a full line of liquid lipsticks to rave reviews. He's even recently released an eyeshadow palette and a line of highlighters for those who are all about that see-you-from-the moon glow.
Bretman Rock
https://www.youtube.com/watch?v=p0lm_SLAmmc
How can we not include our very own Bretman? The Hawaii-based Filipino vlogger is all about injecting sassy humor and clips while killing you with his fleeked eyebrows. Whether he's living it up with Manny MUA and Patrick Star or flying to New York to support fellow YouTube sensation Jaclyn Hill, you know no one can do it like Bret.
Art by Dorothy Guya

Follow Preen on Facebook, Instagram, and Twitter