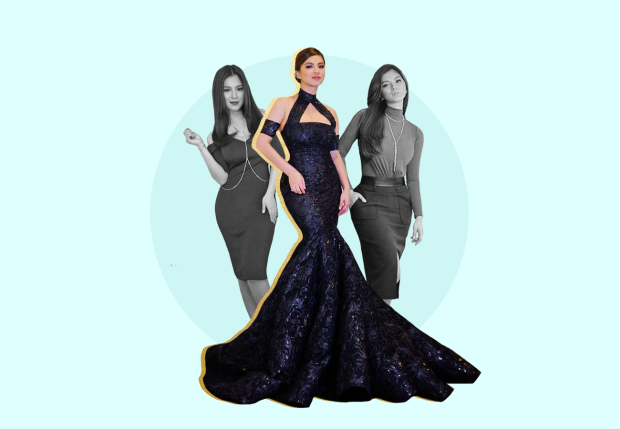 Thirty-one year old Angel Locsin is the type of person who is quick to rise up from a setback, an achievement every one of us aims for. Just as she was walking down the stage for Manila X Style and Fashion Festival last Saturday, she admits that she almost tripped. I chided her that no one notice and she smiled, "When I raised my arms earlier, that was it." What I thought was a dramatic way to show off her dress was apparently was a way to boost herself up before she'd fall. "What's life without some chaos?" she then followed up.
It's been tough past few months for Angel as she had undergone neck surgery and a recent breakup, barely out of recovering from her back injury. Still, you can't see it in the way she banters with the reports and how she was up to answer a few fun questions for us.
Which love team is your OTP?
I am a fan of JaDine. I am a fan of their team up. If ever mag-break sila, manghihinayang ako. (If they break up, it would be a bit of a loss.)
How old were you when you got your first heartbreak?
My first heartbreak was not [over] a romantic relationship. It was when my dog died. I was 8 and then the dog was 15, a Japanese Shitzu. Medyo matagal bago ako nagkaroon ng dog ulit. (It took a while for me to have a dog again.)
Which song is best for a new relationship?
Wala pa ako dun. (Laughs) I always listen to "One Call Away" by Charlie Puth nowadays.
Which artist is best to listen to after a breakup?
I am a '90s kid. And a lot of '90s songs are about angst so [I would go for that era in music] and songs from like Alanis Morisette.
Best movie for a first date?
X-Men. I love X-Men. It's also safe so you don't feel awkward when you see a couple kissing. I like light and non-romantic [films].
Best love advice you received?
I was told once na "Iiyak mo yan ngayon pero bukas pag nakita kitang umiiyak, babatukan kita (Cry it out today but if I see you still crying about it tomorrow, I will slap you.") Inis na inis ako when I was told that but now I know it's right. Ayaw ng mga tao ng nega-star. (Laughs)
Craziest thing you've done to get someone's attention?
Ma-pride akong tao, kaya malaking bagay sa akin yung aalis ka na, pero nag pahabol pa rin ako (I am full of pride sometimes so it was a big deal for me when I let someone chase me). If I don't want to talk to you, I don't want to talk to you.
Resolutions for 2016 you've achieved so far?
I am a bit sad because last year, I wanted to do 30 things before 30. I wasn't able to do it because of my back and that's why I can't do it until now. Next year I will go hiking, mountain climbing, or even sky diving. Kailan pa ba? When we're old? No, it should be now while I have the strength for it.
Art by Dorothy Guya
Follow Preen on Facebook, Instagram, and Twitter