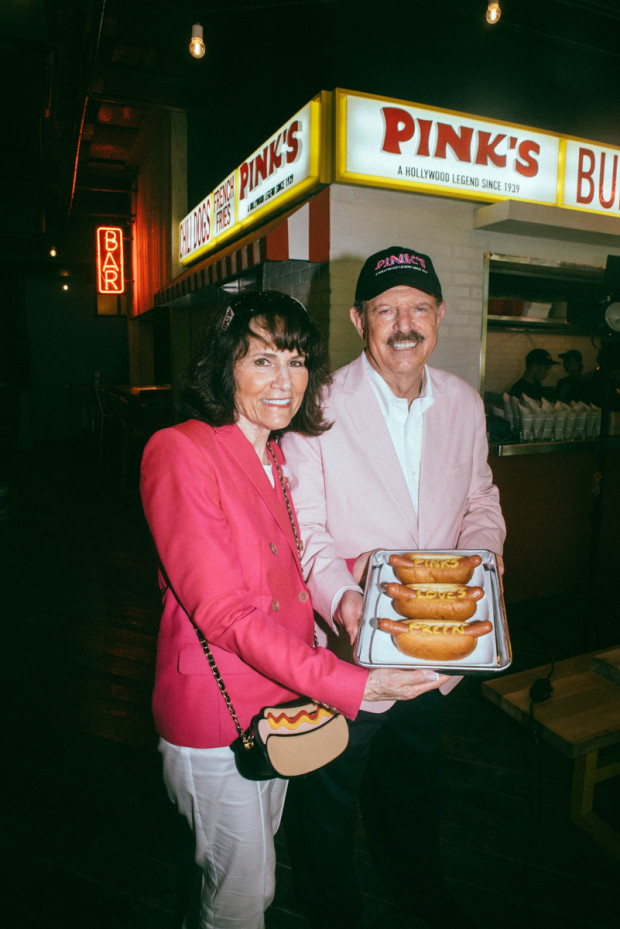 When was the last time you had a good hotdog? Meaty and flavorful with the certain bite to it that's not found in any supermarket varieties out there. Can you think of how good the peppery beef tastes together with the tangy mustard and zesty onion on a soft, moist bun?
Soon enough though, you don't have to just think about it. Pink's, the Hollywood-famous hotdog joint owned by Richard and Gloria Pink, opens its first branch in Manila this week. It's touted as Hollywood-famous because the original branch, which still stands until today, was frequented by actors like Orson Welles and Marlon Brando given its strategic location among the production studios in California. Nowadays, it's still a favorite among celebrities like Neil Patrick Harris and even Kim Kardashian.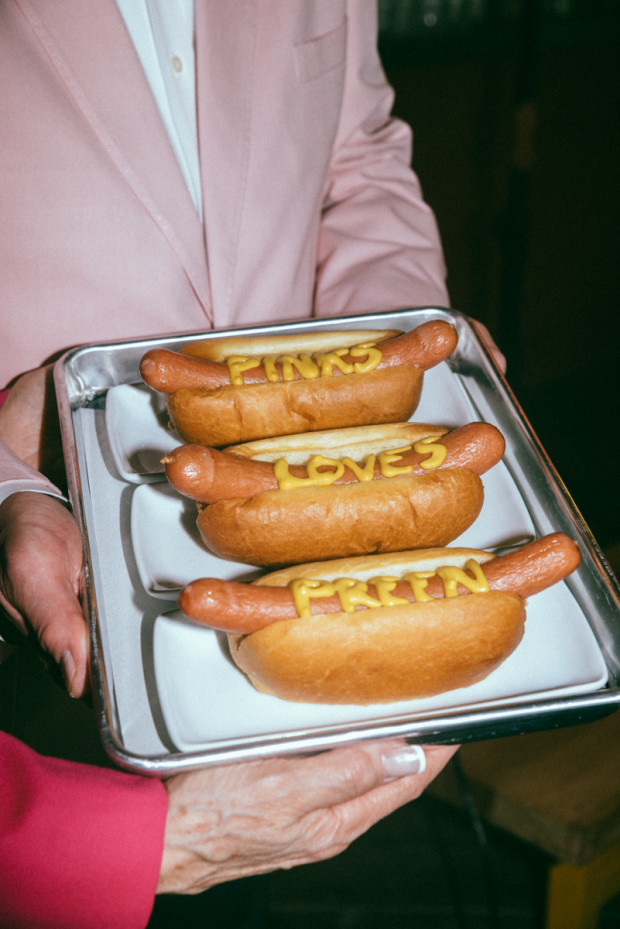 "The craziest that happened at Pink's was when Brad Pitt was standing in line and suddenly a van comes up and someone kidnaps him. It turns out it was a prank for the TV show "Jackass" but at that time no one knew so the customers were running after the van,"  says Gloria on how the hotdogs gained popularity by being associated with the stars. "Bruce Willis proposed to Demi Moore at Pink's," adds Richard.
Pink's carries with it a long-standing tradition. Built by Richard's parents in 1939, their hotdogs are made with pure beef and are enclosed in a natural casing. "This gives it the signature snap and helps the meat really burst out," explains Richard.
Richard also tells us that the quality of their hotdogs they will serve here is also due to a good partnership. "We partnered with probably one of the best chefs in America that can reproduce the hotdog right here. We didn't want it to be shipped frozen from California." Richard is talking about chef Walter Manske, whose wife is a Filipina and sister to the owner of cake and bread haven Wildflour. Gloria raves about his work, "It's so delicious, it's addictive."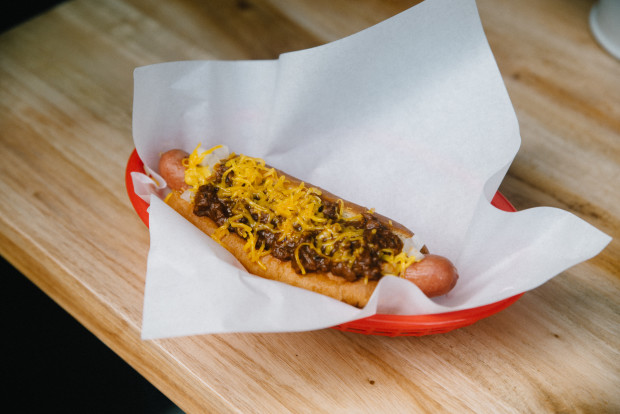 A bite into Pink's hotdog will make you understand that Gloria may not be exaggerating. I tried their World Famous Cheese Chili Dog myself and it's a meat lovers' treat with the chili overflowing from the bun and the cheese melting on top. It makes for a good snack or even a quick but filling lunch.
In their Shangri-la branch, a selection of the 35 variations from the core menu of Pink's will be served along with one new variation a day. "We will do that until we find out which one catches on with the crowd here in Manila," says Richard. From choices like a Buffalo Wing Dog (crispy chicken skin, blue cheese, carrots, and celery) to The Hollywood Legend (ketchup, tomato, relish, and grilled onions), you may soon find your very own favorite. However, don't expect anything that will cater to vegan tastes. "We once came out with a diet or vegetarian hotdog and it didn't do so well. We didn't know what we were thinking," says Gloria.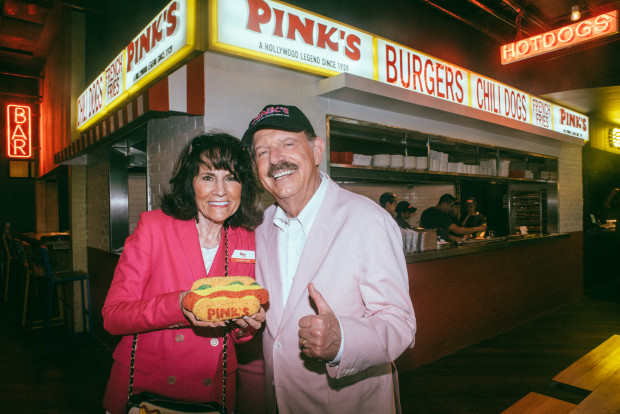 Additionally, Pink's will serve hamburgers, French fries, and onion rings to complete your dining experience. "This branch will also be special as we have teamed up with Farmacy to serve ice cream and milkshakes," says Richard. Yes, that's right. When you need to cleanse your palate of the meaty goodness, Farmacy Ice Cream and Soda Fountain is ready to serve up scoops of vanilla or mint chocolate chip ice cream inside the restaurant.
As this first international branch opens up to much anticipation, we asked Richard what are his other plans for expansion and he gives us quite exciting news. "We are looking forward to opening up more branches in the Philippines as we really feel this country is a hotdog-loving place."
Pink's Hotdogs. Shangri-la at The Fort, 30th Street, corner 5th Avenue, Bonifacio Global City, Taguig. Opens this Thursday, June 9, 2016.
Photos and video by Patrick Segovia
Follow Preen on Facebook, Instagram, and Twitter