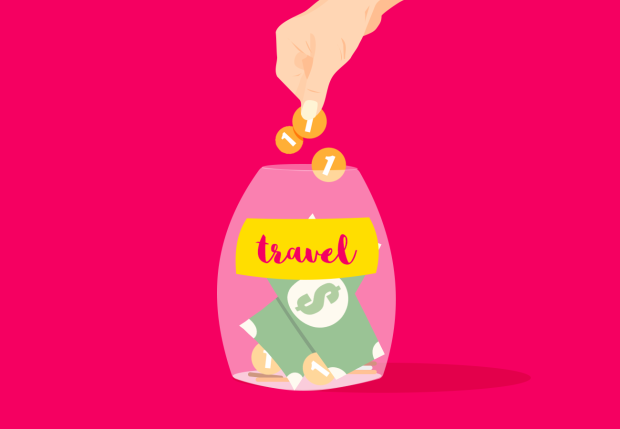 Traveling is always a good idea. Except it can leave you broke. But that shouldn't discourage you to take that leave and finally understand what London summers are all about. It's just a matter of being smart about your budget and expenses when traveling.
For this, we talked to Tricia Ingco-Apostol,  senior product manager at UnionBank during our UnionBank GetGo x Cebu Pacific Staycation who answered our financial queries to help us save up even when booking our next flight.
What is one common budget mistake people make when spending abroad?
It might seem obvious, but one should always set budget in mind per trip. This includes being aware of the foreign exchange fees which fluctuate often. Given this, Tricia tells us it's better not to carry around cash. "Sometimes it is best to just use a card when purchasing because money changers may have a higher conversion rate than the card's conversion rate. Also, bringing a lot of cash poses a security issue for the traveler since your wallet becomes so bulky."
What are the best financial steps I must take to save up for my next trip quickly?
There are three steps one should do to get your desired trip. "Budget, budget, budget," is the first one Tricia says. "Set your target budget for spending abroad—food, drinks, accommodations, shopping, sight-seeing expenses." The second step is to actually start saving money to meet that buget. Tricia tells us, "Once you've set that budget, you need to [put] aside money from your monthly salary income so it'll meet your desired budget ." The third step is to do your reserach on how you can save up immediately as you spend for your trip. Products like the UnionBank GetGo cards give your points with every regular purchase and also on ticket purchases under Cebu Pacific. "Plus, to save on flight tickets, time your booking on seat sales or GetGo Points sales to lower your costs," advises Tricia.
When it comes to using my local debit and credit cards abroad, what fees should I be conscious about?
"When using your debit card abroad, you can withdraw from any Visa ATM but it will be subject to fees and charges assessed by your bank," explains Tricia. She then tells us that its better to use your card directly rather than using the cash advance option. "You can swipe your debit or credit card at any Visa POS (point of service) with a smaller charge of two to three percent every transaction. These fees are worth it as using a card offers convenience and security."
Is it best to keep a foreign currency account?
"Yes, foreign currency accounts let you purchase and 'lock in' the desired currency at a given point. It will no longer be subject to foreign conversion fluctuations," says Tricia.
Is it really good to have both a debit card and a credit card when traveling?
"I think it is dependent on the type of traveler," says Tricia. "If you're budget-conscious and you really want to [limit yourself to a] certain budget, then the debit card is [better]. If you're the type who wants the freedom to spend and shop as you wish, then you can bring both. The debit card comes out cheaper compared to the credit card ATM cash advance feature when withdrawing money."
What other tips should I know about my debit and credit cards prior to traveling?
To maximize your bank cards before heading out abroad, Tricia gives us a check list of what to do:
– Let your bank know ahead of time that you are traveling. Specify your date of travel so that they know that your card activity is expected.
– If you have a credit card, you may ask for a temporary increase in credit limit or even a permanent one. Just provide the necessary documents so that they can also act on how much they can give you.
– Know your emergency numbers. This is especially handy if you lost your card abroad. Should you forget the number, you can visit the bank's website and check the international toll-free numbers.
-Know the travel insurance coverage that may come with your platinum card.  Some credit cards offer it and some don't. If you booked your ticket using your Cebu Pacific GetGo Platinum card, you are automatically insured for travel so you don't need to pay extra for travel insurance anymore.
– In some countries, merchants have the ability to allow you to choose what currency you want to use to charge to the card. It is always best to choose the currency of the country you are in to get the best foreign exchange rates.
Art by Dorothy Guya
Follow Preen on Facebook, Instagram, and Twitter