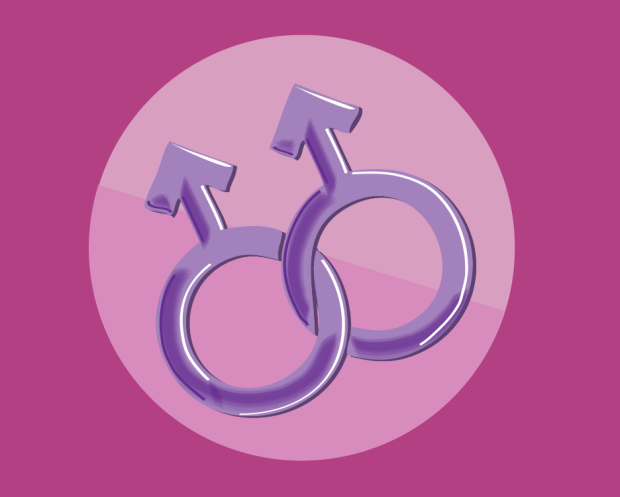 This column may contain strong language, sexual content, adult humor, and other themes that may not be suitable for minors. Parental guidance is strongly advised.
Sometimes I wonder how I would react if one—or both—of my children were to come out as gay.
In some ways, it would be the ultimate barometer of my authenticity: Was I sincere in raising my children to embrace the progressive values of intellectual curiosity, individual and collective agency, discernment before judgment, essential decency and universal respect for people of all kinds, regardless of race, creed, color, and sexual orientation, or was I just another bullshitting bourgeois liberal hypocrite?
A few years back, after years of whispered suspicions from family members, along the lines of "pero es gay, seguro que es maricon, el pobre," my aunt said that her son—one of my favorite cousins—was gay.  For me it was a non-event; it didn't compel me to reconsider the affection I had for him.  Nor did it make me see him in a different light.  In short, nothing changed, and there was nothing to change as he had never been anything else but who he was, as far as I was concerned.  So there might be a boyfriend in the picture the next time I saw him, but it made zero material difference to me.  I'd known for a long time that he was gay, but he didn't owe me, or anyone else an explanation, much less an admission of any sort.
But the oldies, with their telenovela sense of drama, saw it differently.  They interpreted my aunt's rather blasé announcement as a shameful revelation.  My mother—bless her repressed convent-bred soul—offered her sympathies, telling his parents they mustn't blame themselves, that it wasn't their fault that he was gay. In other words, she commiserated when she should have been celebrating his—belated—as far as she was concerned—coming out.
How very 20th century to see a person's homosexuality as a situation that could have been corrected.  As flabbergasted as I was by her reaction, I understood where it was coming from—the society that shaped that mindset, the faint whiff of shame and regret that gay people were not "normal" and would never have "full lives," i.e., marriage, domesticity and children, and perhaps the underlying fear that they would always face discrimination, injustice, and violence in one form or another.
But, as the horrific massacre of LGBTQ people while they were dancing the night away at a place they considered a safe space revealed, that fear is not completely misplaced.  Homophobia and its evil twins, intolerance and bigotry, are alive and well, and dangerously armed.  Just when you thought being gay or bi or queer or trans had become fairly mainstream and acceptable, here comes a man so reportedly horrified by the sight of two men kissing that he sprayed a gay disco called Pulse in Orlando, Florida with bullets from an assault weapon, killing 49 people, and wounding scores more.  It's the largest mass shooting in US history to date, and the most devastatingly violent and deadly attack on the LGBTQ community.
Omar Mateen's murderous spree becomes all the more horrifying, not to mention tragic, when you consider that this otherwise outwardly homophobic, wife-beating wannabe alpha male security guard with anger management issues was a closet homosexual who had been seen at Pulse more than once, who had used gay hook-up apps like Grindr and Jack'd more than once, who was no doubt enraged at himself and his uncontrollable homosexual desires that he decided to shoot as many gay people as he could.  It's incredibly sad that in the end, Pulse's dancing, singing, partying, life-affirming victims were shot by one of their own, though he couldn't seem to admit it.  And it's ironic that the very community that could have helped—and would have helped without judgment—Omar Mateen, should he have chosen to come out and embrace his sexuality, maybe even enjoy life in the process, is the one he chose to obliterate with gunfire.
Equally ironically, a few days before the shooting at Pulse took place, I had just finished reading Hanya Yanagihara's sprawling, elegiac novel, A Little Life.  One of the things that struck me about this beautifully written but crushingly sad saga of four men who meet at college and become lifelong friends was that it seemed to be set in a contemporary yet post-sexual world where sexual preference could be indeterminate or fluid, and the people who loved you, loved you no matter what.
When one of the two main characters, a successful movie star, finds himself more and more attracted to his best friend, he seems to grapple not so much with his sexuality, although he had been pretty much heterosexual up to that point, but with the implications of a romantic relationship with someone he shared a very deep friendship with.  There are, initially, the usual concerns about the impact his new relationship would have on his career as a leading man, but on the whole, he is spared any real social or economic fallout.  Their friends are all delighted; indeed, the world they all inhabit seems blissfully progressive, largely free of discrimination or intolerance.
Yet interestingly, Willem does not consider himself gay, and refuses to appear as a poster boy for the gay community.  He sees himself as a man who happens to love someone who happens to also be a man—end of story.  In fact, when Willem inevitably strays, he hooks up exclusively with women, which no doubt leads to some confusion.  But Willem consistently insists that gender is just another marker, and is ultimately insignificant.
It's not that insignificant, however, for Jude, his boyfriend, a beautiful, but damaged soul who cannot seem to escape the ghosts of his past.  And in shades of Omar Mateen, it's a gruesome past filled with horrors inflicted by men who could not come to terms with their own homosexual impulses.
If it does turn out that my children are gay, I hope there are no more Omar Mateens in this world.
B. Wiser is the author of Making Love in Spanish, a novel published earlier this year by Anvil Publishing and available in National Book Store and Powerbooks, as well as online. When not assuming her Sasha Fierce alter-ego, she takes on the role of serious journalist and media consultant. 
For comments and questions, e-mail [email protected]
Disclaimer: The views expressed here are solely those of the author in her private capacity and do not in any way represent the views of Preen.ph, or any other entity of the Inquirer Group of Companies.
Art by Nico Ortigoza
Follow Preen on Facebook, Instagram, and Twitter