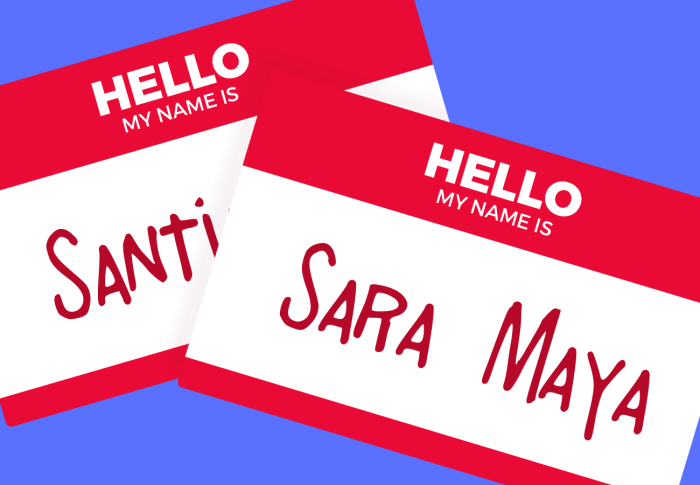 Every week, Preen tackles motherhood sans the rose-tinted glasses. Our columnists L. Juliano, Marla Darwin, Monica Eleazar-Manzano, and Rossana Unson tell their personal experiences like it is—at times frustrating, oftentimes confusing, but always enlightening.
What's in a name, anyway? Why are baby name websites so popular? Whenever I would find out that I was pregnant, I research hours upon hours online and in books for a suitable name for my children. Some mothers even wait to meet their newborns before naming their child because they feel that they want the name to be based on the personality of the child. For me, I acknowledge that the soul is slowly downloading into physical form through my own body in utero and I want to help manifest qualities in my children which the chosen name helps fuse into them. Indeed, it is a weighty matter because this name is theirs to carry and represent them as a brand for life.
I was always drawn to Yoga, the Mayan culture and the mythical tales from the ancient Indians, Greeks, and Romans so it is no surprise that I chose the names of my children based on what I naturally resonated with.
"Choosing a name is a big deal. A person's name is not a mere label; it expresses the essence of its bearer. The letters that make up your name, its sound and its meaning are descriptions of your soul. Only a prophet has the vision and foresight to know which name fits the soul of your child. You are that prophet."—chabad.org
I have two children and I am amazed at the results of how their chosen names have helped defined them…so far.
Santiago Andres
For my son's name, the nickname called on to me first. I wanted a son named Santi because in Sanskrit, Santi or "Shanti means peace. Did he turn out to be a peaceful boy? I would say so! Compared to other kids, my son is definitely the mild and gentle one. Ask all my friends and they would agree. I looked for an appropriate name to encompass the nickname Santi, so I chose Santiago―a Spanish which alludes to our families' ancestral lineage. Interestingly, Santiago is also a name derived from the Hebrew name Jacob or Ya'akov. I was surprised to learn this because not so long ago, I started studying Kabbalah which reads a lot of biblical stories from the Zohar.
My son's second name Andres is also of Spanish origin but is also very Filipino. We live in a street perpendicular to Pinaglabanan and historically, this is where Andres Bonifacio and his troops of 500 Katipuneros grouped and sought independence from Spain. There is even a monumental shrine which commemorates this historic revolt by the Filipinos. How did that affect my son's life or was I accessing some sort of purely cosmic information while pregnant with him? For one, he is drawn to history, especially at the time of "soldiers at war." He is also very spooked out with vintage statues which I reckon was all over during the Spanish Colonial period. I sense that he must have had a past life during this time, hence, all the synchronicities.
Sarah Maya
I was already studying Kabbalah at the time of conception, so I chose to name my daughter after the biblical Sarah and also my mentor, Sarah Weston. It has proven to be very powerful because I received so much blessings during the time of my pregnancy and birth. This is another thing to remember, you should be very careful of who you name your children after. Are they people that have left great legacies of light? Or people who have brought darkness to the world?
The name Maya in Sanskrit means illusion or magic. Also known as the grandmother of magic, because her son by Zeus—the god Hermes first discovered this mystical art.  I chose this beautiful name for my daughter while in utero and I certainly manifested a home water birth that was nothing short of magical. Because of her name, I am reminded daily that everything in life is an illusion. Kabbalistically, we only perceive one percent out of the 100 percent realms of reality. The other 99 percent goes undetected, beyond our senses could perceive. Her name, Maya also known as Maia, who was also the Greco-Roman goddess of the earth. Having a daughter has been so refreshing and I have been able to re-ignite my relationship with Gaia, the Mother, and my Feminine. In the two years of her existence, she has taught me to become more in tune with myself, my cycles, and how the moon and the planets affect all of us.
With my examples of how I chose the name of my children, I hope that you reflect upon names that call on you and choose well before naming your own children. Remember that these will define them for the rest of their lives!
Disclaimer: The views expressed here are solely those of the author in her private capacity and do not in any way represent the views of Preen.ph, or any other entity of the Inquirer Group of Companies.
Art by Dorothy Guya
Follow Preen on Facebook, Instagram, Twitter, Snapchat, and Viber