Is a person's workspace truly reflective of their state of mind? Does an artist's creative process necessitate a chaotic environment in the same way that an executive should maintain a pristine corner office? We don't have the answers, but we can step into the offices, baby, of people who do. Welcome to Preen's Desk Diaries series.
On a holiday, the usually lively Bonifacio Global City is dead silent. Inside Mecha Uma, though, chef Bruce Ricketts is guiding his staff as if it's just any other work day. The crowd is expected at 6 p.m. and will keep them up until the wee hours of the morning.
His desk is a rubber chopping board. On the agenda right now is a whole eel, fresh from Bacolod, that he will fillet before slow-grilling for the next three hours. "Rubber is better because it resists the force of the knives. Wooden boards suffer more indentions that are just places where bacteria can grow."
Aside from the eel and the specialty knives from Japan, there's probably nothing really special about Bruce's workplace. His grill was borrowed from a friend that he hasn't returned (but now put to good use), standard steel pots, pans, ladels on regular kitchen stoves sit waiting for their next task. Nothing special except for Bruce who is always cooking up new ideas. While shooting, he offered us a sample of his soft tacos. "I plan to open up another restaurant in BF. Just a chill joint to drink beer and get some good grub," he says. The tacos will have beef intestines with a special spicy sauce. "I just thought of using the intestines because we had some." Simple reasons, brilliant executions.
Bruce goes on talking to us about his work days, filled with serving up uni and sushi and telling us how he kills an eel without making it think it's dead. It's in these instances that you just know that Bruce's constantly ticking mind is making the kitchen churn out one specialty dish after another through perfect time.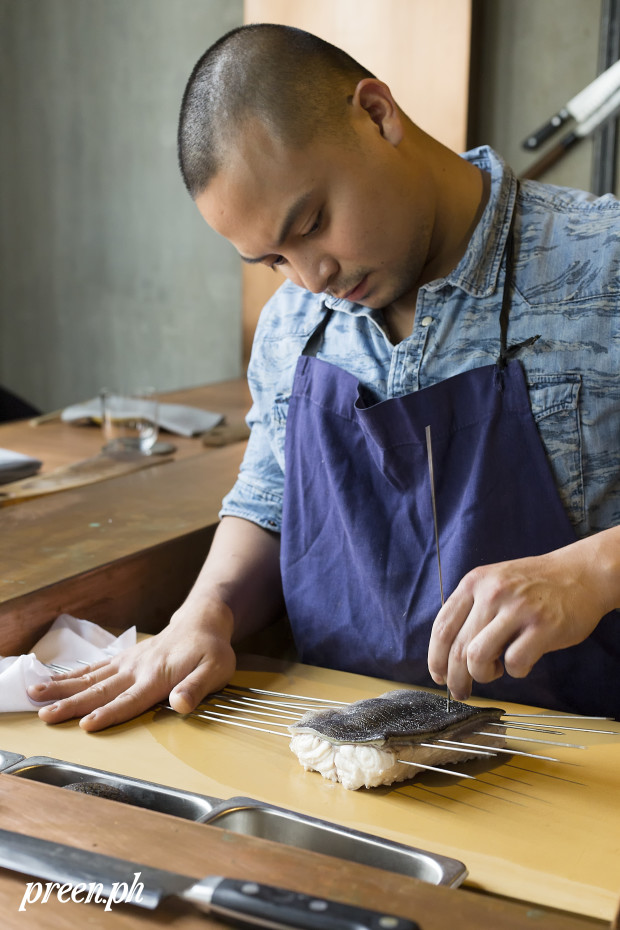 What's a regular work day for you like?
At 2′ o clock in the morning, I would contact [my work partners] in Japan and we'd talk about the ingredients that will be coming in. I then tell them how much I am willing to bid for, how high I am willing to go so it fits my budget for the week. After that, I tell them what I want but also [agree to what they think is best]. I would then get texts or Viber messeges at around 6 a.m. confirming my order. My day really starts then as I get updates from all my restaurants, how they are, what they need, who didn't come to work. I would then come here [to Mecha Uma], prepare stuff on my own, and then come home. I'll come back when everyone else is due to report to work. Throughout all of that, I am planning the menu.
What rituals do you have upon waking up and before going to bed?
I work out. I go to the boxing gym before starting work. At night, before I go to sleep, I go for a quick jog.
What music do you listen to while at work?
During the day, we play a lot of Spanish hip-hop and mariachi music that the staff like. Whatever they like, even old-school Andrew E. stuff. I have to build an environment where everyone can sing along and work. If I can't get along with their music, I can't get along with them.
During nighttime, the music changes completely. At the moment, we play some James Brown and some soul jazz, and then some hip-hop and then Spotify will take over my playlist.
What do you do when you feel a bit fatigued over your job?
I re-imagine myself. I imagine that I cook for my girlfriend or I focus a bit more.
Which celebrity do you want to cook for?
I am not really sure. I am not familiar with celebrities. It's a hard question because I treat all my customers [equally]. Every person is VIP. That's why I also find it hard to think of a celebrity. For me, I'd rather cook for someone who is into what we do. Five customers who feel and appreciate what we do is better than 50 who doesn't care. It's good for business [the latter] but it's a pain to do. It's like time stops. When you're cooking this way, you become addicted to the validation. Once the validation is given, you feel a little nervous or anxious that you won't be able to do it again.
Who would you rather be the one to judge your cooking: Anthony Bourdain or Gordon Ramsay?
If you want me to get really scared, I would have my girlfriend judge me. (Laughs) Between Anthony and Gordon though, I would choose Anthony. I am sure both their palates are amazing but we have more exposure to Anthony's ideas so I want him to try my ideas and see what he thinks. It would make for a good conversation. When I was young, I also idolized Gordon Ramsay but i feel the media didn't give us enought exposure for us to see what happens in his mind. So I am not as inclined [to have him judge my cooking]. But because with Anthony, you really get to see how he reacts and what goe son in his mind.
What's you regular work outfit?
Just a shirt or even a t-shirt. I don't wear chef jackets because white chef jackets are roomy and forgiving so you feel you're not fat until you realize it's the only thing you can wear (Laughs). But really, I don't wear chef jackets because I started as a dishwasher so I am more comfortable in casual clothes.
If you could set up a restaurant anywhere in the world, where would it be and what would you serve?
Japan, in Tokyo. Just a five-seater restaurant. I would serve Filipino food cooked using everything I learned here but still using Japanese ingredients, pretending that I am cooking for Filipinos. I don't care what people say about how Filipino food is too sweet and such.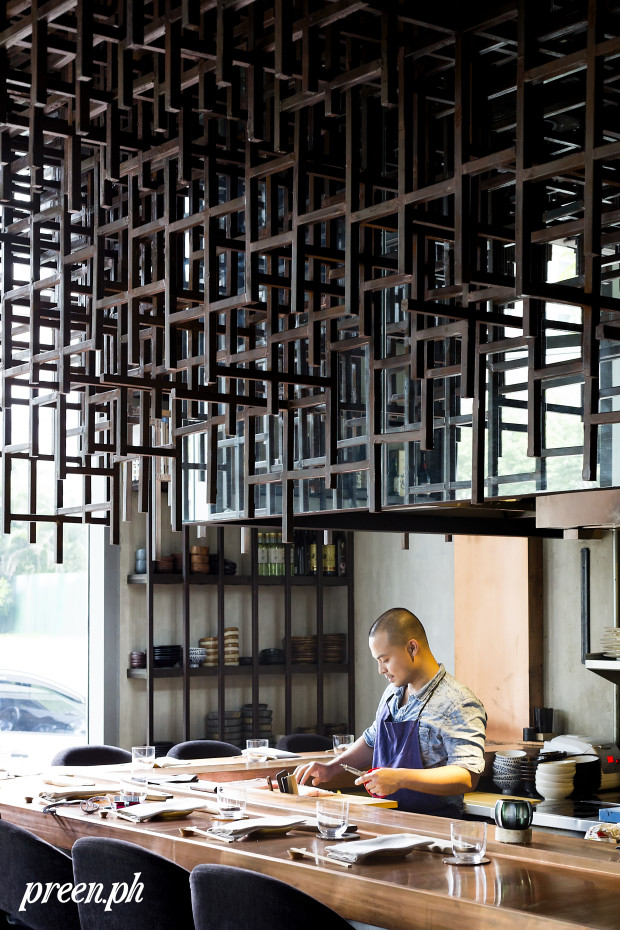 Favorite spot in the kitchen
Right in front of the stove, hunching down and eating.
Favorite time of day
7:30 in the evening. It's after the first serving so the energy starts to pick up.
Favorite take-out lunch
I like SaladStop! I usually get the Go Geisha.
Favorite post-work hangout
7-11 outside of Bank Bar. That's where we drink our Red Horse.
Reason to go into this business
People go into this business for different reasons. I went into this business because I had to sustain my family. My father passed away and this was the only means of work I knew that could get money into my pocket. Some people get into it so they can get out of it faster. I got into this because I keep finding reasons to stay in it. I respect people who  become a TV chef. I would never see myself cooking on TV because I am not cooking for customers. I am the type who, when I meet someone outside who tells me they love my food, I immediately think of the people who are inside my restaurant at that moment and if they love my food.
Favorite drink
I like shoju with hot water and I drink it like tea. I also like some gin stirred with vermouth and lime juice.
What dish do you want to master?
Everything. From cutting a tomato to knowing when to cut it to make a perfect salsa. From when the fish is perfectly matched with my sushi wine for the day. That's what I want to learn. I want to learn when to be sensitive to ingredients. I want to be able to see a product and be able to say what to do with it at this very moment. It's like when you go to a bartender and they look at you and they see you've had a long day so they serve you a stiff drink.
Would you teach in a culinary school?
No, because I would just tell you to not get into this business and be filled with bitterness. I would tell them that they are wasting their money so they should go to their favorite restaurant. Knock at that restuarant and ask if you can work there for free so you can learn. I would rather you save that money and study business management  or start building your own resturant or travel and eat all the food you encounter and learn.
Goal for the last six months of 2016
My goal is make my team so good that I will be able to learn from them.
Photos by RG Medestomas
Grooming by Danielle Lu for MAC Cosmetics
Follow Preen on Facebook, Instagram, Twitter, Snapchat, and Viber