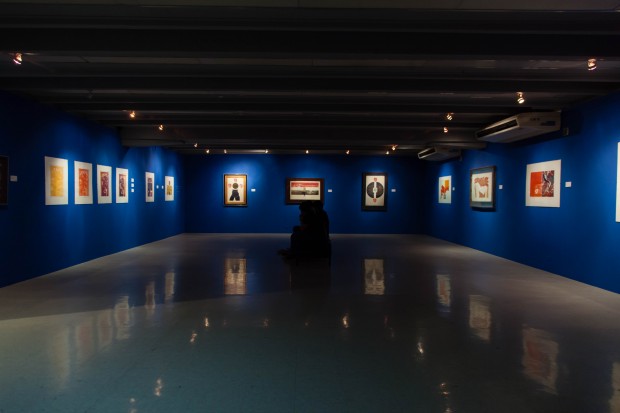 If you want to see the Philippines' most extensive collection of Filipino modern art, you won't find it in the Lopez Museum, Ayala Museum, or even in the National Museum. In fact you won't find it in any big name museum or art gallery. Look no further than the Ateneo Art Gallery, the first and only museum of Philippine modern art.
Filipinos are known for being late to everything, and that apparently includes Western modernism. But with modern art, Filipino artists caught up pretty quickly, experimenting with different styles all at once. At one point in history we had Vicente Manansala playing around with cubism while Jose Joya did abstract expressionism and Arturo Luz did a linear style influenced heavily by the artist Paul Klee. "I think it is one of the things that made the art scene in that period very dynamic," shares Yael Buencamino, managing curator. "I think people nostalgically look back at it as a golden period in art because so much was going on."
What started in 1960 with an initial donation from Fernando Zobel is now an extensive collection of more than 700 works from this golden age of Philippine art. Because of the limited space in the gallery, they rotate what's on display, but there are mainstays on the walls: works from famous modernists like Fernando Zobel, Hernando R. Ocampo, Jose Joya, Vicente Manansala, and Arturo Luz. This core collection makes the Ateneo Art Gallery the best place to study the development of Philippine art from the '50s onwards.
Aside from post-war era art, the Ateneo Art Gallery also celebrates art by contemporary artists. Half of the gallery is for their permanent collection while the other is reserved for changing exhibits.  They also hold the annual Ateneo Art Awards, featuring artists below the age of 35. "It was inspired by the example of Fernando Zobel seeking out good, emerging artists, which he did for the artists of his generation," Buencamino explains. This year introduces a new category in partnership with the Purita Kalaw-Ledesma Foundation: art criticism as a way to encourage dialogue and discourse about art, something that Buencamino notes is important in contemporary art appreciation.
The biggest challenge for the art gallery remains to be encouraging people to actually visit. But the Ateneo Art Gallery generates some buzz through artist talks and seminars. And with the promise of a new location in the Arete, Ateneo's new building for the arts, there is also hope for a bigger audience. But even in its current space, Buencamino promises: "There's always something that someone would find interesting when they come here."
Source: Nana Nadal for Northern Living, "Timeless Containment," August 2014