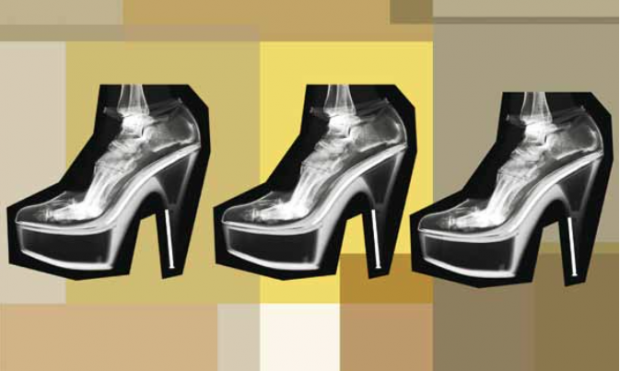 You may think that wearing flats all day, every day will excuse you from an impending visit to the podiatrist, but in reality, a lack of variety in your day-to-day footwear options could wreak a lot more havoc than you think. Get to know your everyday shoe choices a little better by learning how they impact you from your heels to your toes.
Trainers
Perfect fit? Check. Ergonomic design? Check. Scientifically accurate cushioning? Check. So why shouldn't we just ride the athleisure trend to the end of time? "People who live in their trainers are missing out on a key aspect of footwear: being able to work the feet. Getting too comfortable dampens the communication lines between your brain and your feet," Chinggay Labrador writes for Northern Living. Apparently, it's important to work out all of the muscles of your feet, and switching up your trainers with a regular pair of shoes are just the trick.
Flats
Designs for flats now are cute enough for you to get away with wearing them to cocktail parties or formal events, like Sophia Coppola did at the 2012 Golden Globes, but this type of footwear suffers an opposite problem from trainers: they lack cushioning. While this will encourage you to work out your foot muscles, wearing flats on a shopping trip might be a huge mistake, as prolonged walking may cause cramping or worse, injury. Tight, closed-toe shoes could also lead to painful bunions, calluses, and hammertoes. "Look for a pair that provides arch support, or get a pair of Dr. Scholl's gel inserts to add some extra cushioning in your shoe. If you're susceptible to bunions, pads can help realign toes," Chinggay recommends. Otherwise, you might want to break out those Birkenstocks.
High heels
Of all the types of footwear that could cause permanent damage not just to feet, but also your spine, high heels are unequivocally the worst. "Elevating your heels brings weight to the balls of your feet, pushes your hips forward, puts your spine out of alignment, and gets you off balance," Chinggay warns. "You could be hyper-extending your knees just to compensate for this misalignment and, oftentimes, you're dumping a lot of weight on your lower back as well, which could cause pinched nerves." Ouch. On days when heels can't be avoided, pack a pair of flats to change into after a few hours. And if that isn't an option, go for a wider, lower heel (stilettos are out of the question).
Illustration by Danica Condez
Source: Chinggay Labrador for Southern Living, "Foot Notes," September 2014