It was an explosive start for the Rio Olympics earlier―quite literally because of the amazing fireworks display and performances. But what really stole the show were the athletes' fashion during the opening ceremony parade.
Sure, Gisele Bundchen's final runway walk in a gold Alexendre Herchcovitch dress was a show-stopper, but the athletes' uniforms were just as great―especially those from renowned designers. See the looks that caught our eye (so far) and tell us which ones were your favorites.
USA
One of the most talked-about is Team USA's chic Ralph Lauren uniforms which come with navy jackets and striped shirts. The outfits made the team look dapper while waving their flag.
Sweden
Sticking to their own, Team Sweden tapped homegrown brand H&M to dress their athletes. Their opening ceremony outfits were colored blue and yellow, an homage to the Swedish flag. Plus, all the clothes were created using repurposed materials, so it's environmentally friendly too.
Italy
Giorgio Armani designs blue double-breasted suits for Team Italy paired with sneakers accented with the colors of the Italian flag. Simple yet chic.
France
Team France walked the parade in crisp white suits and navy jackets made by Lacosté. These outfits also look like they can be used for candle-lit dinners during their free days.
Brazil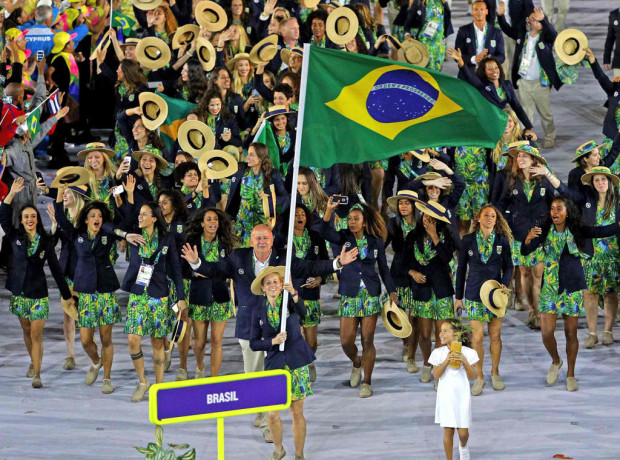 The host country did not disappoint with their look as Team Brazil showed up in green and white ensembles topped with a dark blue blazer. The female athletes in particular looked so fresh in their peacock feather-printed dresses and straw hats.
Australia
Australian brand Sportscraft provides preppy, nautical-inspired gray suits with bright-colored ties and scarves for the occasion. Team Australia also wore brogue shoes from Tom's.
Barbados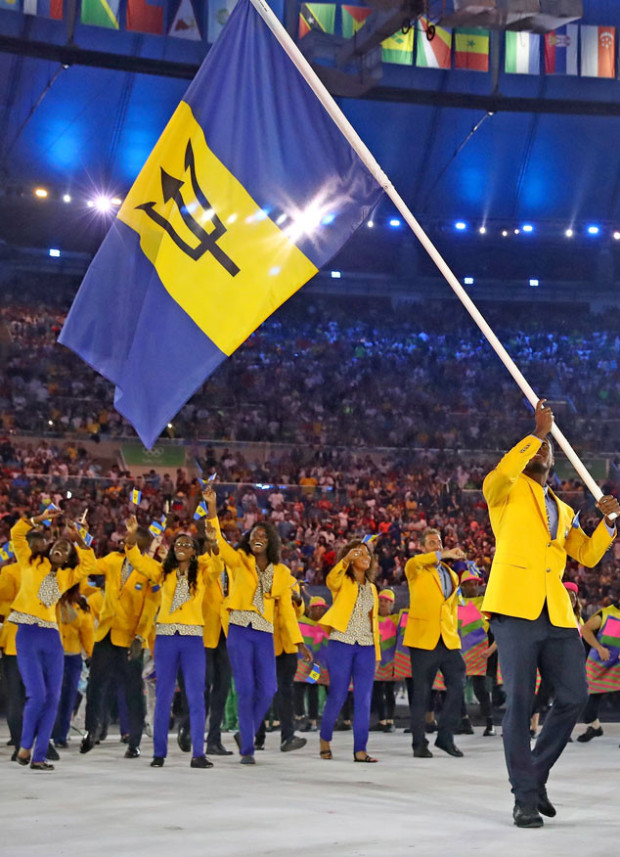 Also incorporating their flag's colors was Team Barbados. Clad in a vibrant gold blazer and cobalt blue pants, their ensemble was certainly a head-turner during the event.
Denmark
The men and women of Team Denmark kept it simple with dark blue blazers with emblems over white shirts and red dresses. These were designed by Jack & Jones and Vero Moda.
Norway
When it comes to bold jacket details, Team Norway caught our attention with the red, white, and blue accents on them. They also looked casual with their white polo shirts and shorts.
Indonesia
The athletes from Indonesia seemed to be a little festive earlier as two of them wore a traditional costume clad in gold. Meanwhile, the others sported a suit decorated with striking reds, including a bird, and even red pants.
Great Britain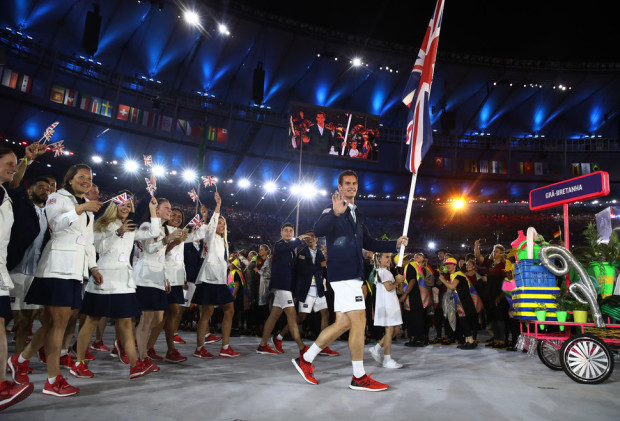 We see laidback pieces from the collab of Stella McCartney and Adidas for Great Britain's opening ceremony outfits―shorts for the men and big-pleated skirts for the women. You'll also see more of these designs throughout the games since Stella created a whole collection for the athletes.
South Korea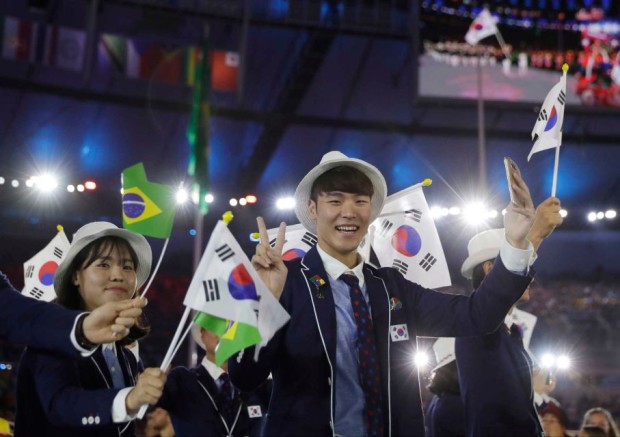 Another preppy number was brought by Beanpole for Team South Korea. Dark blazers cover pastel-colored shirts and is completed with playful polka-dotted ties and bright scarves. These are paired with white pants, black sneakers, and striped socks.
Canada
Team Canada was a sea of red blazers courtesy of DSquared2. And of course, you can't miss the maple leaf design on their backs.
Cuba
We already know that Cuba's rocking Christian Loubotin for the Olympics, but it doesn't hurt to mention them one more time. Those signature Loubotin red jackets are just to die for!
Follow Preen on Facebook, Instagram, Twitter, Snapchat, and Viber