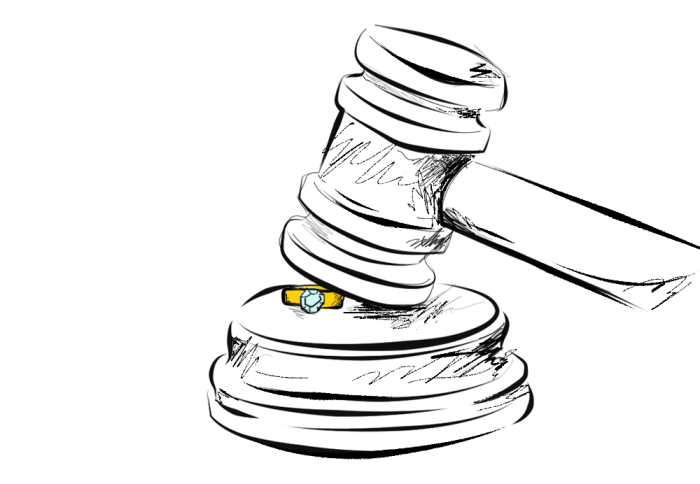 Welcome to Ask Poppy! I'm Poppy, your go-to girl for all of life's woes. And when I say ALL, I MEAN IT. I'm not an expert on anything except maybe for being me, which makes me totally qualified to do this.
Dear Poppy,
I never really thought I'd be the type to pursue Law School. I mean, come on, I can't even assert myself with my siblings. But whatever, now I find myself in my third year and it has been quite a ride. Taking up law has been fulfilling for me and an achievement even if I haven't graduated yet or even passed the bar exam.
But there's a little something that has been gnawing on me—I want to have a family. Maybe not right now, but at this age I should also be at a stage where I am looking for someone I can be with or at least already be dating. But school takes up all of my time and, you guessed it, I have no time to date or mingle or even download the damn Tinder app.
I guess my deal is, what do I prioritize more? Should I go on and finish my law degree, be a lawyer, and eventually let the pieces fall in its place? Or do I take a break from school and see where my dating life takes me?
I sound so crazy, but I really don't know what to do.
—Nica
Hey, Nica
No, it doesn't sound crazy at all because people can do all sorts of things just to find love. Pero, gurl naman, I think that you should stop and think about that thing that you want muna.
Maybe nahihibang ka lang because law school is tough. I personally don't talk to my old friends that went to law school because baliw na lang talaga sila. There's always pressure to do well in class and then finding a way to pay for law school pa, and then thinking about all those cases—it can get pretty nakakadire especially if you've been doing this for the past three years.
Nica, I think you shouldn't give up all because people think that you're at this age to settle down. Are you pressured to find love agad-agad because you think tatanda kang dalaga? I remembered my kumare saying that it's okay naman to get pregnant in your 30s. Sure, it's risky, pero you can take the necessary precautions to ensure a healthy pregnancy. As you get older and you move further away from your early 30s, that's medyo deliks na, Nica.
I'm pretty sure that your uterus is doing fine and it'll be that way in a couple of more years, hon.
If I tell you to prioritize your pagkekerengkeng, I would probably hate myself. Because here you are, doing okay in law school for the last three years. Konting push na lang and you're on your way to becoming an attorney or a thriving entrepreneur of a notary public office (joke lang, sis).
Mas bet ko yung idea of you doing you for now and then doing the dating thing later. Focusing on these cases will help you understand people kasi eh. I have no idea whatsoever on what it takes to be a lawyer, but I would imagine that you need to read people properly. You do your research, you analyze the facts and see if it is in accordance with the law. Parang, wouldn't it be logical if you use the same thing in your life?
You already know that you can't possibly balance a love life and the long dick of the law, and it's a choice that you must make. Are you #TeamTsinoy or #TeamTisoy? Loljk, that's a terrible example. For me naman kasi, you can always do your thing and then mamaya na yung landi. Landi ruins everything, Nica.
I think you should push yourself to focus on finishing this law thingy and just get it over it. Slay those boards, throw your graduation cap up in the air. And then give yourself a couple of months off, just seeing what the world has to offer. Basta, you need to watch out lang because once you stop being busy and you're slapped with the reality that you're alone and medyodesperate and looking for a lover, it can get sad.
I want you to push whatever that is you're doing and be like Grimes. In a piece by The Guardian, she said: "It's kind of like I'm Phil Spector, and I'm forcing a young girl to make pop music and perform exhaustively. Except, instead of it being someone else, that girl is also me." Couple of years after this interview, you've got droves of critics naming Art Angels the best album of the year. Focus on law school being fulfilling and things will come to you eventually, all at once.
Boys are gross, but the law is absolute.
Take care, Nica
Poppy
Got a question for Poppy? From love and relationships to weird questions you dare not ask even your psychologist, Poppy is ready to answer them all. Send in your questions to [email protected] or post your question over Twitter or Instagram with the hashtag #AskPoppy, and you just might get the answer you are looking for.
Disclaimer: The views expressed here are solely those of the author in her private capacity and do not in any way represent the views of Preen.ph, or any other entity of the Inquirer Group of Companies.
Art by Dorothy Guya
Follow Preen on Facebook, Instagram, Twitter, Snapchat, and Viber