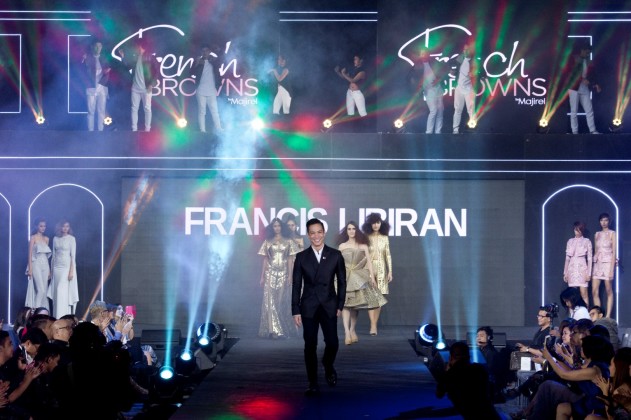 Fashion shows always showcase the most unique hairstyles―they can go from slicked back hair to teased afros. It makes one wonder how designers work with hairstylists in choosing specific looks for the runway, as well as what really goes on backstage while styling models' hairs. And who better to answer these questions than world-renowned designer Francis Libiran and L'Oreal Paris hairstylist Berni Ottjes.
After their L'Oreal Professionel Majirel #FrenchBrowns show last night, where models wore Francis' creations and Berni did live hairstyling demos, we got some insight on the relationship of designer and hairstylist when it comes to fashion shows.
How does fashion and hair go together, especially with shows like this one?
Berni: It's always very surprising when you go to a country [you're unfamiliar with] and you get the chance [to work] with a great designer like Francis. I think when you have great hair and makeup, youR looks become very strong. When it comes to fashion, it's the same thing. My goal was to give the audience something different―clean-looking hair, but a little more rough, streetwear, elegant, and a little avant-garde. But it's still the overall sexiness of the look that's very important.
Francis: You know, the hair completes the look of the woman. Whatever she's wearing should complement the hair. Tonight, we saw how it looks very relaxed, easy to manage, and it showed us the different innovations when it comes to the hairstyle.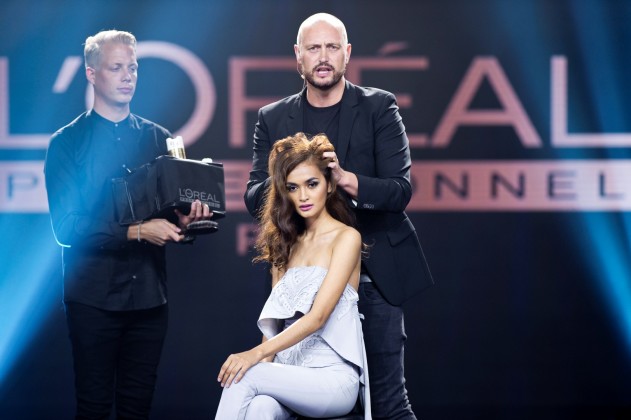 Have you experienced any difficulty throughout your experience as a fashion show hairstylist?
Berni: Difficult? No, because you create it. It's my thing so I don't have any problems with that because it's my own, and that's why I travel around the world. I just want to be a little more surprised. My passion is color, but I like to play with texture and I like making styles that are sexy and feminine.
Francis: I guess when you're really passionate about what you're doing, it comes out naturally.
Is there a specific style that you always ask hairstylists to do for your shows, or does it depend on the collection?
Francis: It changes. It's really important for me to talk to the hairstylist everytime there's a new collection. It's a collaboration between the hairstylist and me―what I want and what my vision is.
Aside from your travels, where do you find inspiration for the looks you create?
Berni: The people on the street. When I travel, I always look at the street because [that's where] the real fashion people are. It's very strange to say, but I've gone to so many fashion weeks and shows, but the real inspiration for me is what women on the street do with their hair. Like, do they a bunny tail hairstyle or have blonde hair. Sometimes even the hip-hop girls and the skater girls. Also, architectural buildings sometimes show me more shapes and placement of color. Traveling is important. Everyone should travel the world.
Francis: Same with Berni, I find inspiration from architecture since I'm an architect. I mean, if you noticed my collection, it's all structured. [The avant-garde] pieces were based on a gate [I saw during one of my travels]. By the use of leather, I tried to mimic the appearance of the gate.
Photos by Bruce Casanova
Follow Preen on Facebook, Instagram, Twitte r, Snapchat, and Viber