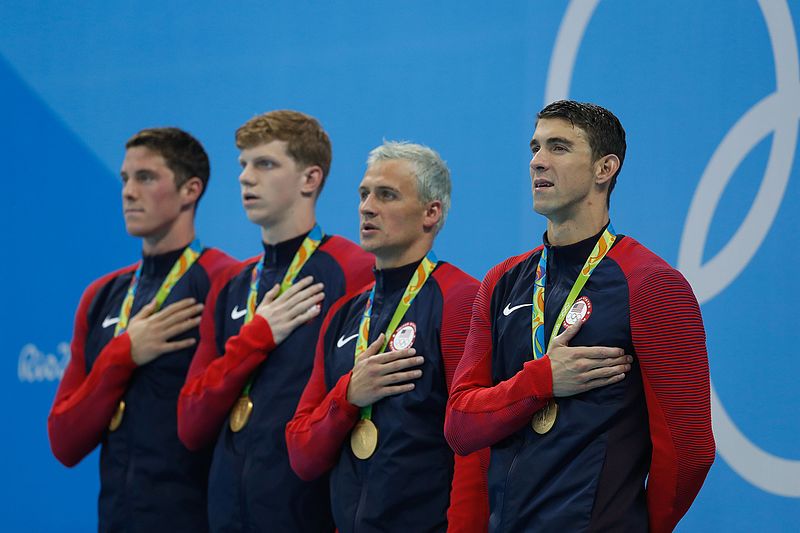 American swimmer and gold-medalist Ryan Lochte was robbed at gunpoint on their way back to the Olympic Village after a night out at the French Olympic team's hospitality house. He was with his three other teammates Gunnar Bentz, Jack Conger, and Jimmy Feigen. "Their taxi was stopped by individuals posing as armed police officers who demanded the athletes' money and other personal belongings," US Olympic Committee spokesman Patrick Sandusky said in a statement.
"We got pulled over, in the taxi, and these guys came out with a badge, a police badge, no lights, no nothing, just a police badge and they pulled us over," Ryan tells NBC. "They pulled out their guns, they told the other swimmers to get down on the ground—they got down on the ground. I refused, I was like, we didn't do anything wrong, so—I'm not getting down on the ground."
"And then the guy pulled out his gun, he cocked it, put it to my forehead and he said, 'Get down,' and I put my hands up, I was like 'whatever.' He took our money, he took my wallet—he left my cell phone, he left my credentials."
All four athletes are safe and are cooperating with authorities. Gunnar assured their supporters by tweeting that they are okay. Ryan also posted a note that assured us of their safety and that he's proud to be representing the U.S. during the games.
We are all safe. Thank you for your love and support.

— Gunnar Bentz (@TheGunnyBunny) August 14, 2016
https://t.co/LgkoJe4qkm pic.twitter.com/Ed3V6vWhuf

— Ryan Lochte (@RyanLochte) August 14, 2016
Remember that this is not the first crime to have taken place during the games. Even Filipino writer and news anchor Lia Cruz and Magoo Marjon was robbed of their belongings. But we're glad that at least nothing worst has happened. Keep safe!
[
Inquirer.net
, 
Refinery 29
, 
NBC News
]
Photo by Fernando Frazão/Agência Brasil via Wikimedia Commons
Follow Preen on Facebook, Instagram, Twitter, Snapchat, and Viber