Weddings take a little time to plan, and you're set on celebrating your special day some time next year, then it's high time you start now. Or you can head to Happy  Ever After on Aug. 27 and 28 at SM Aura Premier SMX Function Rooms 1 and 2, from 10 a.m. to 8 p.m. to end your woes.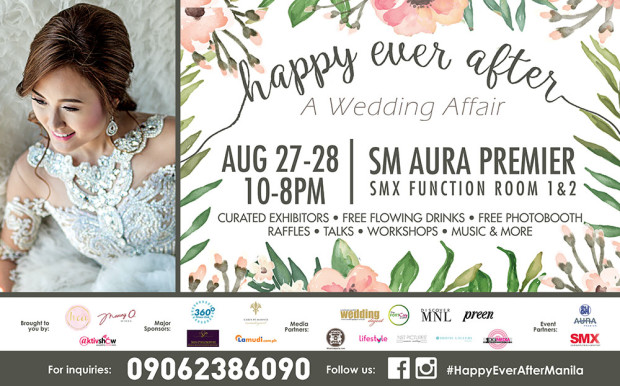 This two-day event will feature over 100 curated wedding suppliers, as well as designers and organizers such as Jazel Sy Bridal, Project JDG, event stylist Badz Castro,  and many more. You'll definitely have a lot choices the whole day. Plus, there'll also be workshops and talks to get you prepared for the big day.
But what about planning the honeymoon? Don't worry as there will also be an hourly raffle where the attendees can win a four days, three nights honeymoon package with airfare! Now you don't have any excuse to miss this.
What are you waiting for? Pre-register for the fair on their website and also check out their Facebook and Instagram for more information.
Or, you can get free passes on us by just following our easy steps below:
1. Follow Preen on Facebook, Twitter, and Instagram
2. Share this article on any social media platform and tag Preen.
3. Use the hashtag #PreenxHappyEverAfter (Make sure to set your post/s to public so we can see them!)
Good luck and we'll see you there!
Follow Preen on Facebook, Instagram, Twitter, Snapchat, and Viber