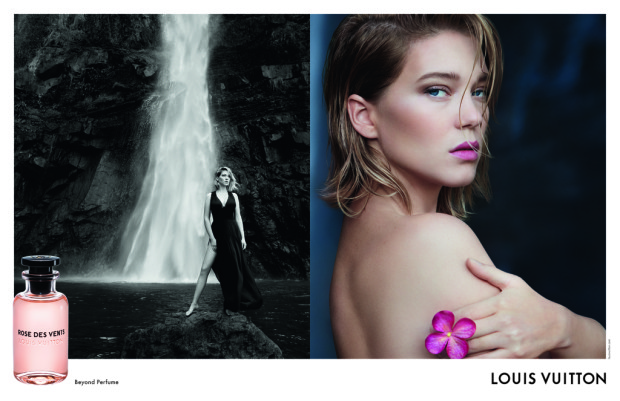 Louis Vuitton is challenging the perfume scene again with new fragrances and a high-production campaign starring Léa Seydoux. Yes, Léa: Bond girl and breakout star at the Cannes Film Festival for the movie Blue Is The Warmest Color.
Set to be released mid-September,
the campaign was shot in South Africa.
WWD
fills us in with the BTS details as
Patrick Demarchelier
, who has a few
Vogue
covers to his name, lensed Lea.
Marie-Amélie Sauvé
, who worked at
French Vogue
and long time collaborator of designer, and Louis Vuitton creative director Nicolas Ghesquière, served as the stylist. Makeup was handled by 
Christelle Cocquet
who has done numerous projects with brands like Diesel Black Gold, Max Mara, and Giorgio Armani, along with publications such as
Vogue Italia
, and
Elle
. Hairstylist
Damien Boissinot
worked on the shoot. He has also styled the hair of Britney Spears, Christina Aguilera, Celine Dion, and Kristen Stewart for titles like
Allure
,
i-D
,
T Magazine
, and
Elle
.
The fragrances, called Les Perfumes, feature scents heavily based on flowers with names such as Rose des Vents, Turbulences, Dans La Peau, Apogée, Contre Moi, Matière Noire, and Mille Feux. These are the first perfumes by Louis Vuitton since releasing Je, Tu, Il in 1928. So you can understand the excitement around this 2016 release.
The perfumes are $240 a bottle (that's around P12,000) and is now exclusively available at Louis Vuitton boutiques according to 
Allure
. The magazine also reports that the scents were made with flowers found in Grasse, considered the perfume capital, in a brand-new laboratory made exclusively for the luxury label.
Fancy? Sure. Worth it? We don't mind finding out for ourselves.
Featured image courtesy of WWD