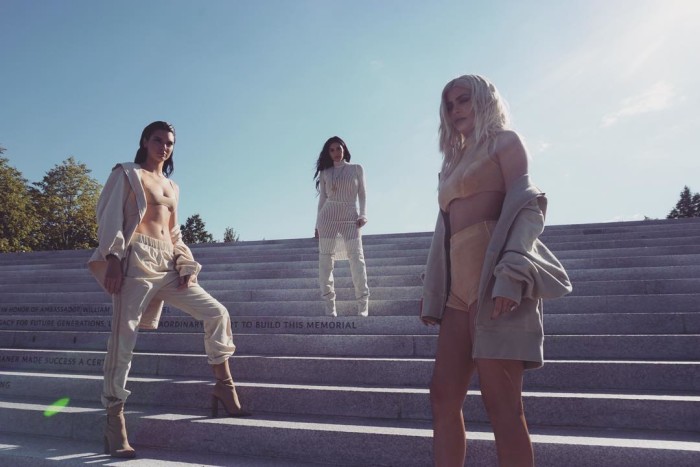 After his successful concerts at the Madison Square Garden, Kanye West kept busy by staging his fashion show for Yeezy Season 4. The presentation was complete with last-minute invites (ya know, for exclusivity), secret locations, bus rides, and a lot of models in nude body suits.
Yeezy Season 4 was held in Franklin D. Roosevelt Four Freedoms Park in Roosevelt Island, the location was kept secret and the only address on the invite were the bus stops for the ride to the park—someone even commented that it felt like they were getting kidnapped and that they didn't even provide water or snacks. Not even music.
Overheard on the Yeezy Season 4 bus: "It feels like we're being kidnapped."

— geraLd (@ImGeraLd) September 7, 2016
On the Yeezy bus #NYFW. No snacks. No water. No music. No merch. C'mon Kanye. pic.twitter.com/LbnHLQgtYJ — Vanessa Friedman (@VVFriedman) September 7, 2016
The Yeezy show is 45 minutes late so far and they still aren't letting people in. pic.twitter.com/W4GSQVQOBx

— Vanessa Friedman (@VVFriedman) September 7, 2016
When the show started, the field was filled (oh yes, it happened) with barefoot models (multiracial, we assume) all dressed up in Yeezy's signature nude line of sheer tank tops and body suits. Refinery 29 even mentioned that some models even fainted pre-show. Good thing there's water for them to hydrate.
There was also a triangular runway where some of the models walked—all decked in the same color palette that showed a lot of oversized sweaters, tight tank dresses and ensembles, nude bras, tight shorts, and a lot of thigh-high boots. The show looked a lot like Kim Kardasian's every day look, but what do you expect? Kanye helped Kim develop her own style and we believe he still styles her to this day.
Kendall and Kylie Jenner were present and sat front row with their sister Kim, but sadly they arrived an hour and a half late delaying the show further. Can you just imagine what the press went through? About an hour of bus travel, security checks, and a long wait. Yikes!
In the end, Yeezy is still one of the most coveted and sought after tickets during New York Fashion Week and we can't blame you, because we'd like to see the craziness with our very own eyes—even if that means going to secret locations and possibly getting no water.
[
Refinery 29
 and 
Vogue
]
 Photo courtesy of Kim Kardashian's Instagram account
Follow Preen on Facebook, Instagram, Twitter, Snapchat, and Viber