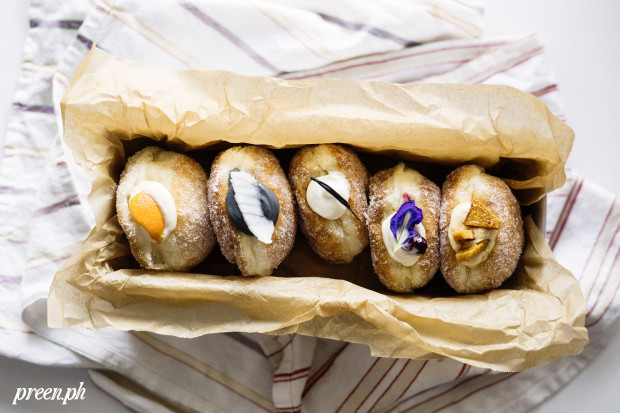 It's hard to come by donuts that'll leave a lasting impression. These sweet treats are sold everywhere by now that it's hard to differentiate all the flavors and varieties. But then, we chanced upon Dough Supply, an online shop that sells fresh hand-rolled donuts.
What makes hand-rolled donuts different from regular ones? Owner Bea Melendrez, who also runs dessert supplier Flour Jar by Beatriz, says that the method makes the donuts softer and ensures that the dough doesn't get wasted.
"We just mix the usual ingredients in making donuts―flour, sugar, yeast, etc.―then roll the dough. [We then] let them proof for three hours to the let the dough rise before frying them. Next, we coat them in caster sugar," Bea explains. True enough, you can see just how fluffy the donuts can get upon frying―getting a golden brown surface and a soft airy center.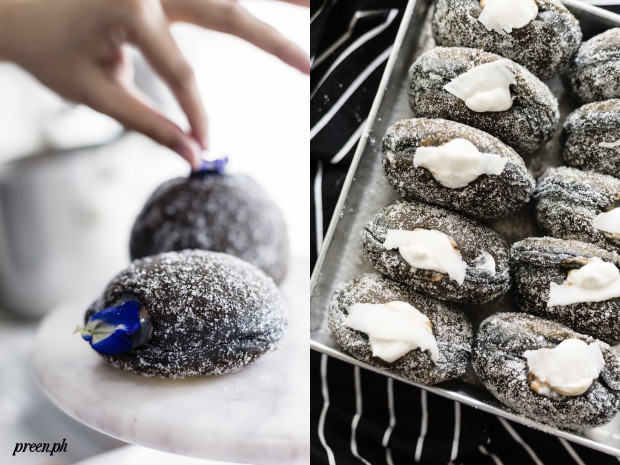 For that day, Bea and her small team of bakers prepared two kinds of dough―regular and charcoal. The latter is filled with coconut cream and a little chocolate. Plus, they also made an ash coconut cream. "The charcoal donuts are still new. I just thought of incorporating it since there are a lot of charcoal-infused desserts today because of its antioxidant benefits, but not donuts. So I decided to experiment on them and they don't taste different, really," Bea tells us.
Aside from their newest charcoal flavors, Dough Supply serves around six flavors and changes it up every season. For this season, they have orange and apricot, honeycomb, blueberry, vanilla bean, tres leches, and crème brûlée. All of them are made with fresh ingredients and have no preservatives so it's healthier to consume and the shelf life is just one day. Plus, they're not overly sweet, which is a good contrast to the donuts' sugar coat.
What I love about their donuts is that the cream is equally distributed in each bite. Unlike others where you just find a little on the center or almost none at all.  The other commendable element is how pillow-soft the donuts are―you can tell just by touching them and you have to hold them quite lightly because it'll squeeze between your fingers. And when you bite into one, you instantly get a burst of flavors. Our personal picks are the honeycomb, orange and apricot, and the charcoal with coconut and chocolate cream. Be careful, though, as the cream might spill on your shirt!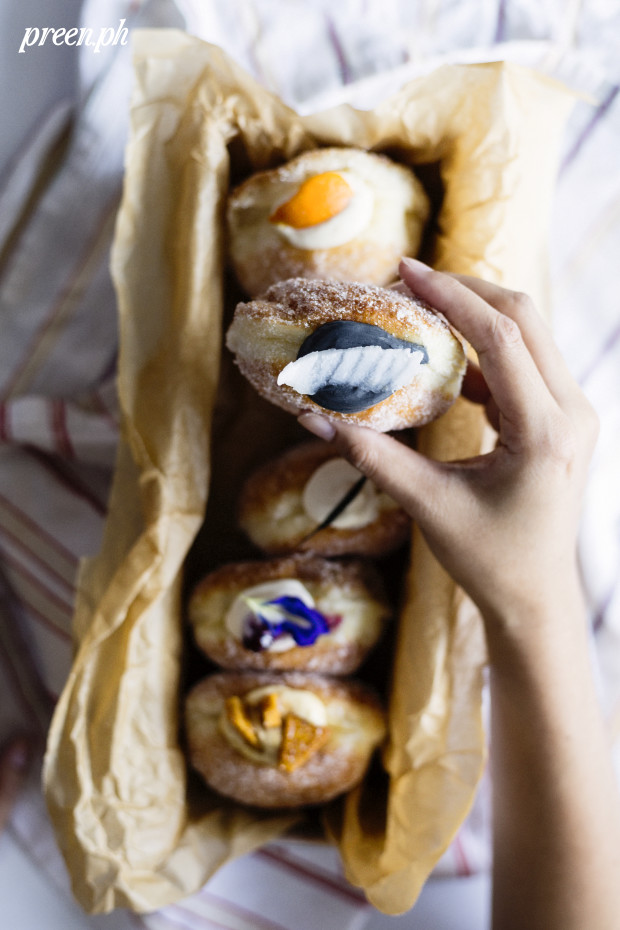 As of now, you can't find Dough Supply's donuts in cafés unlike the desserts they serve up for Flour Jar. Bea says they're just sticking with an online shop for now to ensure that the donuts get to their customers fresh. If you ask us, it's a pretty good strategy. Who wouldn't want fresh donuts to pair with their coffee, right? And we promise you that a box (standard-sized donuts are P500/dozen and bigger ones are 650/dozen) is enough to feed three to four people―that is if you're willing to share because these treats are quite addicting.
Dough Supply. For orders and inquiries, call (0917) 792-7125 or email [email protected]. For more information, visit their Instagram page.
Photos by RG Medestomas
Art direction and styling by Jacque De Borja
Follow Preen on Facebook, Instagram, Twitter, Snapchat, and Viber