New York Fashion Week saw the best new trends for spring/summer in terms of fashion and possibly beauty. While we loved seeing the effortless hair and natural makeup on models, some designers opted for the unconventional route for their shows.
A for some, "unconventional" is putting it mildly. So we list down some the most head-turning looks from the runways of NYFW.
Proenza Schouler's painted ears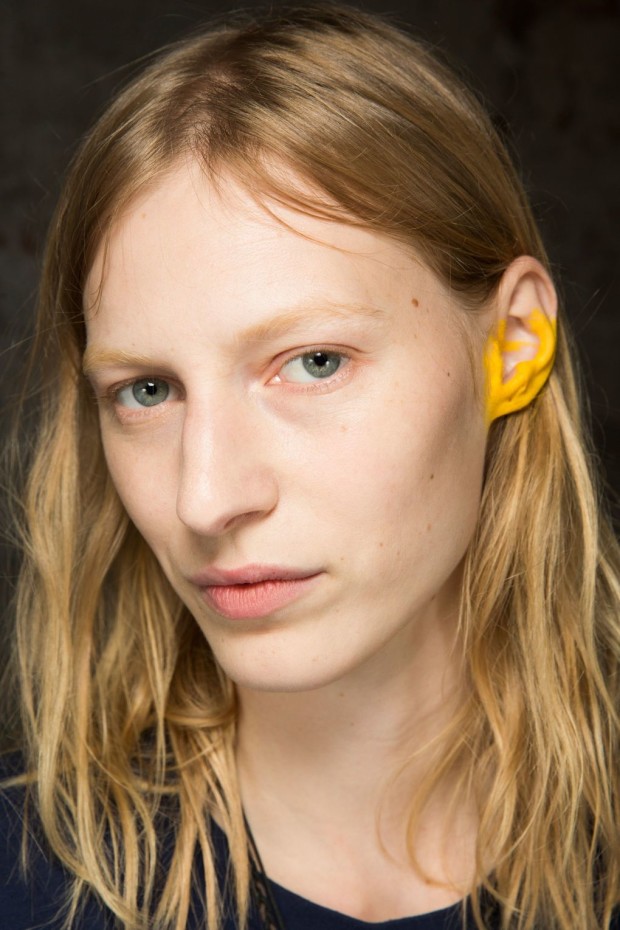 For their spring/summer collection, Proenza Schouler went for bold colors and prints in striking red and blue. To contrast this, models sported natural makeup, but some had their ears painted yellow or white. It's a discreet move, but it did make the chunky earrings stand out more.
Jill Stuart's contrasting rainbow eyes
We all know that bright colors are key in any spring and summer look, and Jill Stuart definitely brought that with their contrasting two-tone eyeshadow looks. Spotted were combinations like purple and red, purple and coral, and purple and olive green. Looks like we might be seeing this trend more next year.
Rodarte's leftover lace hair accessories

Nothing was wasted in Rodarte's collection. Instead of throwing out the lace and tulle from their designs, they made them into hair accessories. If you ask us, the use of lace on the hair made the models look more ethereal on the runway.
Marc Jacobs' vibrant dreadlocks
When it comes to making a statement, Marc Jacobs didn't pull the brakes with their candy-colored dreadlocks on all of their models. Indeed, the hair paired well with both the vibrant and camouflage-print clothes on the runway. However, there's already some controversy over the looks.
Gypsy Sport's face paint and unusual hair shapes
Gypsy Sport came out with a fun, vibrant collection which played with contrasting colors―a stand out already in itself. But of course, they also made sure that hair and makeup matched the theme: butterfly face paint, pink curls, overdrawn brows, and even spiked-up hair.
Desigual's real-life Snapchat filters
Speaking of face paint, Desigual decided to bring our favorite Snapchat filters to life at their show. Models were face-painted the dog, deer, and bee filters, while others wore flower crowns on their heads. The brand itself even called it the upcoming spring/summer trend. Just imagine.
Tome's silver strokes
Continuing the face paint route is Tome as they made use of silvery brush strokes on the models' cheeks and temples. It's definitely a different way to frame the eyes aside from using eyeliner. Also, for some reason, these looks reminded me of native American warriors.
Thom Browne's light blue lips
Playful prints, oversized bonnets, and Willy Wonka-esque sunglasses ruled Thom Browne's collection inspired by `60s pool parties. And to make it more different, some models wore matte light blue lipstick along with outrageous sunnies.
Ottolinger's Rapunzel braids
  Ottolinger's models literally had to hold their hair while walking the runway. To go with the brand's nude-toned collection, they had models wear Rapunzel-like braids woven with beige and black ribbons.  
Hood by Air's "sexy" looks
We're not exaggerating when we say that Hood by Air definitely took risks with their whole show. For one, they made the first-ever double-faced cowboy boots (not cute). Second, they partnered with an adult streaming site, hence, the gel-slicked hair and face. We'll let you figure out where it was inspired.
Follow Preen on Facebook, Instagram, Twitter, Snapchat, and Viber