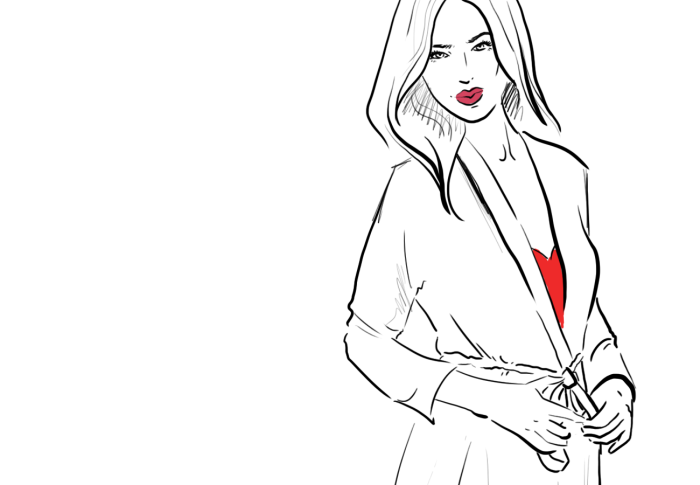 This column may contain strong language, sexual content, adult humor, and other themes that may not be suitable for minors. Parental guidance is strongly advised.
To put out or not to put out?
Many of the women of my generation—quite possibly the last one in which virginity before marriage was prized—prided themselves on their ability to afflict their beaus with blue balls, making out with them to the point of heightened arousal, only to leave them with the exquisite torture of sexual frustration.
Tactical delay became the woman's weapon while the urgent need for consummation became the man's driving force.  Marriage—or at the very least that engagement ring—was the end game that would ensure satisfaction for both.
A few of my friends indeed landed their husbands that way, guided not just by an antiquated sense of honor and market forces: the only women worth marrying were "pure" and "unsullied" so the best way of edging out the competition was to brand oneself as such.
Some thirty years later, I'm not sure that virginity is such a highly valued commodity these days when it comes to picking one's (female) mate. In the warped world we live in, men have always been encouraged to gain experience, including sexual.  Women, to a certain extent, were—and probably still are—encouraged to break glass ceilings in almost every field, but discouraged from having their hymens "broken" for as long as they can.  Once "broken," it is preferable that they put a leash on their sexual desires and limit their experiences, which means limiting the number of partners, too.  Because that numbers game is not something that women should beat men.
But what's in a number, really? None of the men I've had slept with in the last decade or so have ever asked me for my "number."  And I've never asked them, and never cared to ask them. Perhaps it's more telling of the desert we live in that prospective lovers are more interested to know when I last had sex, and whether it was a hook-up or a relationship.
For the record, I don't do randoms, and I would never pass judgment on any woman who does, but I tell whoever asks that it really is none of their f*cking business, and I would never deign to ask them the same question.
This reminds me of a podcast I listened to once in which two women in New York City discuss their sex lives with disarming, if at times discomfiting, candor. One of them was recounting how in the midst of hooking up with one guy one evening, he asked her when she last had sex.  She said, matter-of-factly, "Oh, this morning." The guy was apparently taken aback, probably even slightly grossed out at the thought that someone else's dick had been in the same vagina less than 12 hours before.  Could remnants of his sperm still be lurking in her cervix, he must have thought to himself.  Answer: Unlikely, seeing as both men used condoms upon her insistence.
If I remember the podcast correctly, her casual admission was almost a deal breaker for him. And yet… men do this all the time, sleeping with more than one woman in a 24-hour period.  Men have even been known to hook up with more than one woman in one night, casually sticking their dicks into one vagina, zipping up and then moving on to the next conquest—and bragging about it, if New York Magazine's Sex Diaries are to be believed.
Yet they are just men being men, defined by their accomplishments, and women, when not being paragons of virtue, are sluts, defined solely by their sexual appetites.
As infuriating and insidious this mindset is, I am beginning to find Dan Savage's exhortation to "f*ck first" more and more appealing.  While I am generally not a sex-on-the-first-date kind of girl, there is, I admit, some wisdom in getting the sex part over with before anything else.  There are dates where it's pretty glaringly evident that you and your date, whether he's your boyfriend, your Tinder match, or someone you're seeing casually, are going to end up in bed together.  The run-up to the main event becomes another form of exquisite torture, which may involve going through the motions of having a drink, going to dinner, watching a movie, or checking out a party, until finally it's over, and as worked up as you both are, one—or both of you—has had too much to eat or drink, or all partied out, and the ensuing activities become something of an anticlimax.
This, a recent piece in New York Magazine suggested, is still what constitutes a respectable date.
"The modern order of romantic operations has its roots in traditional courtship rituals, where chaste outside activities were planned in order for a couple to build a meaningful relationship before marriage," Priscilla Pine writes. "Now it just means most people feel like they either have to eat a meal or have several drinks with a relatively new partner before they have sex, even if they've already seen each other naked a half-dozen times. On top of that, suggesting or planning Real, Traditional Dates can also sometimes feel like the best way to signal to a new partner that you're looking for something romantically substantive rather than a casual hookup, which is particularly important when the person you're seeing has emerged from the ambiguity of a dating app."
So, yeah, as Dan Savage famously told the Duggars, f*ck first. It's the secret to a good date.
"F*ck first is one of my rules—and it's not even a rule. It's a suggestion. I encourage couples to 'f*ck first' on Valentine's Day, wedding days, and anniversaries. F*ck before that romantic meal or wedding reception because you'll be too exhausted/full/drunk to f*ck after."
However, that idea could work brilliantly within the framework of a relationship, be it casual or defined.  For women, you may be dripping quite literally with desire and anticipation, and impatient to jump on him the very first time you date him. But there is a safety issue involved, that sees you erring, quite correctly, on the side of caution, as in this age of app-enabled matches, you need to ascertain, albeit under rather limiting circumstances, whether he's not a psycho killer who'll butcher your body to pieces and feed them to the crocodiles. It happens in Davao, apparently, just ask former Davao Death Squad (DDS) killers-for-hire.
A man I matched with on Tinder a year or so ago in New York said to me that he wanted to meet up with me with the primary intention of getting laid, and then seeing if it could lead somewhere.  He had been on too many dates, he revealed, spending weeks, if not months, where the woman refused to "put out" until she felt he was relationship potential, finally having sex with her on the 10th date only to find out "she was terrible in bed."
Did that mean, I asked, that he was confident about his sexual abilities?
Well, he replied, he wanted to make sure there was sexual compatibility first, and the rest would follow.
There was a certain logic to his reasoning, but I told him that just because we'd both swiped right didn't mean the attraction would hold true when we finally met in real life.  I personally would prefer to see if there was real chemistry before sleeping with anyone.
At least he offered to buy me lunch first.
B. Wiser is the author of Making Love in Spanish, a novel published earlier this year by Anvil Publishing and available in National Book Store and Powerbooks, as well as online. When not assuming her Sasha Fierce alter-ego, she takes on the role of serious journalist and media consultant. 
For comments and questions, e-mail [email protected].
Disclaimer: The views expressed here are solely those of the author in her private capacity and do not in any way represent the views of Preen.ph, or any other entity of the Inquirer Group of Companies.
Art by Dorothy Guya
Follow Preen on Facebook, Instagram, Twitter, Snapchat, and Viber