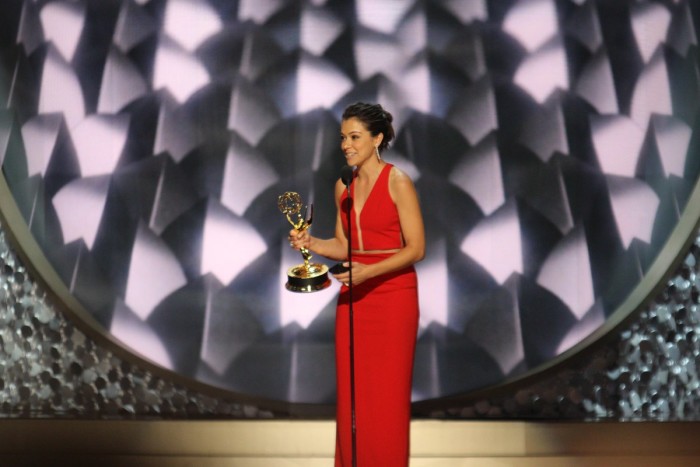 Television shows always bring about a series of emotions with every episode that premieres weekly or daily. One minute it's all laughs and romance, and the next you're at the edge of your seat―this'll go on until the season ends.
It's the same case with the Primetime Emmys but leaning more on giving you light entertainment―on and off-screen―while waiting for the winners. So we gathered some moments from the show (and on social media) that will hopefully brighten up your mood on this slow Monday.
America Ferrera reminds Giuliana Rancic of Ugly Betty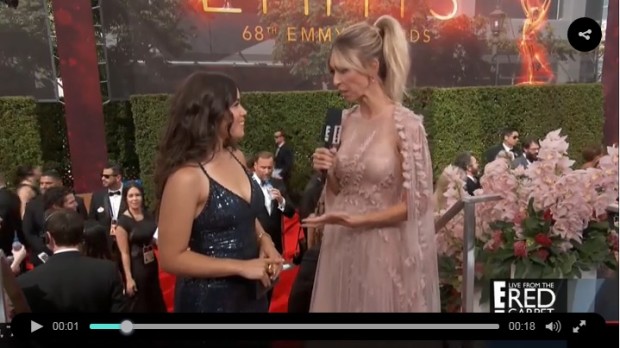 Aside from The TV Academy's blooper, Giuliana Rancic also committed a red carpet mistake while interviewing Superstore actress America Ferrera. Apparently, Giuliana told America, "As far as your career, this show, Superstore, is doing so well. NBC is so excited about it, it's actually leading Thursday night―which, if you remember, Friends held that honor for a really long time. How does that feel?"
America clapped back by reminding the host about her other hit show: Ugly Betty. Bravo!
Amy Schumer gives a shoutout to her fave tampon brand
Ever the candid woman, Amy Schumer didn't waste any time in making a statement on the red carpet. By that, we mean with her Vivienne Westwood dress, Tom Ford shoes, and tampon of choice, all of which she gave shoutout to. The New York Times even rode along the joke with this tweet:
Amy Schumer is wearing a Vivienne Westwood dress, Tom Ford shoes and an OB tampon.

— NYT Fashion (@NYTFashion) September 18, 2016
The Stranger Things kids being adorable
Whether you're on the Stranger Things hype train or not, you can't deny how cute Millie Bobby Brown, Gaten Matarazzo, and Caleb McLaughlin were during the Emmys. First was their red carpet walk… 
the cutest thing you'll see today #Emmys😍😍 pic.twitter.com/lxsfmSVmWS — Common White Girl (@girlposts) September 19, 2016
Next was them delivering peanut butter and jelly sandwiches to the audience while on bikes.
The Stranger Things kids passed out PB&J's at the Emmy's and my heart is exploding from the cuteness pic.twitter.com/FXVY2sLhi1 — Stranger Things (@itsSTquotes) September 19, 2016
And lastly, this unseen footage of them performing Bruno Mars' "Uptown Funk" during the pre-show.
Omg, the #Emmys2016 pre show was the kids from Stranger Things singing "Uptown Funk" pic.twitter.com/15c2yaqFDj — Mike Hogan (@mike_hogan) September 18, 2016
Matt Damon burning Jimmy Kimmel
Emmys host Jimmy Kimmel was nominated for Outstanding Variety Talk Series but sadly lost to John Oliver. And to add salt to the wound, Matt Damon appeared and engaged in a comedic discourse to poke fun at his loss.
And the award for biggest loser at the #Emmys goes to… Matt Damon pic.twitter.com/oS1k9elgnF — Jimmy Kimmel (@jimmykimmel) September 19, 2016
Good thing Jimmy was a good sport. Tina Fey reacting to Bill Cosby Of course, when you have a a host like Jimmy, he'll surely stir the crowd with his brand of humor. During one of his spiels, he jokingly calls out Bill Cosby to the stage. Everyone was obviously shocked by it, but Tina Fey summed it all up with her reaction.
HuffingtonPost : Tina Fey's face after that Bill Cosby joke at the #Emmys says it all 😂 … pic.twitter.com/rKDFxDmbwX pic.twitter.com/IeZigjZofD — Barbara Madison (@barbaramadiso10) September 19, 2016
Tatiana Maslany finally won an Emmy
Tatiana Maslany & the cast of #OrphanBlack accepting the Emmy for Lead Actress in a Drama #CloneClub #Emmys pic.twitter.com/NZhJSoQfXl — OBCrack (@OBcrack) September 19, 2016
After four seasons of playing 11 different roles, Orphan Black star Tatiana Maslany finally snagged an Outstanding Lead Actress award. It's about time she got that award because doing 12 roles per season isn't a joke. Congrats!
.@tatianamaslany thanks #CloneClub for her #Emmys win! #OrphanBlack #EmmyForMaslany pic.twitter.com/CKoMQzo9Gv — Orphan Black (@OrphanBlack) September 19, 2016
Leslie Jones wants to protect her Twitter account
Leslie Jones has been having a tough time on social media recently―from being thrown racial slurs to hackers leaking her nude photos. But that didn't stop her from joking about it, of course. Plus, it's the best way to slam all of her haters.
"I just wanted to feel beautiful y'all!" – @Lesdoggg 👏👏👏 #Emmys pic.twitter.com/1sVFvZp4MC — Karen Civil (@KarenCivil) September 19, 2016
Ladies can't get enough of Kit Harrington
The Game of Thrones team was on a roll as they broke the record for most number of primetime awards. But aside from that, everyone's eyes were on Kit Harrington. Most especially when he took the stage with Adam Samberg, where we saw a lighter side of the actor.
Find you a man who can do both. #Emmys pic.twitter.com/0LY2sWAkk0 — Daenerys Targaryen (@Daenerys) September 19, 2016
At least we know Kit Harrington follows the Olsen sisters' advice and whispers "prune" before every photo #Emmys pic.twitter.com/71iqfn2sGh — Ira Madison III (@ira) September 18, 2016
"Yes, I will kiss you, Kyle Chandler." – Kit Harrington swoops in for Andy Samberg #Emmyspic.twitter.com/8gDm1WzFMH — Mandy Stadtmiller (@mandystadt) September 19, 2016
Photo courtesy of Television Academy's Twitter account
Follow Preen on Facebook, Instagram, Twitter, Snapchat, and Viber