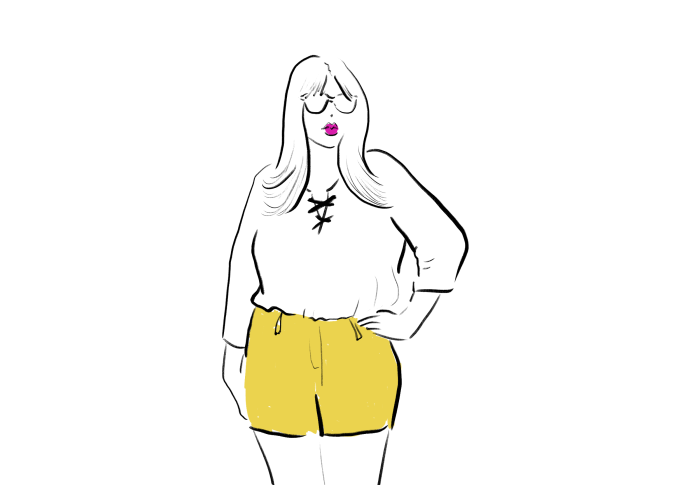 Every week, Preen tackles motherhood sans the rose-tinted glasses. Our columnists L. Juliano, Marla Darwin, Monica Eleazar-Manzano, and Rossana Unson tell their personal experiences like it is—at times frustrating, oftentimes confusing, but always enlightening.
If you've been following my posts here on Preen.ph, you should know by now that my daughter is big. A lot bigger than kids her age, especially around here where it seems that most adolescents are petite. She's tall—about 5'2" and big-boned. When she was around 10 or 11, I recall a rude person who had just met her, asking me if my kid was a lesbian. As she was very young, not yet even thinking about the opposite sex yet, I ventured to ask her why she thought this and her reply?
"She's wearing boyish clothes and sneakers. She's dressed like a boy!"
Stupid-ass reasoning, I know, but I looked at my girl and thought, how am I going to dress her fashionably, when nothing in this country fits her but (adult-sized) jeans and XL T-shirts? Her feet are size nine and are wide so her shoe size isn't easy to find.  Getting pretty clothes that fit her is a challenge. Having been in the fashion industry for a decade, with experience in fashion styling, it occurred to me that if I couldn't style my own maxi-sized daughter, how could I call myself experienced in fashion? The gauntlet was thrown down and I accepted it.
So where to find clothes that fit a 12-year old that won't make her look 52 years old? I remember grabbing a blouse from my mom's closet (which certainly looked like it would fit her) and Maxine (yes her name is Maxine), saying drolly, "Now I look like a lola."
From shopping around department stores such as The SM Store and Landmark, I discovered that there are maxi-sized clothing brands….for women. Grown women. The trick was to find clothes that fit her that were age-appropriate and feminine that didn't make her look like she was wearing a table cloth.
The good news was, with my shopping expertise and determination, I found just what I was looking for!
The SM Store
SM has a good plus-sized women's section that has a mix of fun pieces appropriate for adolescents, teens, and women. They have tees, jumpers, T-shirt dresses, and polo shirts in solid colors and modest prints.
Forever 21 Plus
This line from Forever 21 is a godsend. There's a young, carefree style to these plus-sized clothes that I love. Though, at the moment, Maxine is a little young to be dressed in Forever 21 styles, I'm considering this store for her teen years which are just around the corner.
Uniqlo
Uniqlo is more her age and style right now. Their basic tees, pretty tunics and femininely cut and designed shirts are the look that I dress her in whenever she's not in school uniform. Uniqlo cropped legging pants and jeans are part of her wardrobe and are perfect for her because they make her legs look longer and when worn with Uniqlo's beautifully cut tunics, make her look so clean and stylish. Yes, Uniqlo now has big sizes.
HerBench
What are clothes without the right undergarments? HerBench have wonderful sporty-type bras in XL and even XXL sizes. Comfortable because the garter does not dig into her skin like regular bras do and she doesn't have a difficult time fastening the closure at the back. Bench bras are mostly pull overs just like t-shirts.
Tiangges with export overruns
There is a farmer's market near my house called the AANI Weekend Market. Not only do they sell pretty, affordable and good quality pambahay clothes that fit her, they also have nice export overruns in large sizes. I got a beautiful 3XL sweatshirt-gray dress (label cut-off) for P350. Looks so cute when she wears it with sneakers.
Payless and SM Parisian shoes
Both have large sizes and Payless even has W (wide) sizes which I make sure to grab whenever I see a pair. I have yet to buy any of the Parisian' "big sized" shoes but I've noticed how much their styles have improved over the years and how many more options girls with big feet have these days. Definitely something on my "to-buy-in-the-future" list.
So yes, I took the challenge and I feel I totally aced it (even if I do say so myself). Yes, there are days when she still wears T-shirts, jeans and sneakers—let people make their hasty and stupid judgments—at least wearing an outfit like this is now because she wants to and not because she doesn't have any other choice. As it turns out, big girl fashion rocks and now, this momma knows it.
Disclaimer: The views expressed here are solely those of the author in her private capacity and do not in any way represent the views of Preen.ph, or any other entity of the Inquirer Group of Companies.
Art by Dorothy Guya
Follow Preen on Facebook, Instagram, Twitter, Snapchat, and Viber