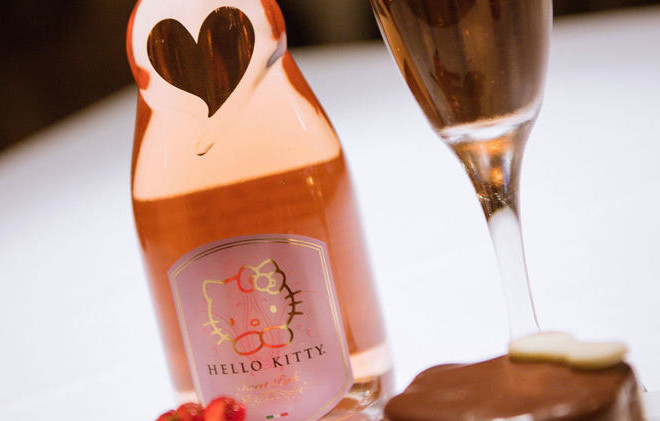 Japanese brand Sanrio recently partnered up with Italian winery Torti Wines to create bottles that best represent Hello Kitty and of course, that's sparkling rosé called Sweet Pink. Patrizia Torti, part of the family who owns the winery, told the LA Times that they have started the project in 2007 by setting aside a part of their harvest for the Hello Kitty brand.
The other varieties under the Hello Kitty wines are Cupido (sparkling white wine), Rosé (sparkling white wine), Rosé Collection (sparkling white wine vinified in Rosé), Charmy (white wine), and Lady (red wine). You will obviously find a bottle that suits your meal and current mood.
The sparkling rosé is a blend of Pinot Noir and Chardonnay, and for their sparkling white wine only Pinot Noir grapes are used. These bottles of wine are so special, because each grape is picked by hand according to Patrizia.
It's currently available in Antonello Ristorante in Los Angeles, but worry not because they will be widening distribution soon and it won't be limited edition. So round up the ladies and expect it to land in Asian countries soon.
[
Eater
 and
LA Times
]
Photo courtesy of Sanrio
Follow Preen on Facebook, Instagram, Twitter, Snapchat, and Viber