Yes, it's crazy behind the scenes. The photos don't show how models are everywhere, clothes fly off the racks, and makeup artists change looks from natural to vampy in seconds. It somehow makes sense in the end though: maybe because you don't have much of a choice. When the lights turn on, you're left with what you've got.
Esme Palaganas, the young designer behind Basic Movement, is still isn't used to it even though this is her fourth time at MFF. "I still get nervous. Natutulala pa rin ako minsan, she says. As the models piled in from the makeup room, she handed me the small card about her new collection en fin de compte (when all is said and done). In it contained the key words to her collection: "Bulacan custom embroidery on denim, cotton shirting and organdy, denim, ripped raw edges." The result is a juxtaposition of rough denim with fine lace and tulle. It's odd how the different things come together.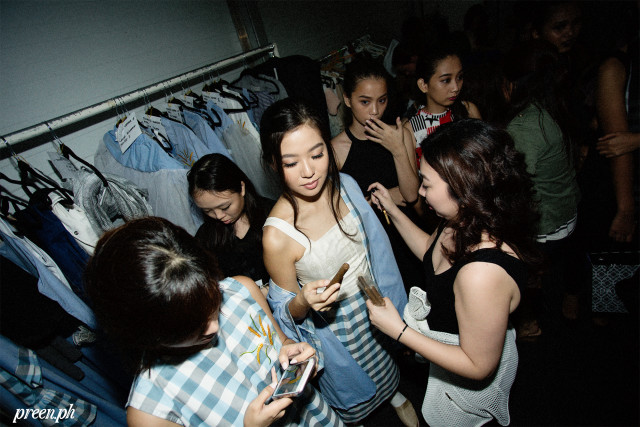 Gabbie Sarenas' Pintuho, for example, which stood as homage to traditional Filipino cloth featured carabaos and rice stalks embroidered on easy, breezy pieces. "I think about how we wear a daster, our grandmothers like slides, so I also collaborated with Maco Custodio on the footwear," she said with a smile. Breezy wasn't the term, however, as she shouted a few times when the models starting changing seconds before her collection graced the runway.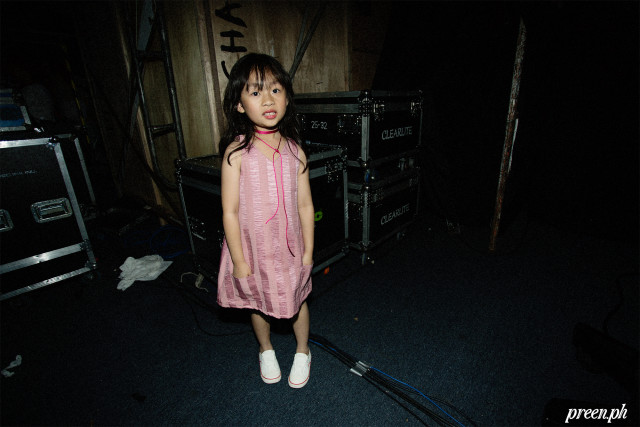 Tension like this was only broken by the individuals you see behind the whole production. Arin, the little girl which the modern label takes its name from, was quiet among models towering above her, as her mom Sara King dressed everyone else up. The latest collection, Reboot featured trendy and futuristic pieces in pastel colors. Again, how do the designers meld all of these contradicting concepts into one?
Maybe it's because amid everything else going on, fashion is always fun. Brit Romero was seen peppy for her first MFF show. Her collection for Weave was filled with pieces like jumpsuits and dresses for the club and after-party. It's just fitting, right?
On the other hand, Goethe Institut also joined in the fun with young designers Borjana Draca, Alice Beyer Schuch, Anita Heiberg, Rahel Gargousian, Noah Geren, Paola Lazatin, Janel Modejar, and Kim Baydo that featured sustainable clothing in neon colors and beaded appliques. It's amazing how these talents are already getting encouragement from other countries, how they're lending their vision this early. Soon, I won't be surprised to catch them doing their own show.
Fino Leatherware had models literally picking bags up on the runway in delicate and well-tailored ensembles. Their collection of bright colored bags with a patched effect seemed unexpected for the brand that is always a go-to for basic leather pieces.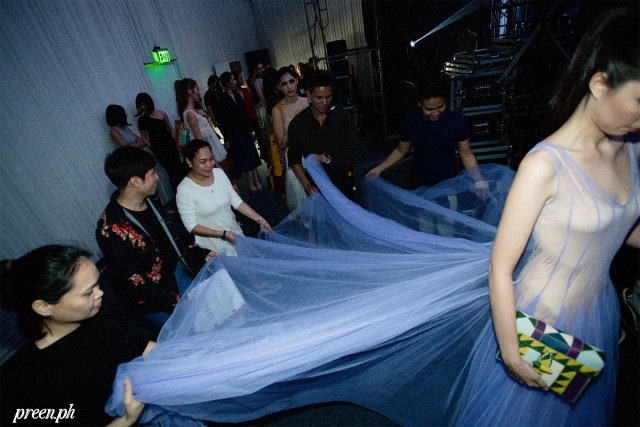 As for online favorite Zalora, they kept it youth-oriented with various  basics for every personality. From pants, to shirts and from dresses to shorts for both men and women, the hodgepodge wove in the story today's driven individuals.
So I guess the mix of everything and the mess it takes to put together a collection, a show, and an entire season is what makes fashion always exciting. What comes down the runway is always a surprise because of the endless possibilities that happen backstage.
Photos by RG Medestomas
Follow Preen on Facebook, Instagram, Twitter, Snapchat, and Viber