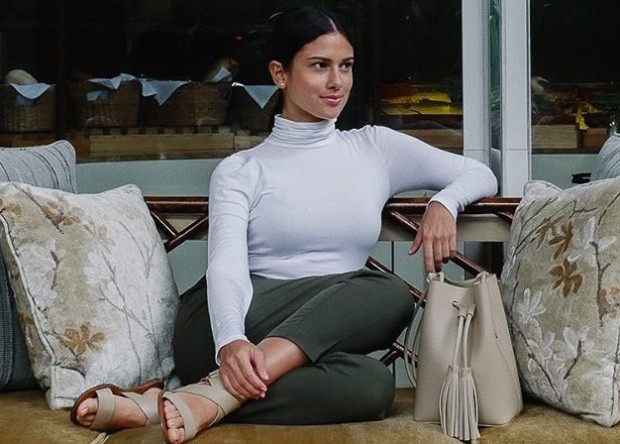 Aside from being an actress, blogger, and a restaurant co-owner, Bianca King is also a wellness advocate. Her Instagram feed alone is filled with photos of healthy food and workouts—and of course, her two adorable poodles.
Most recently, Bianca decided to completely go organic with her beauty products and let go almost all of her makeup and skincare products to detox her skin. "I went organic because I found out that I had dermatitis and was allergic to artificial fragrances," she shares during her talk for Neal's Yard Remedies at Rustan's Makati. "Before, I had to cover up the redness on my face with heavy makeup, but when I detoxed my skin, it went away."
She continues that she's switched all her scented products like shampoos and perfumes to natural alternatives like essential oils. Since then, Bianca has been sharing the benefits of going organic and being more mindful of what you consume, whether on her blog or at events such as this one. Even the food at her restaurant Runner's Kitchen promises of healthier meals.
We spoke to Bianca to find out more about what's changed after shifting to more organic products, as well as other ways she's keeping herself healthy.
How has your beauty routine changed ever since you switched to organic?
Oh, it's simplified! Before, I used to be that girl who had fancy everything—skincare products, makeup, scented everything. Then when I found out that fragrance is what caused my dermatitis, I literally had one product in my shower. I had like hypoallergenic fragrance-free shampoo and body wash that I used for six months. My toothpaste was flavor-free, it had no taste. My deodorant was also fragrance-free. I literally had to detox everything so it made me more mindful of what I consume.
What look do you usually go for now that you've limited using makeup?
I use very little makeup. I try as much as possible not to put foundation on my skin. I don't like to cover up my freckles, either so it's really just simple light eye makeup. [I use] mascara that isn't waterproof because I find that it makes my eyelashes shed, and just really nice eyebrows. That's it.
Are you also particular with what you eat? Do you follow a specific diet?
Very particular. [But] I don't [follow a diet.] I balance "good and evil." I'm very particular in the sense that I need nutrition so I eat a lot of vegetables. But I also enjoy desserts and buffets, as long as it's a balanced diet.
Are there particular dishes you like to indulge on?
Not really. For example, if I'm indulging on a meal, the next I should have a salad. That's just what I like to live by but I also believing in not depriving yourself. Because, if you're depriving yourself of something, you'll have the tendency to binge on it—you're keeping yourself from eating something that you don't like.
What's a dish that you love to cook?
I like braising different kinds of meat, whether it's beef, pork, chicken, duck.
How's your workout routine like?
[I don't follow a workout routine.] I really don't. I try to do a lot of incidental exercise like, if it's a short distance of, let's say, one kilometer, I'll try to walk it. I use the stairs even if it's like 20 flights of stairs. But I do a lot of yoga―yoga has been a constant thing in my life and I've been a very passionate yogi for over 12 years already.
What type of yoga do you usually practice?
I practice Vinyasa, Ashtanga, and Jivamukti.
Do you workout with your dogs also?
No, I don't. (Laughs) I just walk them.
What's one thing you do to relax?
Definitely light some essential oils in an oil burner with some water, and then I get a massage with my own organic massage oil.
Do you have a go-to snack that you munch on when you're stressed?
Stress eating is not advisable. I have a glass of wine, instead. It's like, when you're stress eating, you eat your feelings so you end up eating junk food―I try to avoid that. I want to do it but I turn that off [in my brain.] So I'll just grab a glass of red wine.
Top 5 beauty must-haves
Neal's Yard Remedies argan oil. I like to put it on the ends of my hair at night. I also need lip balm, cheek tint, eyebrow filler, and my favorite MAC Kinda Sexy lipstick.
Top 5 favorite essential oils to use
Eucalyptus, ylang-ylang—I like it for the fragrance, black pepper and basil for their healing properties, and lemongrass to relax.
Photo courtesy of Bianca King's Instagram account
Follow Preen on Facebook, Instagram, Twitter, Snapchat, and Viber