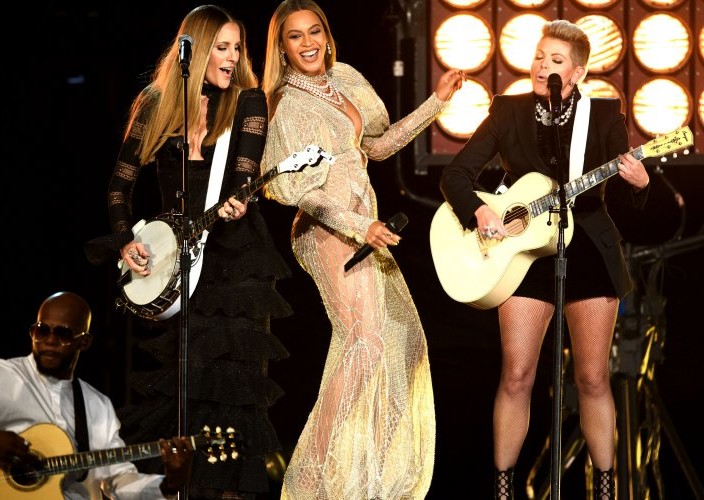 Last Wednesday night, Country Music Awards celebrated their 50th year and along with their usual lineup of performances is a name that most people did not expect to pop up—Beyoncé.
Queen Bey performed her song "Daddy Lessons" with the Dixie Chicks and it was one great performance that would make you dance (no joke), but guess not everyone was happy about it because there was a ton of tweets that popped up all through the night. And some were not even appropriate for publication.
They all thought Beyoncé did not fit the country music category.
People seeing nothing wrong with Beyonce being on the CMAs are the reason "country music" is crap now

— Andrea Aguilera (@Teya_Botella) November 2, 2016
Omg what's this crap about Beyoncé performing at the CMA's? Um no? Go away? Go back to your own genre? Thanks?

— Cassette #7 ⭐️ (@Katie_Karvinen_) November 2, 2016
Washington Post disagrees and said in their report that, "She might not be a country musician, but the song certainly seemed to fit into the ever-expanding definition of country music." Beyoncé drew inspirations from her childhood in Houston and even her life in New Orleans, so as we would like to reiterate—it was well-within the category.
Many brought up her skin color and threw in the most racist of tweets.
#CMAawards50 Beyonce is performing at the CMA Awards. I guess next year, Carrie Underwood will be performing at the BET Awards.

— Steven Conrad 🔰 (@StevenConrad411) November 3, 2016
Having Beyonce perform at the CMA Awards is like having Taylor Swift perform at the BET Awards.

— Travis Andrews SUCKS (@ImFarToTheRight) November 3, 2016
#Boycott @CMA since it wants to have a cop hater like @Beyonce on our country music show. She's not ruining our music.

— Barbara Platt (@blp3) November 3, 2016
Really @CountryMusic ? Beyonce at the #CMAawards50 Aside from that trash, much better show than last year

— Dee Nobody (@Ca_Country_Girl) November 3, 2016
Uncalled for, honestly. And I think they all need to brush up on music history. The Washington Post named artists like Ray Charles and DeFord Bailey—black men who played country music and made history.
There may be haters, but the performance of the Dixie Chicks and Beyoncé was truly awesome and a lot of people still agree.
IS THIS REAL LIFE?! @Beyonce @dixiechicks #CMAawards50

— Grand Ole Opry (@opry) November 3, 2016
Beyoncé can literally do anything. She'll slay any genre like it's nothing!

— Zara Larsson (@zaralarsson) November 3, 2016
Beyonce and Dixie Chicks performing together is my personal proof that I serve a God who answers prayers.

— Christiana A Mbakwe (@Christiana1987) November 3, 2016
[
Washington Post
]
Photo courtesy of The Daily Beast
Follow Preen on Facebook, Instagram, Twitter, Snapchat, and Viber