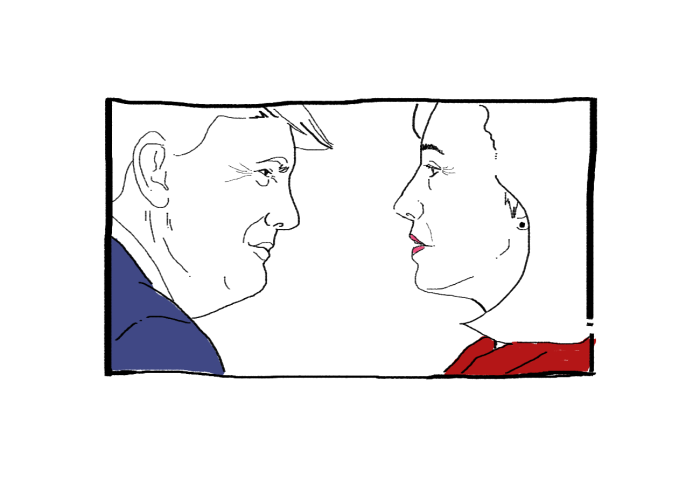 This column may contain strong language, sexual content, adult humor, and other themes that may not be suitable for minors. Parental guidance is strongly advised.
By the ninth of November, there will be a new POTUS. One would think that between the two candidates, the choice is pretty clear.  As Seth Myers put it as succinctly as he possibly could:
"That's a problem for a lot of Americans: They just don't love the two choices. Do you pick someone who's under federal investigation for using a private email server? Or do you pick someone who called Mexicans rapists, claimed the president was born in Kenya, proposed banning an entire religion from entering the US, mocked a disabled reporter, said John McCain wasn't a war hero because he was captured, attacked the parents of a fallen soldier, bragged about committing sexual assault, was accused by 12 women of committing sexual assault, said some of those women weren't attractive for him to sexually assault, said more countries should get nukes, said that he would force the military to commit war crimes, said a judge was biased because his parents were Mexicans, said women should be punished for having abortions, incited violence at his rallies, called global warming a hoax perpetrated by the Chinese, called for his opponent to be jailed, declared bankruptcy six times, bragged about not paying income taxes, stiffed his contractors and employees, lost a billion dollars in one year, scammed customers at his fake university, bought a six-foot-tall painting of himself with money from his fake foundation, has a trial for fraud coming up in November, insulted an opponent's looks, insulted an opponent's wife's looks, and bragged about grabbing women by the pussy?"
"How do you choose?"
Indeed, it really ought to be a no-brainer, yet there are apparently millions ready to cast their vote for the candidate whose entire resumé is a cross between a scandal sheet and a dunce's report card.  Of course it is simplistic and reductive to distill Hillary Clinton's unpalatability to some voters on the reckless use of a private email server. She has her faults and her flaws.  As The Economist's endorsement of the former Secretary of State stated, among other things, "Her tax plan is fiddly. Her opposition to the trade deal with Asia that she once championed is disheartening."
Yet she remains eminently qualified for the office she is seeking. "Mrs. Clinton is a better candidate than she seems and better suited to cope with the awful, broken state of Washington politics than her critics will admit. She also deserves to prevail on her own merits."
Her ascension to the presidency would be, without a doubt, revolutionary, glass-ceiling-shattering, game-changing; so would Donald Trump's, in a manner of speaking, in ways far more disastrous and catastrophic than a woman becoming President of the United States. And that is hardly being hyperbolic.
As revolutionary as Clinton becoming president would be, the irony is that the triumph of a woman who would have endured all sorts of slights and slurs, defied all sorts of odds, not to mention all sorts of obstructionist threats from Republicans in Congress, even before taking office, will usher in a new era of limitless possibility for women and, unfortunately, a misogynistic extravaganza for men.  The blatant, unapologetic sexism already evident during this campaign season will be amplified even more, as angry (mostly) white men rail even more vociferously (perhaps their voices an octave higher) against the woman who cut them off at the balls.
It's frightening how she is being demonized.  All this vitriol directed at Hillary Clinton—a woman who has dedicated 30 years of her life to public service and the upliftment of women and children in particular—is, quite frankly, perplexing.
President Barack Obama suspects a deep-seated sexism at the root of all this hate.  He minced no words at a recent rally, asking the men present, "Is sexism stopping you from supporting Hillary Clinton for president?"
He talked about a double standard at play.  "You know, there's a reason why we haven't had a woman president before, and I think sometimes we're kind of trying to get over the hump," Obama said. "I want every man out there who's voting to kind of look inside yourself and ask yourself: If you're having problems with this stuff, how much of it is, you know, that we're not just used to it?"
Ambition in a man is permissible, he said, and even expected.  "But when a woman suddenly does it, suddenly you're all like, 'Well, why's she doing that?' I'm just being honest. I want you to think about it because she is so much better qualified than the other guy. She has conducted herself so much better in public life than the other guy. This notion that somehow it's hard to choose, it shouldn't be."
Personally, I feel there is so much at stake in this election, and for any sane person the choice should be abundantly clear: Hillary Clinton deserves to win the presidency.  Call me harsh, but closing your eyes at Trump's misogyny, racism, nativism, narcissism, myopia, in addition to his shockingly bad record as a businessman and employer, his moral turpitude, his general creepiness and yes, his criminality, and voting for him anyway is unfathomable, and quite frankly, a deal breaker.  I've unmatched, without a second thought, men who profess to support Trump; I've told family to abstain from voting if they're going to vote for Trump.  And a few days ago, I told someone that I was sleeping with for the better part of two years that I would never sleep with him again if he was going to waste his vote on a man as despicable as Trump.
He had suggested meeting up in Europe.
My exact words to him were: "F*ck no, not if you're voting for Trump."
He must have thought about it, because the next day, he messaged me and said he was no longer voting.
B. Wiser is the author of Making Love in Spanish, a novel published earlier this year by Anvil Publishing and available in National Book Store and Powerbooks, as well as online. When not assuming her Sasha Fierce alter-ego, she takes on the role of serious journalist and media consultant. 
For comments and questions, e-mail [email protected] 
Disclaimer: The views expressed here are solely those of the author in her private capacity and do not in any way represent the views of Preen.ph, or any other entity of the Inquirer Group of Companies. 
Art by Dorothy Guya
Follow Preen on Facebook, Instagram, Twitter, Snapchat, and Viber