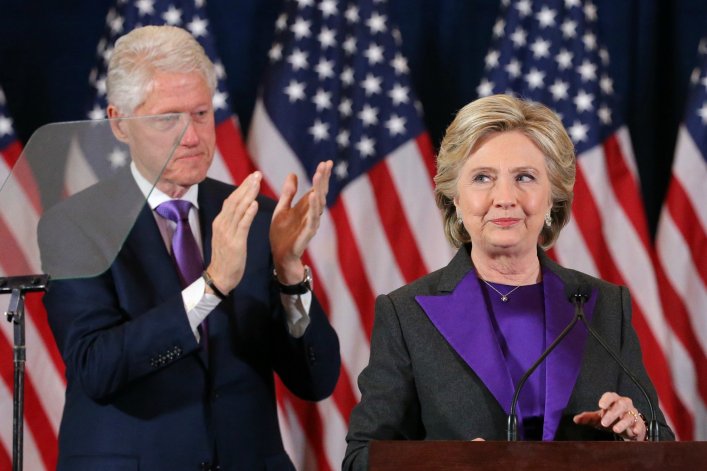 Hillary Clinton's concession speech following her loss against Donald J. Trump was free from any signs of bitterness, but not of pain. She held back tears, but every word that came out of her mouth was inspiring, encouraging, and empowering.
She mentioned congratulating president-elect Trump on the phone and voiced out her hope of having him lead to be the best president for every American—no matter what race, gender, or religion. "The American dream is big enough for everyone. For people of all races and religions, for men and women, for immigrants, for LGBT people, and for people with disabilities. For everyone."
"I'm sorry," she said. "This is not the outcome that we wanted and we worked so hard for, and I am sorry that we did not win this election."
Hillary talked about the youth and how she urges every single one to never stop doing good and fighting for what's right because it is always worth it. She talked about pain and setbacks, unity, and women.
"To all the women and especially the young women who put their faith in this campaign and in me, I want you to know that nothing has made me prouder than to be your champion. I know we have still not shattered that highest and hardest glass ceiling, but someday someone will, and hopefully sooner than we might think right now.
And to all the little girls who are watching this, never doubt that you are valuable and powerful and deserving of every chance and opportunity in the world to pursue and achieve your own dreams."
I am a resident of the Philippines, but upon hearing her speech I teared up. Because I may not live in the country she had hoped to lead, but I am a woman—someone who felt her rights would be stripped off given what Trump has done and represents. But her words were nothing short of positive urging everyone to keep moving because there is work to be done.
[
Vulture
 and 
The Cut
]
Photo courtesy of The Daily Beast
Follow Preen on Facebook, Instagram, Twitter, Snapchat, and Viber