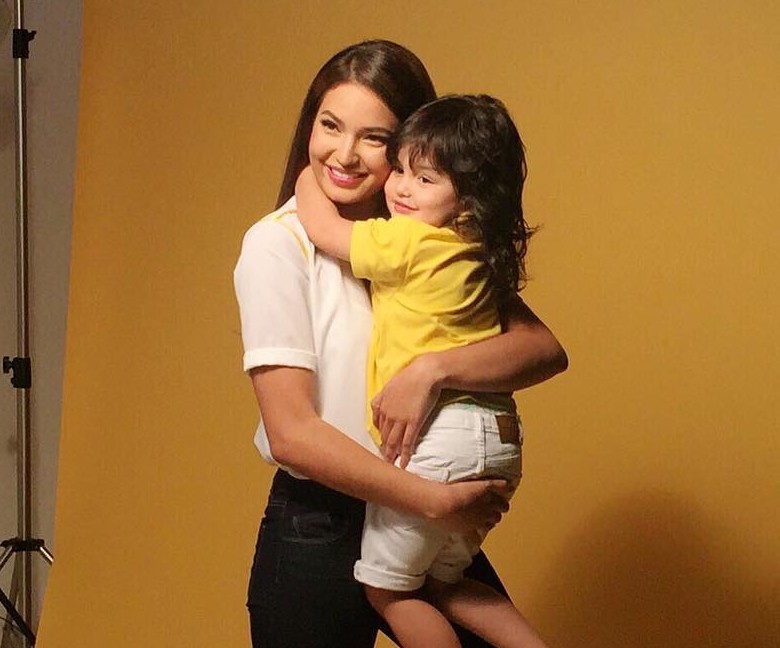 Sarah Lahbati has a lot on her plate right now―showbiz work, endorsements, and being a mom to three-year-old Zion. Despite all her commitments, she still makes sure that she spends quality time with him and keep an eye on his health, among many other things.
"If I don't have the time and someone prepares his food, I'd always make sure I ask what's in it, I tell them what to cook, I make sure there's no bad ingredients like MSG. So, I'm very hands-on when it comes to his food," Sarah tells us during a group interview.
Since Sarah and Zion are endorsers of the Nido Protectus 3+ milk, we wanted to know more about how active Zion is, their favorite activities, and even that infamous "Check the label" meme.
How is Zion? Is he super active right now?
Yes! He has so much energy. They say "terrible three," I say "terrific three." You know, he picks up anything he hears or watches. Everyday there's something new happening with him so it's kind of wonderful. So yeah, he's very hyper―a very hyper, happy baby. As long as I'm not wearing heels, I can keep up with him. (Laughs)
Is it difficult to feed him vegetables or any healthy food?
Surprisingly, no. Because when I was pregnant, I would eat a lot of vegetables. After giving birth, I made sure that I'll introduce lots of vegetables right away so he doesn't hate it when he's three or four. He actually loves salads, broccoli, and et cetera.
What are your favorite activities to do together?
Music, anything that has to do with music. We love singing. He likes books, but music plays a big part in our lives. He has drums, a guitar, a piano, and he's a quick learner when it comes to songs and lyrics so we enjoy singing together.
Do you imagine him having a music career in the future?
I mean, I don't know. Whatever he will be into, I will support him a hundred percent, that's for sure.
How has motherhood changed your life?
You know what, motherhood changed everything―my perspective on life and it gave me a meaning to my life because I feel that everything makes sense now. When it comes to work, I work harder because I think of Zion and I don't want to think about just myself as I used to before Zion. So, everything changes in a very positive way and it's a lovely thing to be a mother.
What can you say about the "Check the label" meme that's going around the Internet?
(Laughs) I loved the memes! They're so funny. When I saw the first one, I kept laughing for like an hour! I shared them to all my friends, I retweeted it, I reposted in on Instagram. I think people should continue making them just because it's so funny and I love our humor. And it's additional marketing for Nido, so it's cool. I'm not complaining, I love it!
Do you have any advice for people who have those kinds of relationship problems?
You know what? I might make a book one day―I'm serious. [The title can be] Check Mo Muna. (Laughs) No, I'm kidding. Actually, we're thinking about a book in the future and I'll definitely talk about love life and advice, and "check mo muna" matters. (Laughs)
Photo courtesy of Sarah Lahbati's Instagram account
Follow Preen on Facebook, Instagram, Twitter, Snapchat, and Viber