James Corden's Carpool Karaoke has always been a favorite thing to watch on late night TV and on YouTube right after. This week's guest was quite the entertainer and boy did she not let us down. Madonna joined James and drove all around New York City as she sang to her most iconic songs and at the same time dished out meaningful advice, compliments, and juicy stories.
We list down five things she revealed on that 14-minute video.
#1 There Are Life Lessons to Be Learned While Driving
James was cut-off by a bus driver and zoomed ahead. Madonna wanted to catch up with the bus driver so that she can give him "what's what." But James was hesitant. Eventually the bus cut off another car and Madonna responds, "See? Because you let him get away with that behavior. You let people get away with bad behavior, they're going to do it again." Now that's something I'd like to apply in life.
#2 Her Dance Moves Are Not Limited Even on the Passenger's Seat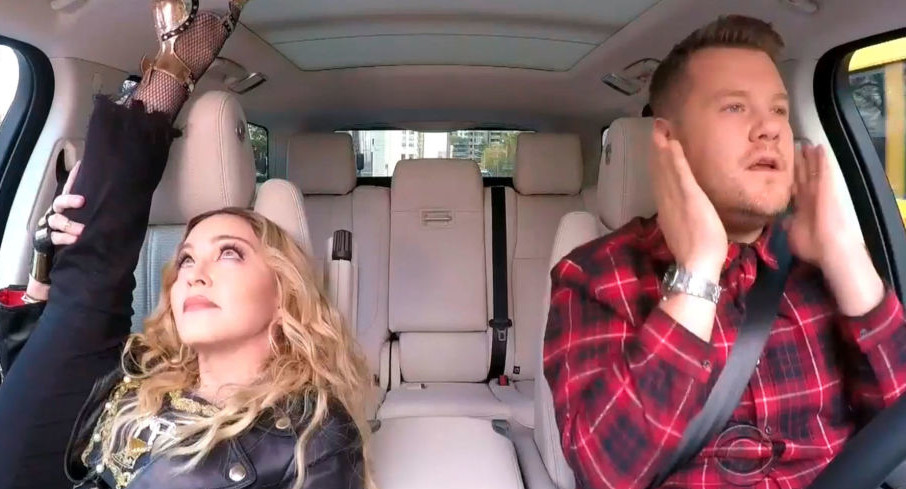 Madonna is Madonna and she'll give you performance no matter where she is, and in this case James' car. She moved with her arms and lifted her legs way past her head to show off her fishnet tights, but the best part really was the in-car twerk that she pulled off. Quite amazing given the tiny space and leg room.
#3 She's Madonna on Stage, but Julie Andrews at Home
"My Kids are rebellious," she said. "Because I don't… My work is rebellious but my lifestyle is not rebellious. I don't smoke, I don't drink, I don't party. I'm quite square." Apparently, she has a predictable life at home and is nothing like any of her songs or stage performances. We agree with James, it is quite fascinating.
#4 She's Not Afraid to Dish Out Fashion Advice
She complimented James' wife for being lucky to be married to him. "I think the best thing in the world is being married to someone who is funny…" Her next line though kind of broke him as she said, "All that's missing is a good dress sense," complete with a side-eye. Later on in the video, she calls his shirt ridiculous.
#5 She French Kissed Michael Jackson in the Past
James asked about her friendship with Michael Jackson, to which she replied, "Do you want me to kiss and tell? Baby, I've been around." She disclosed juicy details like how she did the first move because Michael was one shy guy. She said that a glass of Chardonnay even helped him loosen up and it worked wonders. And she has never disclosed this before!
These carpool rides can really get interesting. Thanks for making our morning ten times better, Madonna!
Photo courtesy of Youtube
Follow Preen of Facebook, Instagram, Twitter, Snapchat, and Viber