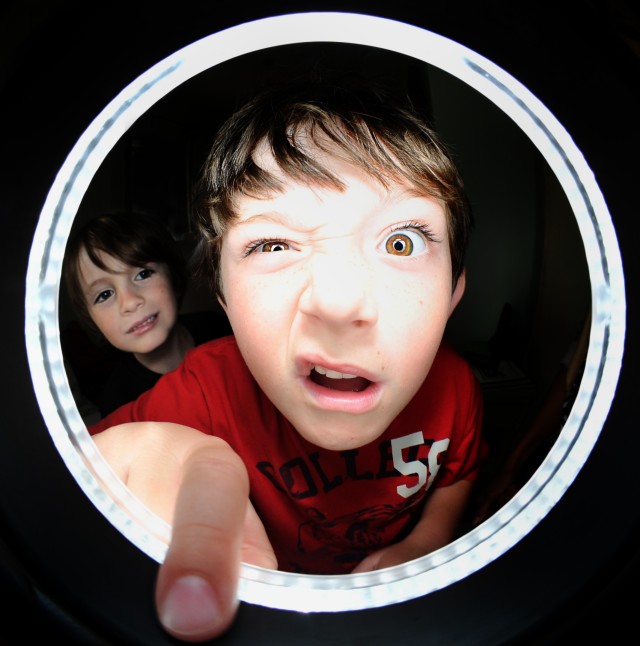 This column may contain strong language, sexual content, adult humor, and other themes that may not be suitable for minors. Parental guidance is strongly advised.
There comes a point in every woman's life when she has to explain to her children what that vibrating wand, or bullet, or uncannily lifelike rubbery penis in her bedside drawer really is. Or not. For the history of sex toys is also a narrative of concealment: the gadgets designed to create waves of intimate pleasure are the same gadgets that need to be hidden from view. Objects that drive desire to its logical, conclusion—orgasm—in the most private of moments are simultaneously objects of shame or horror when chanced upon by unauthorized eyes.
It always seemed tiresome to me to have to go through the motions of discreetly squirreling away any vibrators, wrapping them in a towel, even, then stuffing them somewhere in the depths of the cupboard where my children and the help would never think of looking.  Equally a chore was having to, when the urge to have some "me-time" presented itself, rummage through the same cupboard and retrieve the pleasure device from its hiding place. And then there was the thorough cleansing required of the thing before and after use, like a sacred ritual, soaping in and around folds and ridges and shafts, vaguely erotic yet oddly clinical at the same time.  Considering the relatively short amount of time spent getting off with the aid of devices, it would appear that much more time and effort goes into the before and after ceremony.  Much like a Kardashian marriage. Pre-Kanye, of course.
A friend of mine used to keep her portable little sex toy in her purse.  A slim, shiny bullet that vibrated when you switched it on, it looked like, well, a bullet.  Her son discovered it once while searching through her purse for her phone.  Thinking it was a toy that boys could play with (which it was, not that they had the same kind of game in mind), he asked her what it was.
"It's a dildo," she said, quite matter-of-factly. If she was embarrassed, she didn't let on.
"A dilly-doe?" the eight-year-old repeated.
And so, the mini-vibrator henceforth became known as the "dilly-doe" in their household, a private joke the family laughed about from time to time. Whether she ever explained what purpose a "dilly-doe" actually served is unknown, but then again, this is a woman who had a nude photograph of herself framed above her headboard. It's unlikely that she invented some elaborate cover story, like calling it a portable karaoke microphone or an electric massager for sore muscles.
Which is apparently what the famous Hitachi Magic Wand was initially designed for. The undeniable phallic design notwithstanding, the Magic Wand does look like a sing-a-long microphone but is actually marketed as a portable home massage device.  Direct it at a sore spot, and the powerful vibrations coming from the 12-inch long device with the rubberized 2.5-inch head would smooth away whatever soreness there was, bringing relief to aching backs, tight necks, and tense shoulders. But women caught on soon enough to its ability to relieve another kind of tension altogether. And how. Not for nothing is the Magic Wand called the Rolls Royce of vibrators, bringing women to orgasm in record time, powered by vibration rates of 5,000 and 6,000 rpm.  If that doesn't rock your world, Lord help you, I don't know what will.
Samantha Jones in Sex and the City famously bought one but—sexual omnivore that she was—was unhappy with the results, and marched back into Sharper Image demanding a replacement vibrator, only to be told by an adamant sales assistant that it was a neck massager.
The Magic Wand may indeed have been designed for therapeutic rather than masturbatory purposes, but as we all know, masturbation often has great therapeutic value.
But again, what to do when your kids find your Magic Wand, or any other sex toy for that matter?  A mother, Jenna Andersen, going by the username @thatwife, posted a photo on her Instagram account of her two young children, her four-year-old son and her not quite two-year-old and still in nappies daughter, playing with her Magic Wand.
"They call this the 'robot massager game,' and love to trade it back and forth to find the funniest effect. #editedcaption# thankyouInstagram# soremusclemassagingdevice # neverbeashamedtoeditandclarify "
The reaction to Andersen's post was predictably divided, with as many women condemning her to traumatizing her children for life as lauding her for being nonchalant about the whole issue and letting her children play with her vibrator. In a non-sexual way, of course.
In a piece in Salon, Tracy Clark-Flory asked a parenting and sexual health expert, Amy Lang, for her views on the matter.
"'If the massager was shaped like a penis, then I can see why people would find this inherently problematic,' she said. 'Letting kids play with a real, penis-shaped vibrator isn't a good idea—mostly due to hygiene reasons.' So what should parents do if their kids find their penis-shaped vibrator? If the children are under age six, Lang suggests that parents respond with something along the lines of, 'Hey! I see you found that. I'm going to put it away now—it's something I use for private alone time. What do you want for dessert tonight?'"
Reacting calmly with a bit of humor is far better than hysteria.
For reasons more to do with hygiene than anything else, I probably would not want my children playing with anything I use for my private sexual pleasure, even if they pretend they're on The Voice and it's a microphone, or they're in space and it's a laser gun, or they're fairy godmothers waving a magic wand at Cinderella, or they're characters in Toy Story playing with a robot's vibrating whatever.
I'm all for imaginative play, whether you're a child or an adult, but certain things should really be kept out of the reach of children.  And certain photos should never be shared on Instagram.
As for vibrators and me, I prefer to do it digitally.
B. Wiser is the author of Making Love in Spanish, a novel published earlier this year by Anvil Publishing and available in National Book Store and Powerbooks, as well as online. When not assuming her Sasha Fierce alter-ego, she takes on the role of serious journalist and media consultant. 
For comments and questions, e-mail [email protected]
Disclaimer: The views expressed here are solely those of the author in her private capacity and do not in any way represent the views of Preen.ph, or any other entity of the Inquirer Group of Companies.
Photo courtesy of Unsplash
Follow Preen of Facebook, Instagram, Twitter, Snapchat, and Viber