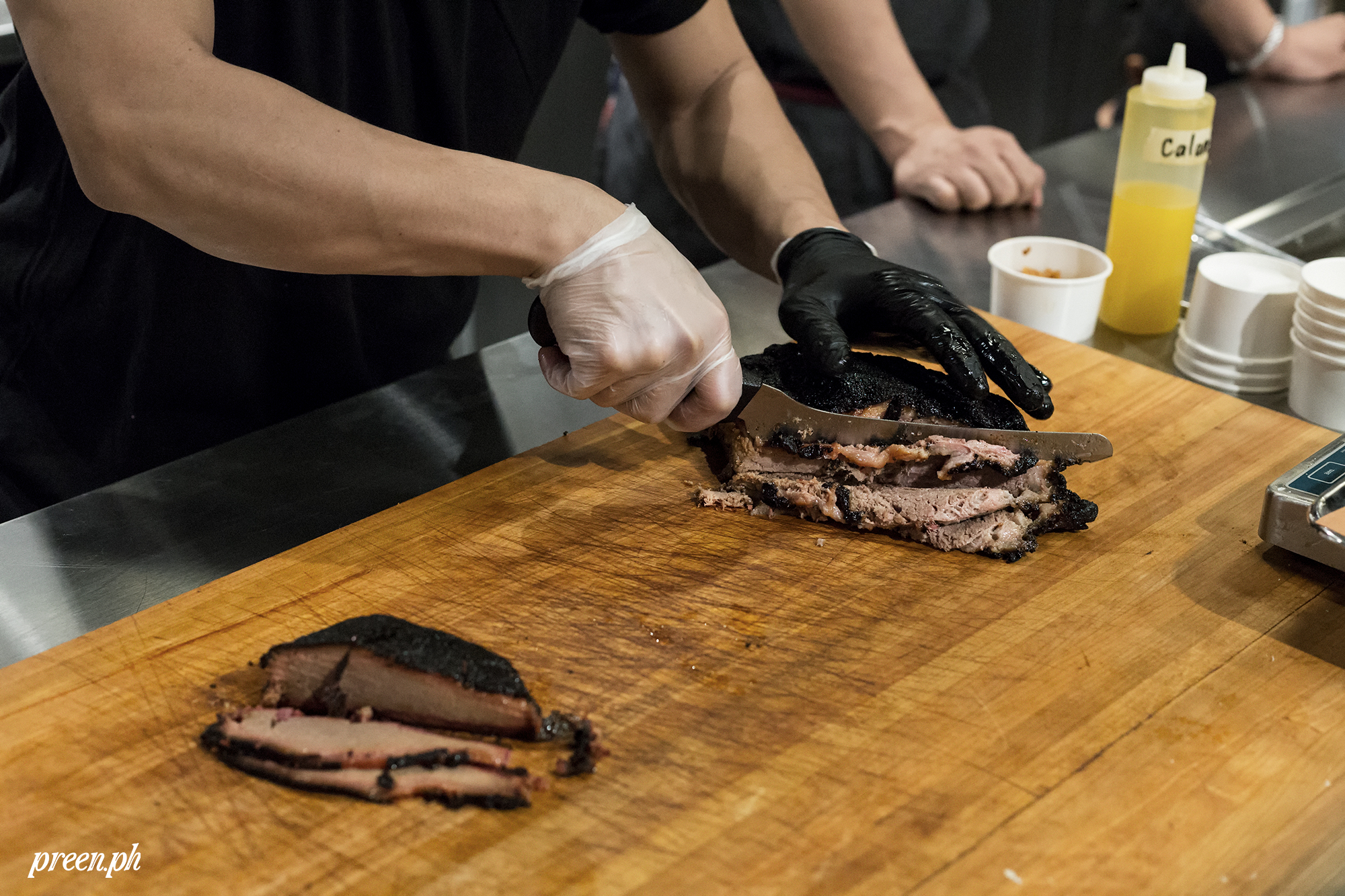 "Two things: Barbeque is new in the Philippines. It's not slow-roasted, it's smoked," was what Hugh Mangnum told me when I asked him about a background on slow-smoked barbeque. Hugh is the owner and pit master of Mighty Quinn's, a casual dining spot born in New York. And I, obviously, have no knowledge about American barbeque at all, except for that short scene from the movie Chef that I watched years back.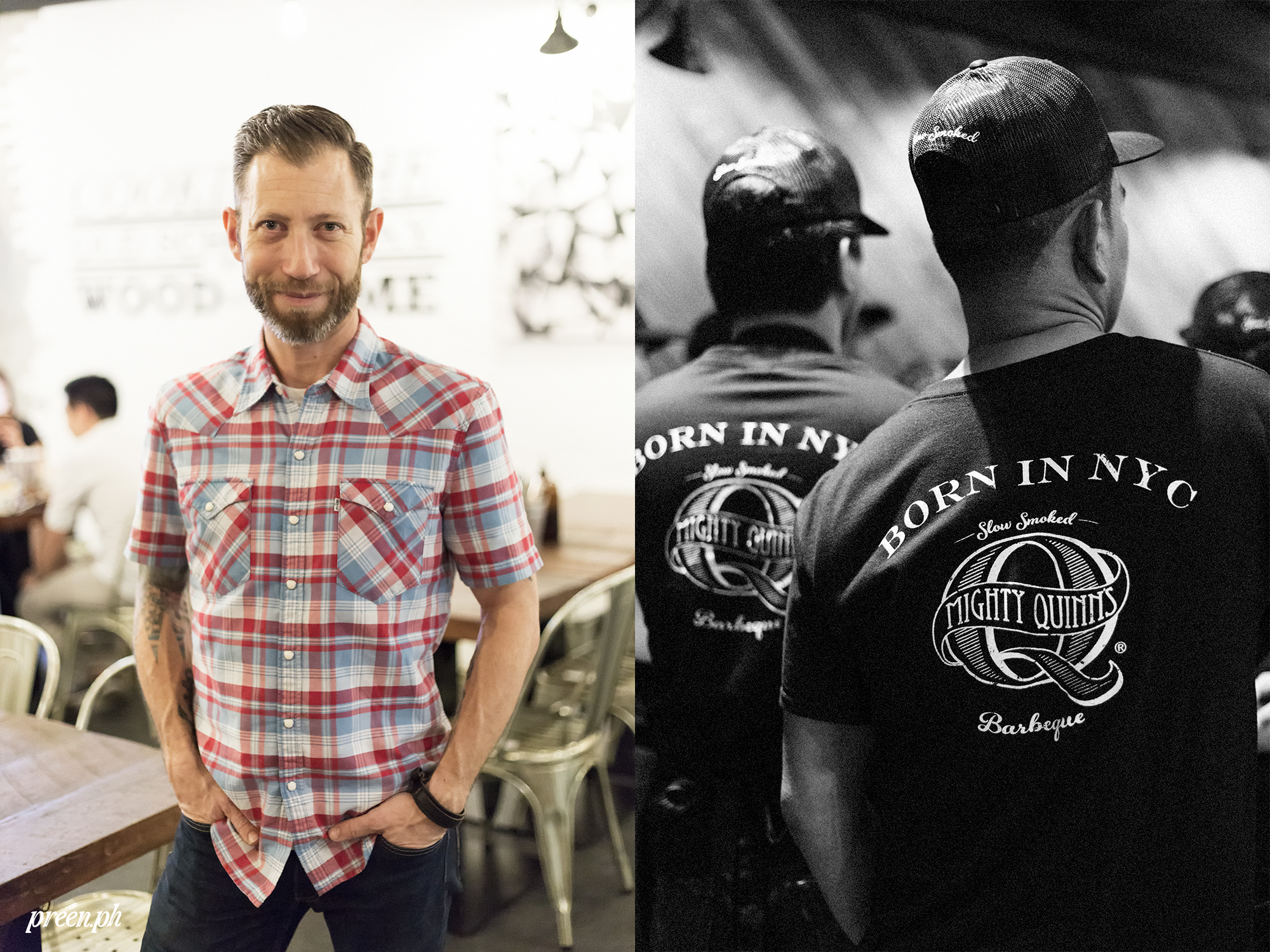 "There's barbeque that's direct grilling and I think that is what you are more used to here. Over wood or charcoal, and that's grilling. Barbeque as an American term, as far as culinary, is cooking over long periods of time, over low heat, over indirect flame," said Hugh. It takes a lot of work. It starts with the meat (always all-natural and hormone-free), then they apply a dry rub with various spices and let the meat sit for about 24 hours. The reason behind letting it sit for a day is because the meat is porous, when you apply the rub, it sweats and when you leave it longer, it dries out. That process allows the flavor to get in and at the same time tenderize the meat prior to smoking. Straight from the dry rub, they smoke the meat until it's done just right. The famous brisket and its burnt ends take about 18 to 24 hours, the pork can go from 12 to 16 hours, and the beef ribs is at four to six hours.

When they smoke, they use hard wood like oak with a mix of a few fruit woods that give that distinct kiss of flavor on the meat. Hugh did not disclose his trade secrets, but was happy to share a few types of wood he likes to play with. Oak will always be the base and depending on the meat, you can add fruit woods like peaches, pecans, cherry, and even apple. But they are only added in bursts as they have very aggressive flavors.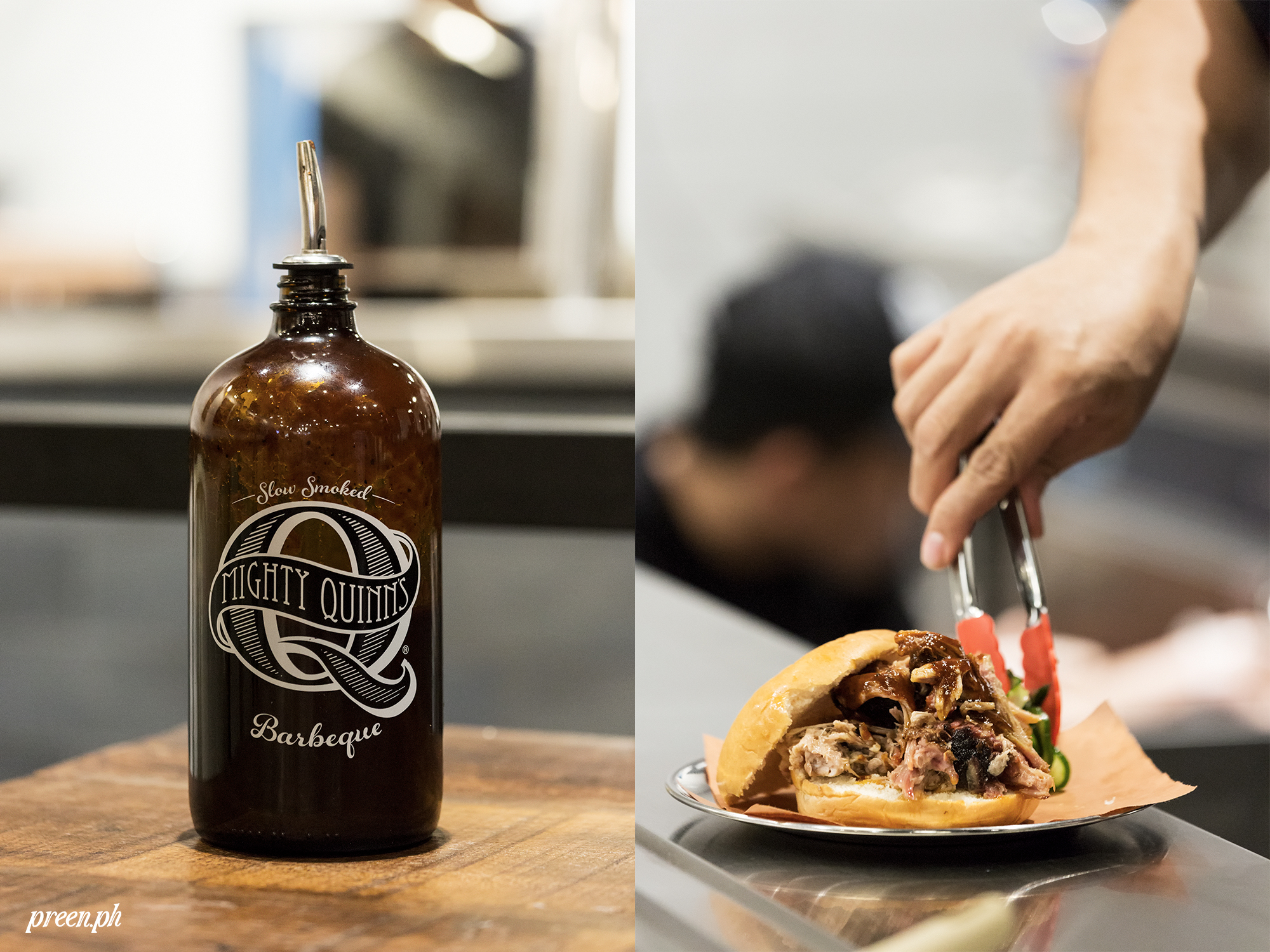 In Manila, they do exactly the same under the eye of chef Lee Jose who was trained by the executive chef of Mighty Quinn's in the States, Alex Stanko, and of course, Hugh. They made sure all of the meats, sides, and pickled vegetables served are the same as the ones served in their New York branches.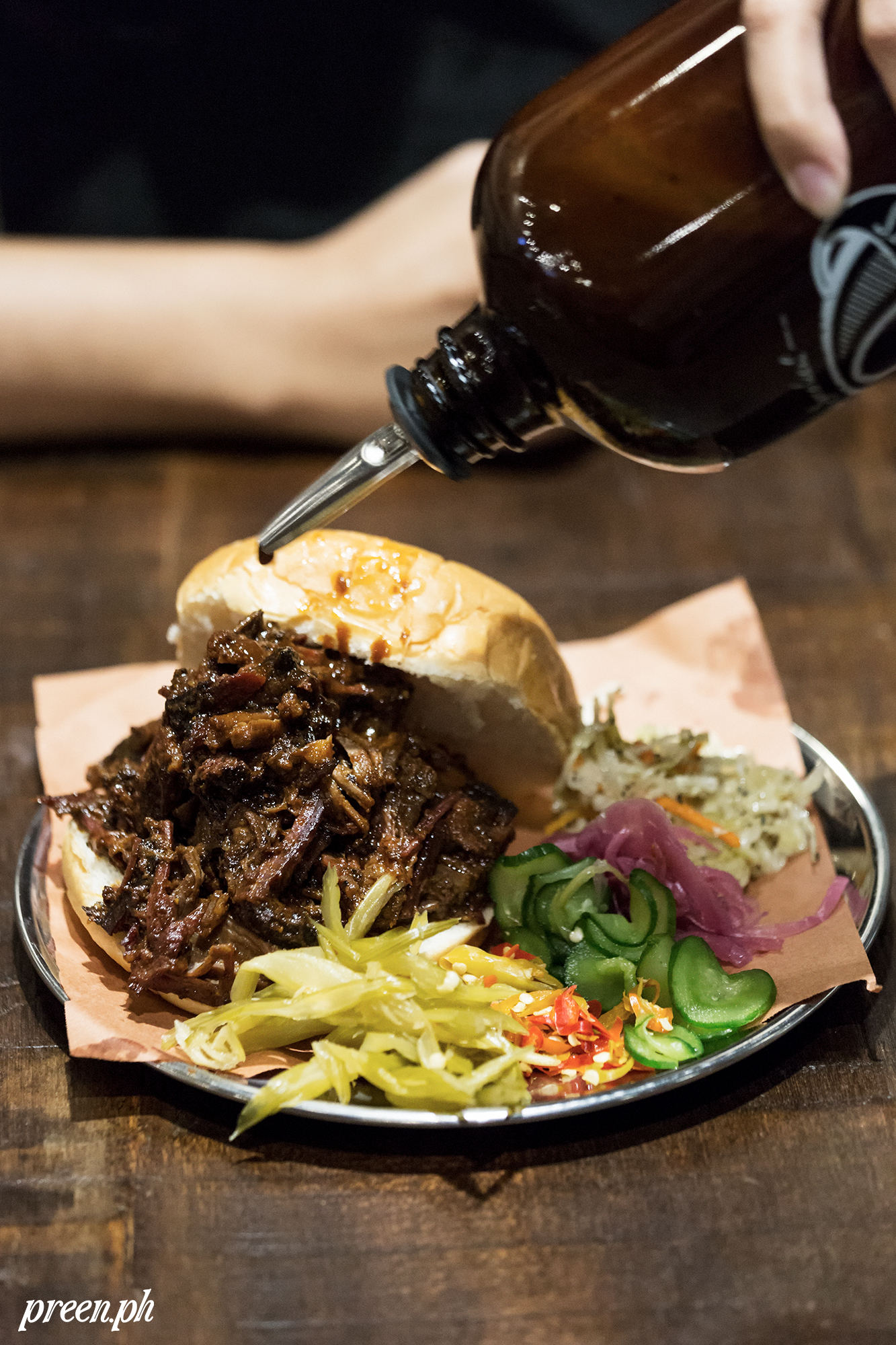 We were served with five kinds of meat, all with varying types of texture and flavor. First up was Pulled Pork (P485) served as a sandwich. The meat is tender and juicy, I found it very flavorful so I ate it even without the additional barbeque sauce. Another dish we tried served as a sandwich was the Burnt Ends (P495), it is actually all the crispy and toasty ends of the brisket cooked further in sauce. It's a tougher chew compared to the pulled pork, but boy was it so darn good. We actually can do away with the bread it came in, and opted to just eat it with the pickled sides it was served with.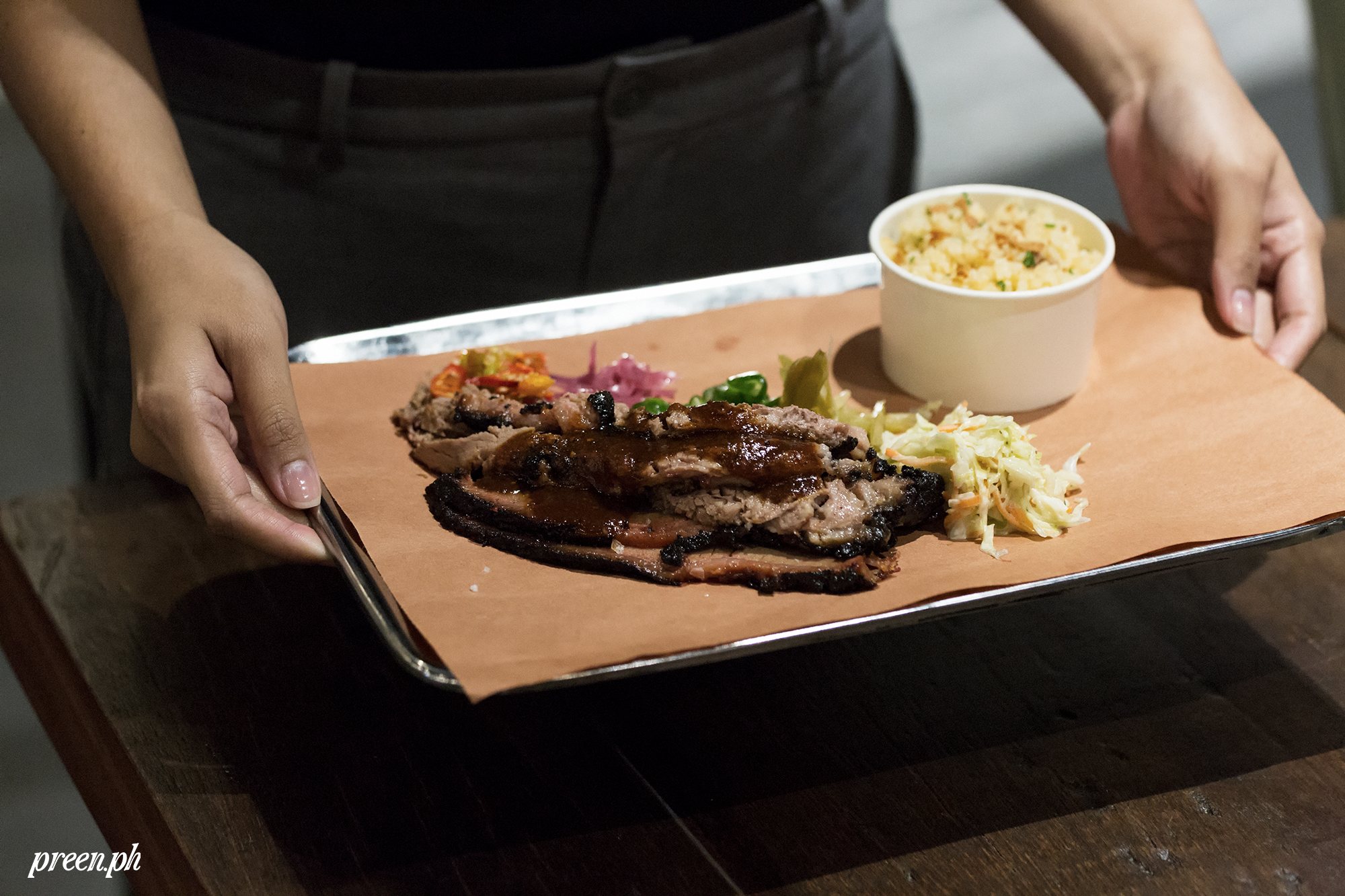 Their famous Brisket (P495) came in next. It was so soft it felt like butter in my mouth, the meat was how I imagined it to be—fatty and succulent. This was easily the crowd favorite and a dish that should not be missed. Third was the Spare Ribs (P495) which we ate with our bare hands (no need to feel judged!) because we thought there was no other way of eating it. It had, just like the rest, the right amount of flavor and tenderness.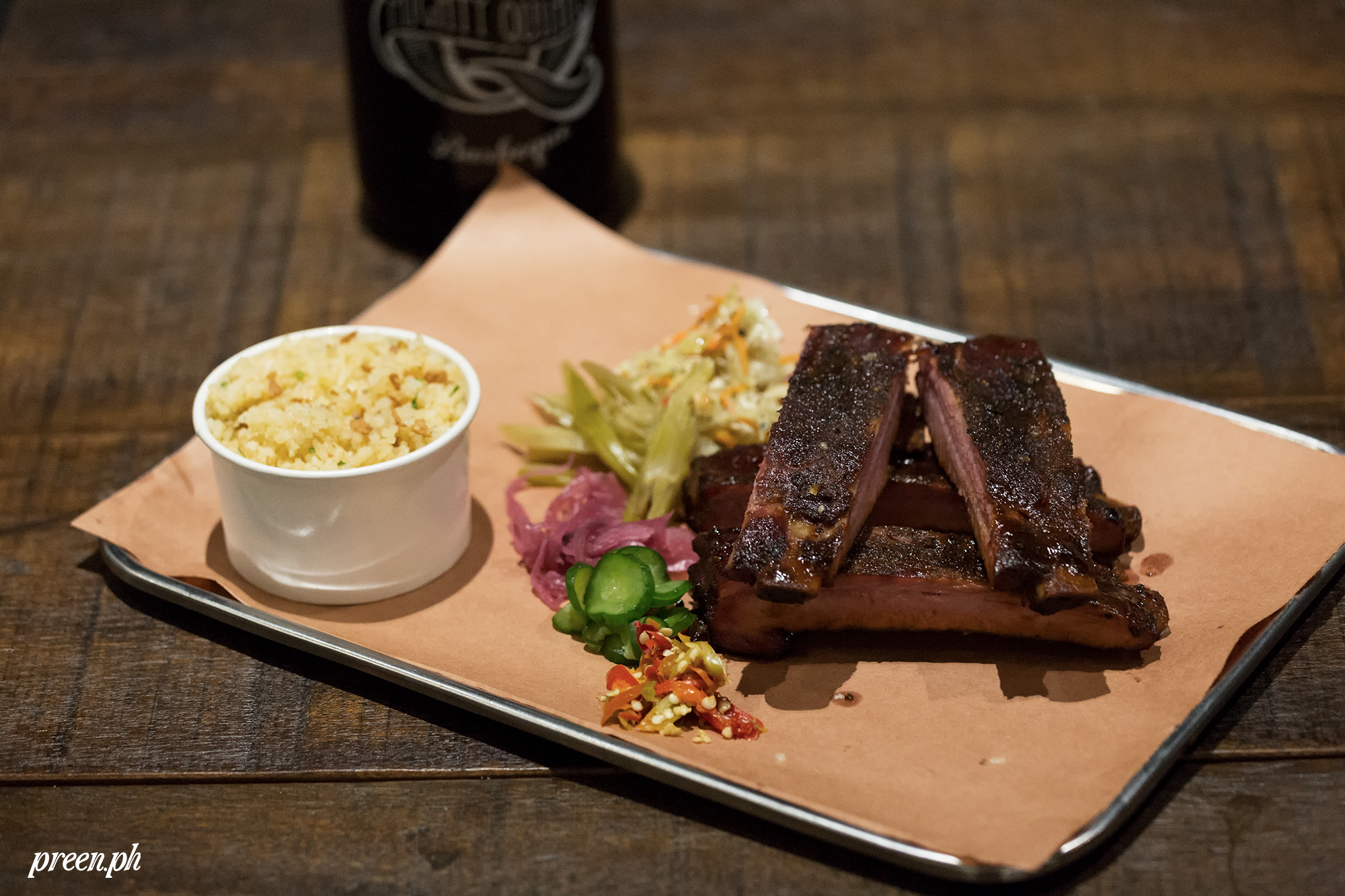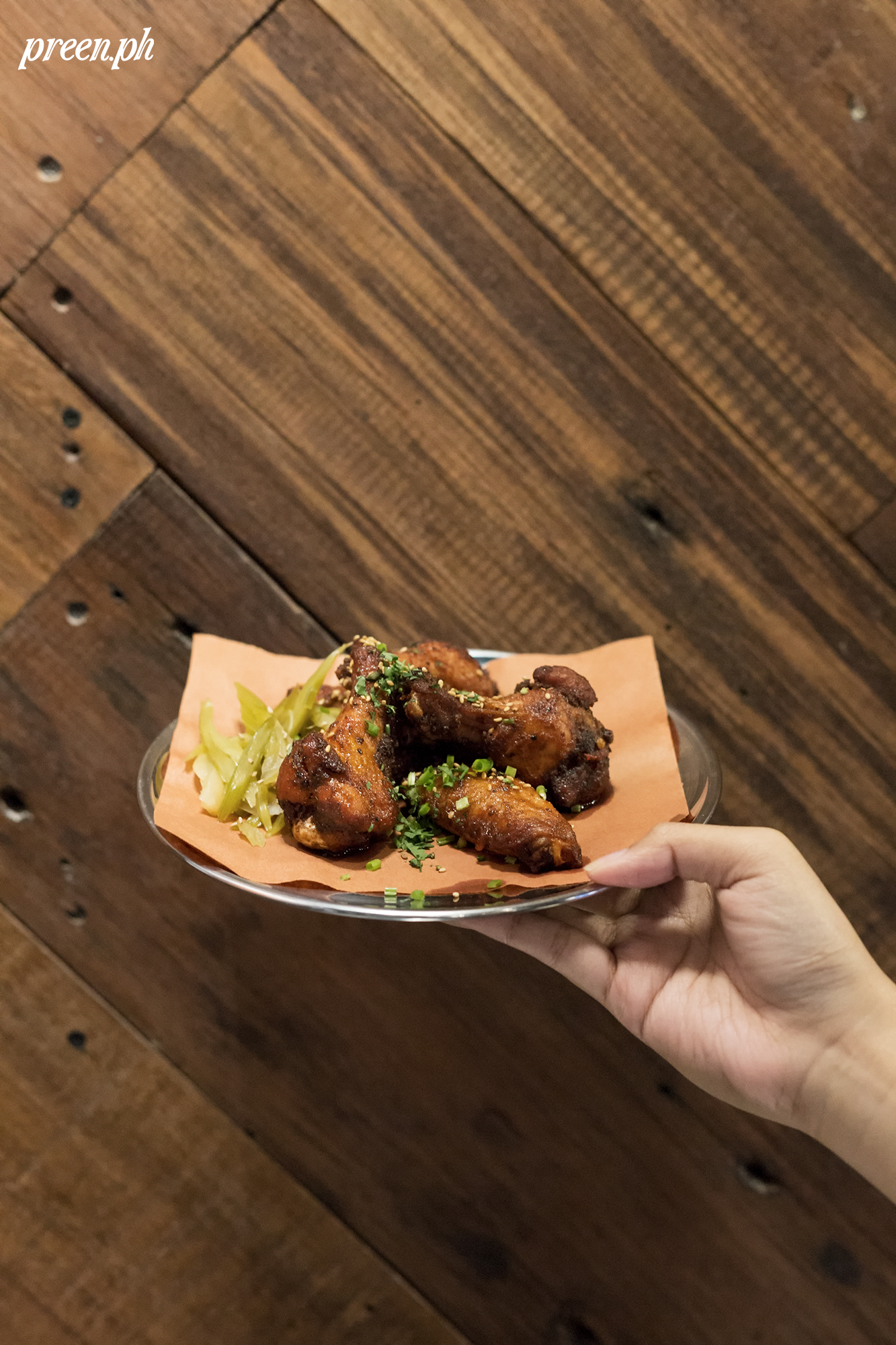 If you want something with more heat, then go for their Chicken Wings (P405 for six wings and P685 for 10 wings). It pairs well with their Sweet Potato Casserole that you can order extra.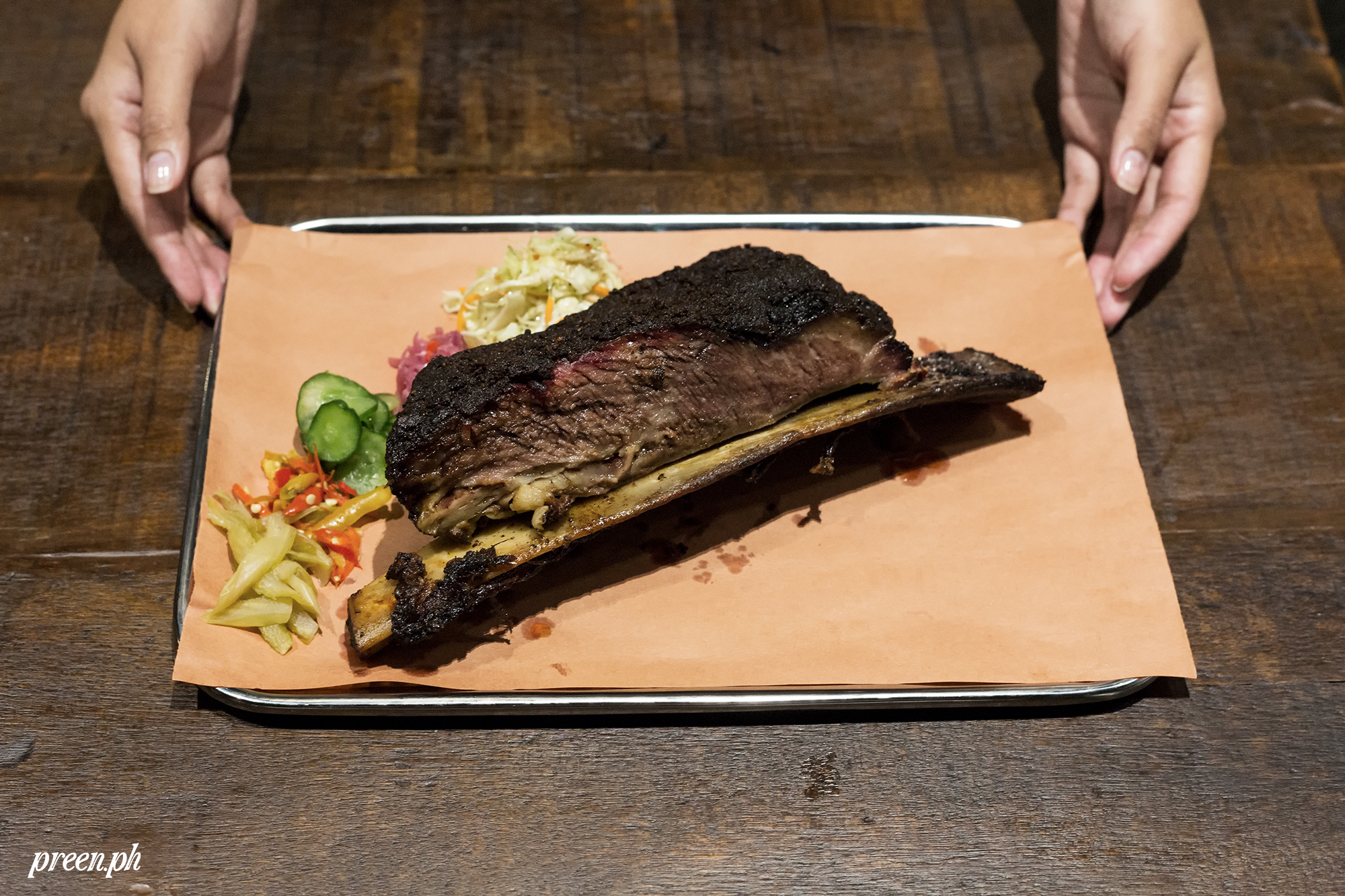 Another highlight on their menu and something that should not be taken lightly is their Brontosaurus Rib (P1,450)—it's one pound of just protein that fall off the bone. It's perfect for when you bring the family or your friends over as it is meant to serve two to three persons. Or one—again, no judgement.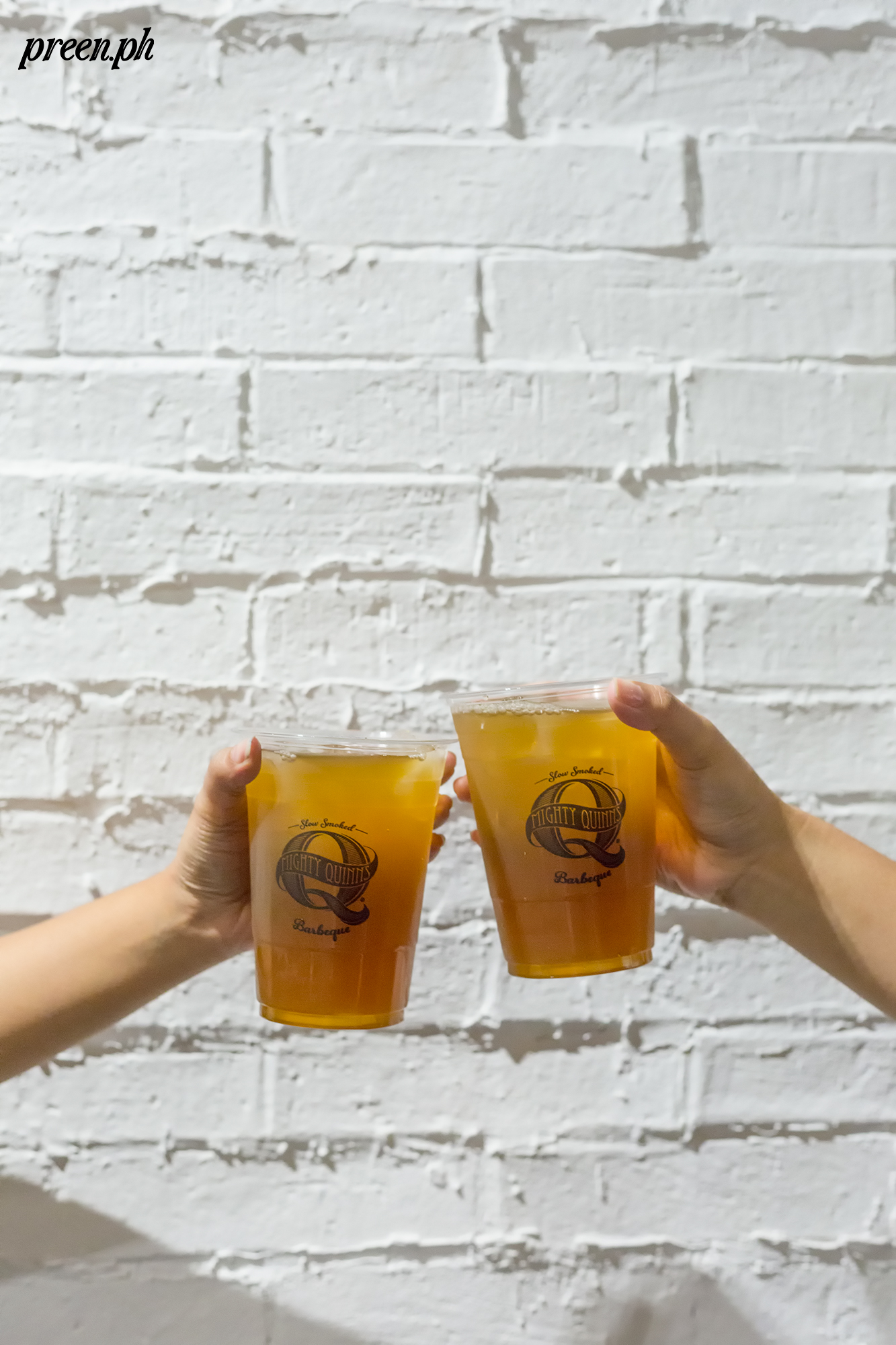 Each dish can be served in a sandwich or with their Dirty Rice (which by the way is a local special they created just for us.) It also always comes with pickled celery, peppers, cucumbers, red onion, and a salad that had the right acidity and heat to cut through the flavor of each dish. My personal favorite, and so is Hugh's, was the pickled celery.
As mentioned earlier, you can always order sides with your meat of choice like the Burnt End Baked Beans, Sweet Potato Casserole, Buttermilk Broccoli Salad, Potato Salad, Slaw, or Sweet Corn Fritters (P165 for small, P325 for medium, and P645 for large). They also have Fries (P165) or Dirty Fries topped with Burnt Ends (P375), in case you're craving.
It's a great place to go to especially if you enjoy great, flavorful meat that's uncomplicated. Sort of like the comfort food you always, always looked for. Mighty Quinn's will actually open to the public on Dec. 13 and its worth the detour while you're out to go Holiday shopping. No kidding—like The-New-York- Times-two-and-a-half-stars not kidding.
Mighty Quinn's. 3/F SM Mega Fashion Hall, Ortigas Center, Mandaluyong City. For more information, visit their Facebook page.
Photos by RG Medestomas
Follow Preen on Facebook, Instagram, Twitter, Snapchat, and Viber