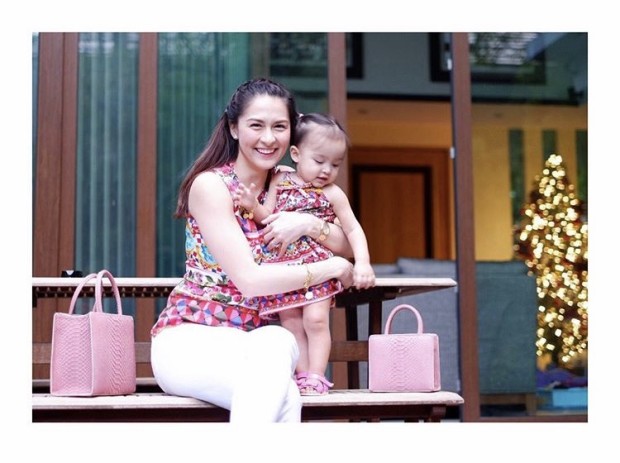 Sometimes people are lucky. Take Marian Rivera-Dantes. Detractors, haters, and trolls can drink their bitter tea all they want but she has got a cute husband, a huge following, TV and movie appearances, and baby Zia. Together they even have matching Dolce & Gabbana outfits. And all you have is tea.
To make that brew a little more bitter, she tells us her beauty secrets are easy: being a happy person and sharing some products with your kid. She shares with us in this interview how she keeps it together despite being a working mom. Tagging this under our #lifepeg.
How has motherhood changed your beauty routine?
My beauty routine remains the same. I still try to achieve complete rest, eat healthy or have a healthy diet, and I consistently drink water. I also regularly apply moisturizer and Johnson's Milk + Oats lotion, which I use on Zia too, to make sure my skin remains soft and smooth.
What would you advise moms with stretch marks? Leave them or hide them?
I may just be lucky that I did not get stretch marks after giving birth. However, for moms who are concerned about their stretch marks, I advise them to consult with their doctors or dermatologists on what would be the best thing to do to address it.
I want to remind women that even if they've become mothers already, they still have to take care of their skin.
A lot of hormonal changes happen during and after pregnancy, how did you cope with it?
It (hormonal changes) was challenging at first but because Dong and my family were always there for me, the adjustment wasn't that difficult.
How do you take care of Zia's skin? What steps are you taking so that she will have great skin as she grows up?
I have always been an avid user of Johnson's products. Ever since I was a child, I've been using it. So now, I'm doing the same with Zia. I use Johnson's products on her to make sure that her skin smells good and remains healthy all the time.
Now that she's growing up, I'm happy that there's Johnson's Milk + Oats baby bath and lotion already. I learned that milk and the restoring power of oats can restore damaged skin caused by family bar soaps. Family bar soaps can damage your and your baby's skin because of its harsh effects.
I'm really thankful to Johnson's that they have this (Johnson's Milk + Oats) already!
How has your diet changed since giving birth? What food do you avoid? What do you love to eat?
To be honest, I really don't follow a diet plan. But since I like to cook, I get to choose the food that I eat with my family.
What helped keep the weight off? Do you work out? If you do, what's your routine like?
Sometimes, I do Zumba to sweat it out. Aside from this, I also consider taking care of my daughter as a form of my workout.
Take us through your bath time rituals with Zia. Does she love taking a bath? How do you make it fun?
Zia is not afraid of water; she actually likes playing in it. There are times we would put her in a basin so she can pretend to swim. It's one of the things we like doing together.
Based on all the things that you have experienced, what beauty advice can you give now that you are a mother?
Just always have a positive outlook because it will also reflect on your skin. Along with taking care of your skin properly, being happy adds to making your skin happy, too.
How do you deal with the lack of sleep a mom gets as the baby grows up?
Dong helps me in taking care of Zia. If I'm awake, I let him rest. If he doesn't have taping, he allows me to rest and he takes on taking care of Zia.
Photo courtesy of Marian Rivera's Instagram account
Follow Preen on Facebook, Instagram, Twitter, Snapchat, and Viber