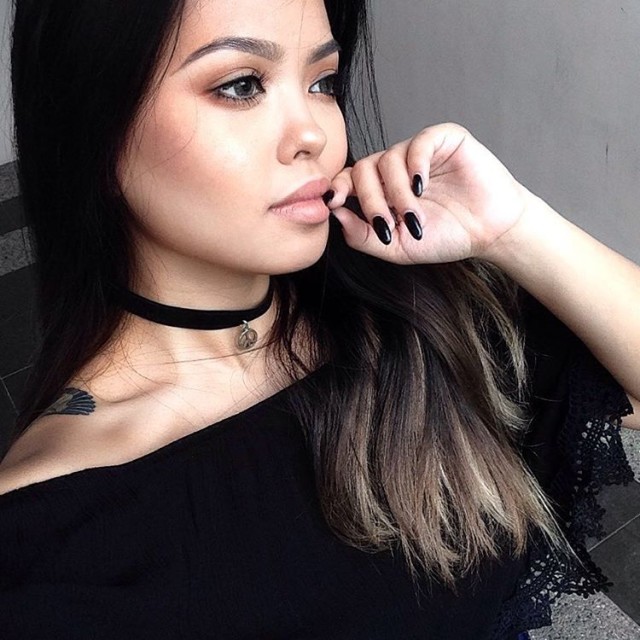 The Internet is a vast platform for any beauty vlogger and just one video can garner thousands of views. But when you see makeup tutorials everywhere—from 30-minute chatty videos to 30-second tutorials—it seems difficult to establish a niche that people will pay attention to. That's not the case for Filipino beauty vlogger Ana Victorino.
Ana is known for creating five-minute makeup tutorials since she started a YouTube channel five years ago. Even when popular beauty videos became longer, she still stuck with her short and quick pattern to appeal to on-the-go women. It makes you wonder if she can really do her makeup within five minutes too. We found that out and more in this quick #PreenPopQuiz.
When did you decide that you wanted to start a YouTube account dedicated to makeup?
Actually, this is quite funny because I've always wanted to do makeup tutorials ever since, but I didn't have a video camera back then. My sister gave me a camera so I could start making videos. But what really inspired to make videos was when I was still a viewer, I would watch other YouTubers. The problem was that their videos were half an hour long. I wanted to recreate my own that girls on-the-go can watch while they're having a break in the office. I wanted to give them a quick fix with their makeup [and] to be the girl that they can count on. That's why I decided to make five-minute makeup tutorials that are easy to follow and entertaining as well.
Realitically, can you do your makeup in five minutes?
Well, yes. The techniques I've used in some makeup looks are something that I'm familiar with. That's the reason why I can do some makeup looks within five minutes. But for the editorial ones, those are the ones that are really hard to do because they really require attention to details.
If you were doing your makeup quickly, what products would you reach for?
I just really work with what I've got. I feel like I can never go out without brows, lashes, and lipstick. I can go out of the house without concealer and foundation because I like letting my skin breathe. Sometimes I just sunblock and moisturizer, that's it.
How different is your beauty arsenal from then to now?
Oh, gosh! Like I said earlier, I used to only have seven pieces of makeup brushes, one eyeshadow palette, and one foundation. That's what I used with my makeup clients before when I was starting out. Fast forward six years later, I don't know what to do with my makeup anymore! It just keeps on coming at my doorstep. For example, I need to buy something. Suddenly, some brand or sponsor is going to give it to me without me asking for it. So it's kind of funny because before I used to just wish for all that stuff because I wanted to experiment and play with makeup. But now, I really don't know what to do with them anymore.
What do you do with the surplus of makeup?
I give it to my friends and family. I also give some away to my subscribers because it's like one way of giving back to them because they really play an important role in my career. So it's really important for me to give back to them with just a simple giveaway—whether it's small or big.
What's one makeup brand that you've always used since you started?
Ever Bilena. They have this colored pencil in brown which I use to contour my nose, line my crease, eyes, and lash line. I don't use it on my brows now because I use different products now. But that's my go-to item I've used before until now.
Are you a drugstore or high-end makeup type of gal?
I actually don't have any preference. It depends on the pay-off of the product. I'm really all about the quality, and I'm not just looking out for the name.
You've done many celeb-inspired makeup looks. So far, which one's your favorite?
I'm torn between my Miley Cyrus and Kendall Jenner makeup tutorials. I like the Kendall Jenner because it's simple but it still shouts sexy with the red lips. With the Miley Cyrus, I kinda like it because our personalities are in-sync.
Which celebrity look are you going to do next on your channel?
People are requesting a lot of Kylie Jenner makeup tutorials. For me, I just want to do it once so I'm doing my research right now because I want to make it perfect. I'll include props too!
If you were to do the makeup of any personality, who would it be?
Angelina Jolie.
What's a beauty trend you're loving right now?
Highlighting. I remember this one time I was doing makeup artistry for a client. It wasn't a trend back then, but I added some highlights because I thought it was beautiful. I rarely see it in editorials and it wasn't something that people would usually wear. Then, the photographer was like, "No, you should mattify the face of the model. We don't want the highlights." I was like, "It's going to be big soon, you know! You better watch out for that!" Years later, everybody's wearing it. I think I predicted it. (Laughs)
What's your skincare routine like?
It's tedious. But on lazy days, I just do the basic stuff like cleanse, tone, and moisturize. On days when I have dry skin, I like to put a lot of moisturizer, night cream, and lip balm. I also like to apply lash and brow grower [to make them thicker.]
Who's your favorite beauty vlogger?
Pearypie and Pony. They're really my inspiration right now.
Photo courtesy of Ana Victorino's Instagram account
Follow Preen on Facebook, Instagram, Twitter, Snapchat, and Viber