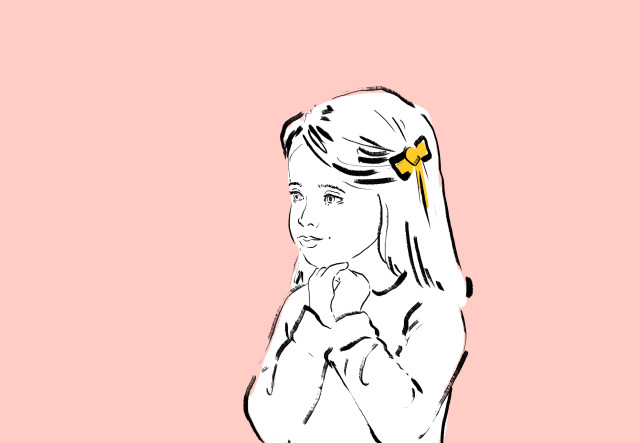 Every week, Preen tackles motherhood sans the rose-tinted glasses. Our columnists L. Juliano, Marla Darwin, Monica Eleazar-Manzano, and Rossana Unson tell their personal experiences like it is—at times frustrating, oftentimes confusing, but always enlightening.
Kid,
It's been bittersweet to see you leave behind babyhood and enter toddlerhood. Your papa and I decided to bring you to a weekend market some time ago and I was thrilled to see you scoot around and check out the stalls. You're an only child and it's fascinating to see your personality manifest in different surroundings. You become quiet and bashful in new places.
Which is why I started laughing when a friend's son, whom you've never met, went up to you to hug you and plant kisses on you. You didn't cry or freak out but it was enough to startle you. It was very cute. It also made me think.
I'm lucky to be married to your dad. I never had to endure talks about polishing his shotgun or demanding you don't date until you're 30 (but I've had to sit through his declarations of him being your prom date). We're still in that cute stage where we can joke about setting you up on blind dates with other toddler buddies, but I know that will fly past us quickly. Just like every milestone you've been hitting.
It's been becoming more real to me the way we model relationships will be your template. This isn't something that we will prep you for when you turn 11 or whenever you start becoming curious about dating and sex. It starts now. It starts with how you see your papa treat me. It starts with how you see me treat him.
With everything else, this is a list based on the lessons I learned from my teenage years and my 20s. I don't know what the world will look like when it's your turn, but there will be some things that will always stay the same.
#1
The point of dating is to get to know someone. Getting to know people on a deeper level will be one of the richest experiences in your life. Please take your damn time. A person's hobbies, status, social circle, smarts, pop culture IQ, and taste in music are all surface things. High scores in surface things don't guarantee a good heart. Sweetheart, interesting people are irresistible, but demand to have both. Demand interesting and demand goodness. Without goodness, an interesting person is just an interesting asshole, an interesting fence sitter, or an interesting bleb.
#2
A good heart is something you won't spot right away. Please keep your eye out for character. Choose someone who notices when someone feels left out and tries to include them. Choose someone who stands up to bullies. Choose someone who defines their life by the times they picked themselves up rather than their successes and failures. Choose someone who knows how to admit when they're wrong and is quick to ask for forgiveness and make amends. Choose someone who listens to what you have to say. Papa has all of these and these are the reasons why I married him. He's not perfect but he has the stuff that has allowed us to get this far in our relationship.
#3
That being said, please don't ever feel pressured to be in a relationship. We don't care if you get married or not. You are not going to hear that sort of pressure from us. Marriage has been a wonderful gift in my life but I want you to know that life might pan out differently for you. Families come in all shapes and sizes―friends, organizations (just not a cult, please not a cult!), heck, even animals make for amazing families. You might find a cause you want to devote all of your resources to. You finding meaning and being a courageous, compassionate person are far more important to us.
#4
That being said, the first three will hinge so much on how we love and raise you. This part will be on us and if we do a good job, this love will be the well you can draw your strength from. You are beautiful and you are worthy. You will make mistakes and you will be an immense pain in the ass, but you can always come home. If we do things right, you'll learn to spot vestiges of home in others and where they don't exist.
I look at you now and I'm brought back to earth. You're one year and a half, still babbling and still full of baby fat. You still let me smell your neck and kiss your cheeks. You still sleep next to me every night. I still have time. We still have time.
Love,
Mom
Disclaimer: The views expressed here are solely those of the author in her private capacity and do not in any way represent the views of Preen.ph, or any other entity of the Inquirer Group of Companies.
Art by Dorothy Guya
Follow Preen on Facebook, Instagram, Twitter, Snapchat, and Viber