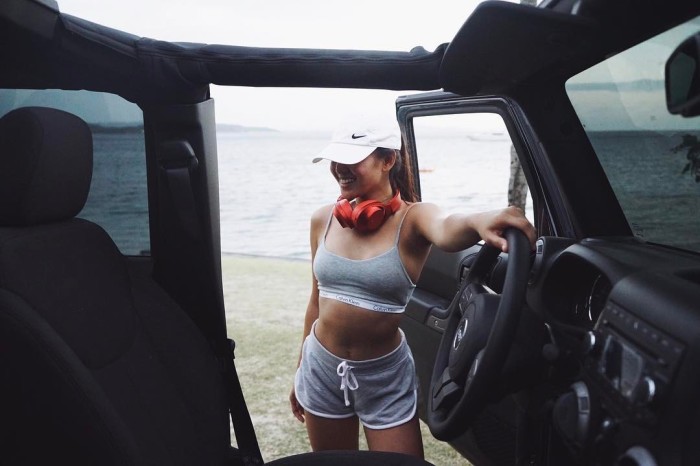 We were sitting in a dark holding room prior to the start of her mall tour. I was sitting a little too close to her and she didn't mind at all. Nadine Lustre was warm and welcoming—even after jumping from one place to another because of work commitments. In my head, I ask myself, where is she getting all of this energy? (No pun intended!)
If you've seen her Instagram page, you know how she loves to use her favorite lyrics as captions to her curated photos. It gives us a peek of her playlist and who she loves to listen to. From Mura Masa, George Maple x DJ Snake, Tinashe, Yoste, The 1975, and more. For that quick moment I shared with Nadine, we just tuned everyone out and talked about one of the things she's passionate about: music.
What is the last song you've been obsessed with?
Last song that I've been listening to like a lot, like super it's crazy, would be "Electric" by Alina Baraz feat. Khalid. I've been listening to it for more than a week!
Who is your favorite artist of late?
I guess Coldplay. Well, maybe because I'm super excited to watch their concert next month in Korea.
What was your most memorable music festival experience?
I haven't been to a lot, so far I've been to just one [which was] Paradise.
Is there a particular song you like to play out loud?
Any Mura Masa song! On the top of my head, "Lovesick."
Who's better at singing? You or James?
James [Reid]! Definitely, James. Well, I haven't been practicing my singing, so… He sings a lot.
What about who's better at dancing?
I don't know! (Laughs) Usually, I'm better at dancing, but I don't know. I'm not really sure. (Laughs)
Which music video do you like watching?
I think FKJ. "Skyline." Also, any music video by OK Go, they're very creative, diba? I really like their music videos, it's crazy.
Between Mariah and Beyoncé, who is your favorite diva?
Oh shoot! It's hard to pick! I'd go with Beyoncé because she dances.
Favorite boy band?
I'd say Westlife. (Ha! We grew up to the same favorite.—ed.)
Favorite karaoke song? 
"Call Me, Maybe"!
Longest time you've spent without music? 
Oh, damn. No, I can't. I listen to music all the time. But I guess, three hours. I can't stand it without music.
Photo courtesy of Nadine Lustre's Instagram account
Follow Preen on Facebook, Instagram, Twitter, Snapchat, and Viber