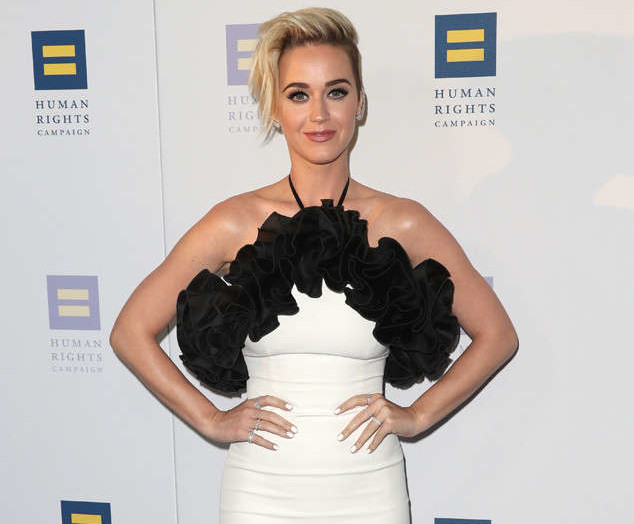 Katy Perry, known for singing about kissing girls, wasn't always as openly adventurous as we thought. She shares about how she suppressed her same-sex attraction while growing up in a religious family.
While accepting the National Equality Award at the Human Rights Campaign gala, Katy became candid about being attracted to women. "I speak my truths, and I paint my fantasies into these little bite-size pop songs. For instance, 'I kissed a girl and I liked it.' Truth be told, I did more than that," she says.
When "I Kissed a Girl" came out in 2008, Katy was asked numerous times whether she did kiss a girl. She admitted to it but said that it never went further. She did, however, open up about having crushes on girls as a teenager.
Katy continued her speech by recounting the times she would feel conflicted because of her religious upbringing. "How was I going to reconcile that with a gospel-singing girl raised in youth groups that were pro-conversion camps?" she adds that she spent her adolescent years trying to "pray the gay away in Jesus camps."
"What I did know was I was curious, and even then I knew sexuality wasn't as black and white as this [Rasario] dress," she says. "And honestly, I haven't always gotten it right, but in 2008, when that song came out, I knew that I started a conversation, and a lot of the world seemed curious enough to sing along, too."
She also thanked the music industry for making her more aware of LGBT issues. "[My work] introduced me to people outside my bubble, and my bubble started to burst. These people were nothing like I had been taught to fear. They were the most free, strong, kind, and inclusive people I have ever met."
Good on Katy for speaking out. Let this inspire people to embrace their sexuality and not let fear stop them from being their true self.
[
Glamour
]
Photo courtesy of E! Online
Follow Preen on Facebook, Instagram, Twitter, Snapchat, and Viber