What am I doing with my life? It's a Friday evening and I'm working along with everyone else for the fourth and final day of Manila Fashion Festival 2017. While everyone is stuck in traffic before the sweet weekend, I'm crammed in a cramped backstage area. I'm looking for models to interview and hoping to catch the designers before they get lost in a tangle of checking if everyone is ready for the runway. What is this fuss about? And is it worth it all?
Is it worth it for someone like Randy Ortiz, whose years in the industry count more than the birthday candles of some of the models he gets? "I feel young every time I have a show. The backstage euphoria increases the adrenaline of everyone. It's an exciting feeling."
Randy still finds value in the pressure of a fashion show. "Would you believe I feel like I'm just starting?" he says as he describes that this collection is very fun and inspired by streetwear, something he hasn't done before. You could tell that Randy wasn't lying about what he says as he goes around the makeup room, checking if they got the look of his models correctly. But the way he smiles and jokes about how he feels also tells you that he's done this before.
Randy also emphasizes that putting up a fashion show is a designer's duty. "As a designer, it is very important for you to know the trends and to present it to the public."
Speaking of the public, Rhett Eala should know about this. Working with Binibining Pilipinas Maxine Medina has lent the designer a spotlight that made him visible to a different audience. He'd never designed a pageant dress prior to working with Maxine. But here he was showcasing his works, gowns inspired by Maxine with a collection called Queen.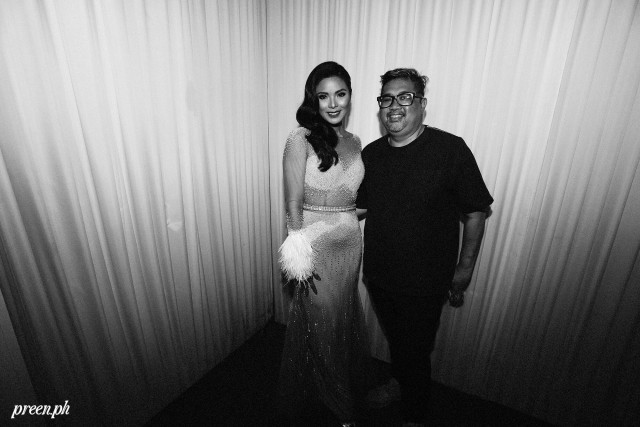 "I think people want to see what's new with your work. They want to see how you progressed and where you're at," says Rhett about why he's active in fashion shows. With his beaded creations and jewel-toned fringe dresses, Rhett puts his money where his mouth is. "You want them to look different and you want them to stand out also. I just tell them [that I'll do it.]"
I brought my question to Vic Barba. He was sitting backstage sipping on a fruit juice beside model Jo-Ann Bitagcol, laughing and sharing funny anecdotes. He's not been seen on the runways for a while but I'm sure you've seen his name at least in one of our upscale malls. "There are more reasons to join than not to join a fashion show," says Vic. One reason he gave? "To stay relevant. For people to say 'Oh, you're still alive!'"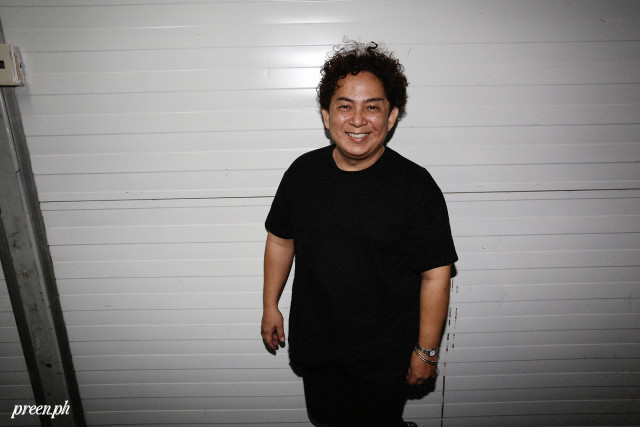 Vic sees fashions shows as a way to keeping things moving. "You show your DNA on the runway but also something new, something you have been experimenting on. Otherwise, why put up a show? People can just go to your store or your showroom."
I pointed out to Vic that among today's audience is a few fellow established designers. Does that make him nervous? "They're friends so we have a bond," he says. He didn't feel nervous about it nor did he mind if some criticism can come up. "Feedback is the breakfast of champions," he says.
It's one thing for the seasoned designers to say they still see worth in a fashion show. They still feel the nervousness and excitement. But what about the models? Maxine Medina, who's been on the Miss Universe stage still feels the adrenaline. She was on the makeup chair getting ready and she refused to take a photo with me "Wala pang contour!" The pressure for the show was high for her as the collection from Rhett was focused on her. "I'm so grateful I worked with him so this is also my way of thanking him."
Same goes for Anna Buquid and Maan Marquez. They feed off the passion the designers give to the pieces. "You want to make sure to project the passion the dress is giving," says Maan. Anna notes how fashion shows represent a bigger concept in the fashion world. "It's tradition, especially in the digital age. People can just got to Instagram and look but a fashion show is different, you see the emotion and the nerves."
It feels like nerves are what gets this shindig going. I'll keep that in mind because nerves usually make me lock myself in the bathroom.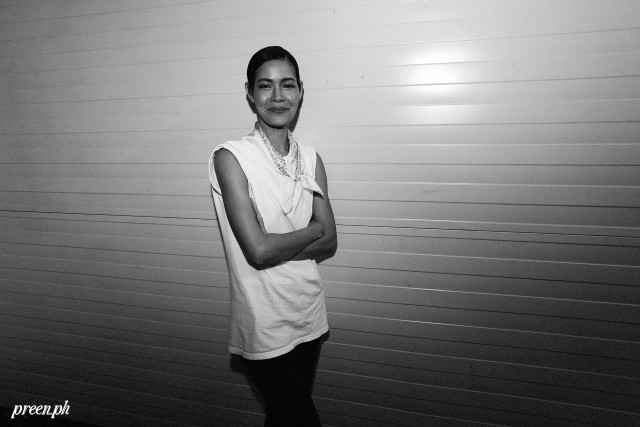 The term "show" however should be emphasized in all of this. It's a projection of something apart from what we are. Show is here to grasp what else we can be. It's how we put forth something aspirational. I think Jo-Ann Bitagcol said it best as she waited backstage. When faced with a runway, she still feels jittery despite being a pro. But it's a show, so she needs to transcend what's given. "I let go of my personal self and put on my model self."
So in a fashion show, you see how sketches become creations, careers become passions, and how people come together to make something more out of seeing clothes walk by on a runway.
Additional reporting by Jacqueline Arias
Photos by RG Medestomas
Follow Preen on Facebook, Instagram, Twitter, Snapchat, and Viber