Is a person's workspace truly reflective of their state of mind? Does an artist's creative process necessitate a chaotic environment in the same way that an executive should maintain a pristine corner office? We don't have the answers, but we can step into the offices, baby, of people who do. Welcome to Preen's Desk Diaries series.
Contrary to what Cyndi Lauper sang, it was another manic Friday. Traffic in Makati was at its worst, there was the bustle of people finishing work to enjoy a good weekend, Trump's inauguration was all I could hear to top the horror of it all. Still, in Rhett Eala's house, which also serves as his studio, things were at a regular pace.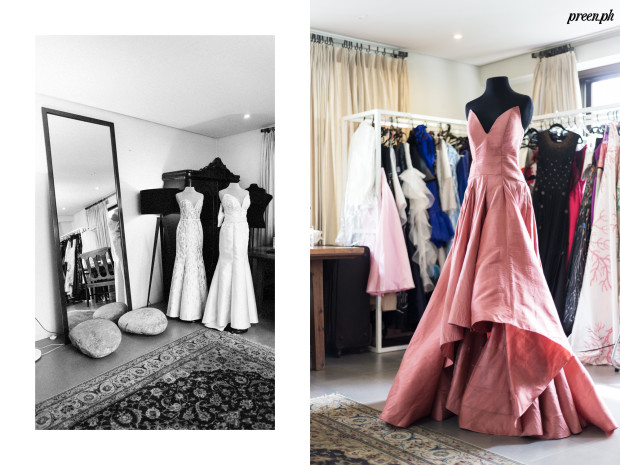 He's been in the fashion world for 25 years. You can tell he knows it all from society's elite, the darling brides, the hottest models, the sophisticated men and women in every industry. Today, for him, is like any other work day: dropping off the 10 dresses he made for Maxine Medina. The rush of the Miss Universe pageant has thrown Rhett into a new wave of interest: media outfits coming to him every day, hoping for a sneak peak of his designs. Despite this, he speaks in a calm and measured manner. Unlike the aplomb of beauty pageants, Rhett's demeanor knows no theatrics.
When it all winds down, Rhett can be found sketching on his iPad Pro and working on mood boards. Or pouring over the books documenting the shows and designs of Giambattista Valli and Miuccia Prada. He asks me if people do love beauty pageants as much as it appears of late. I say that, for us, it is especially as we are hosting this year's pageant. He gives a nod and proceeds to talk about his dresses. He notes how his last men's line is sold out, the one wherein he experimented with streetwear. Nothing stops Rhett's pace, it's all both new and exciting but nothing he can't handle.
What's a regular day like?
There is no regular work day. Usually when I get up, I go to Starbucks and I then go to the shop and check on the clothes that are being made. In the afternoon, I meet with clients. I wake up at 6:30 a.m. but I usually take a while to get up. When I get out, it's already around 8 a.m.
What do you usually get at Starbucks?
I get a chicken salad sandwich and a double espresso. It's a drink I [have to] get every morning, anywhere I am in the world.
What time do you end your day?
Around 7 o'clock, I finish working.
Which websites do you visit every day?
Vogue for the all the runway [photos], Hypebeast. I look at the new designers also like Delpozo.
Which of the new designers do you feel have potential to make it big?
Local, I like Bea Samson. For international, a lot of the London designers are great.
Do you like to play music while working?
It's quiet or usually I have the TV on. I turn the channel to CNN, I like breaking news. Sometimes, I have music on. I go through my moods. I listen to Hozier and I also like Ariana Grande.
What do you do when in a bad mood?
I'm not a nice person when I am in a bad mood. I just work through it.
Whose desk would you want to exchange with?
Karl Lagerfeld or Yves Saint Laurent, if he was still alive.
Who do you think can take over your desk for a day?
Probably one of my nephews.
Which office do you want a tour of?
Anna Wintour's or Nick Knight's. I often check out ShowStudio.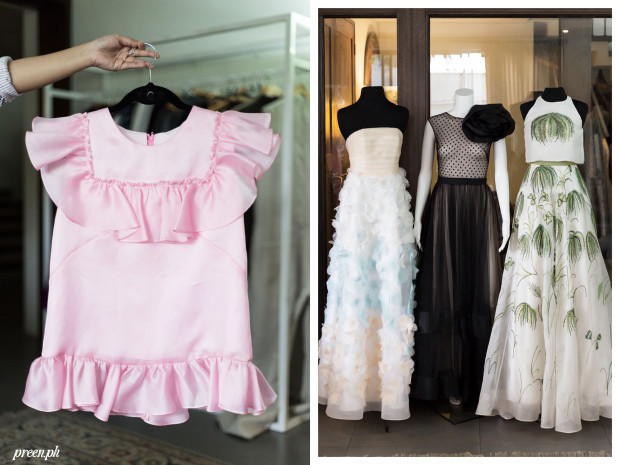 What's you favorite food?
Chinese.
What did you first see in Maxine when you chose her as a model for your shows?
She always had a beautiful face. She's not a reed thin model, she's more curvy. I prefer thin models but when I saw Maxine's face, I had to make an exception.
Were you surprised when she won Binibining Pilipinas?
I wasn't surprised that she joined, but I didn't see it coming.
What did you learn designing for pageants?
I did her gown for Binibining Pilipinas. I'm a novice at beauty pageants, I didn't know anything about it. When the national costume came about, she called me and asked if there is a head dress. I didn't know you needed a head dress, but that's how it was. The national costume needed to be more costume-y.
Learning from that, what have you applied in your latest creations for her?
We have to consider a lot the stage and how the dress will look on stage. We don't want the dress to get lost.
What colors did you work with?
Jewel-tones and lots of crystals.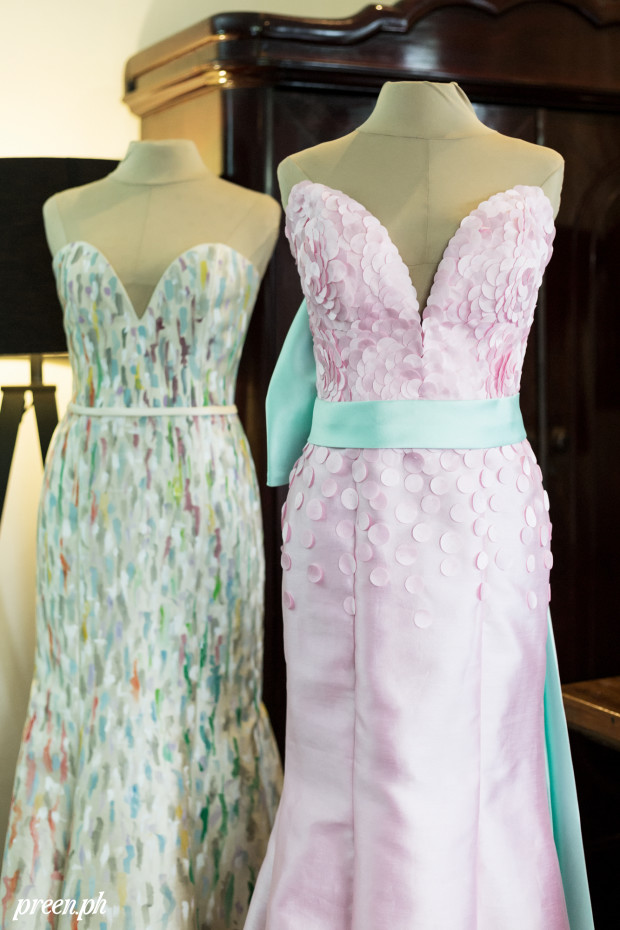 What are Maxine's ideas for her dresses you like?
She always wants her curves to be emphasized. She's proud of her body.
How has your aesthetic changed over the years?
As a designer, I'm like a student. Every year, every season, we learn new tricks. We never stop. It's like yoga, it's the same thing every day but you acquire knowledge each time [you do it. ] When you stop learning, that's when you become old or dated.
What's the next big challenge for you?
I would like to have an online store. I am working on one now.
Where do you shop online?
Mr. Porter, Rick Owens, FarFetch, and Luisaviaroma.
What's your work uniform?
Black shirt, pants, and, well, right now I am wearing  shoes from Hender Scheme, leather shoes that look like sneakers.
What country inspires you?
Japan. I like Japanese fashion. They have their own look. They give importance to their own brands and to international brands.
Where would you want to retire?
I told myself when I was younger that I want to live in Assisi, Italy.
Photos by RG Medestomas
Follow Preen on Facebook, Instagram, Twitter, Snapchat, and Viber