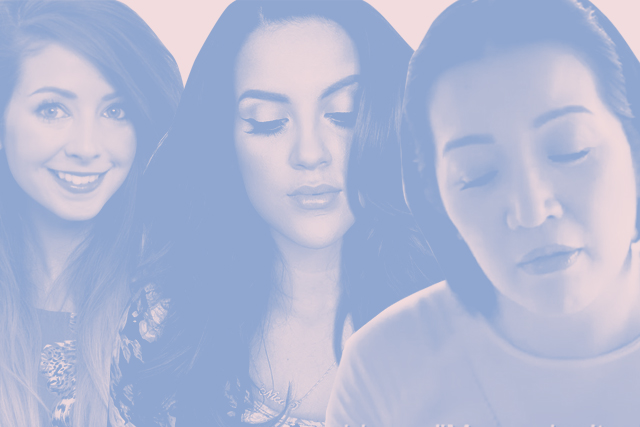 There's something changing in the entertainment landscape. It's a change that has been constantly in-progress. But when I saw Kris Aquino producing vlogs on her social media page, the change hit its no-turning-back point. Vlogging killed the TV star and the TV stars are finding a second life in vlogging.
Let's throw it back a little. The year is 2009. Zoella Sugg or, more popularly known as just Zoella, started out her YouTube channel. There are many other personalities like her. At that time though, they weren't personalities yet. They were typical people with ratchet, real-life setups talking to you about their day.
Another example would be beauty vlogger Nicole Guerriero. Six years ago, she filmed herself going through the contents of her nondescript purse after a bad day at work.
Look at Zoella now though. Eight years after her first video, she's released three books and has a full beauty line called Zoella Beauty. Nicole, on the other hand, recently collaborated with international makeup brand Anastasia Beverly Hills. With various endorsement deals fueled by a growing YouTube and social media following, the cash flowed. This allowed for better cameras, a budget to buy lights, backdrops, and even some pro editing skills.
The vlogging landscape has morphed from home video vibes to self-produced shows complete with logo transitions. It's almost like watching a TV show as it flashes a distinct station ID before going to the next program. Look at how Manny MUA, vlogger turned first male Maybelline endorser, opens his videos.
Oh, and those fast-fashion faux leather bags have morphed into Givenchy Antigonas.
Wake up and smell the coffee. Your approachable, NBD YouTube vloggers are now celebrities with their own distinct formula. If you don't want to confront it yet, do know that Vice recently confirmed the YouTube voice. In the article, speech pathologist Erin Hall says that YouTube stars have, unconsciously or not, adapted a way of speaking that is distinct to their platform. Erin said, "[The vloggers are] trying to keep it more casual, even if what they're saying is standard adding a different kind of intonation makes it more engaging to listen to."
No shade though. It's great how these average Janes (and Joes) have turned into celebrities. That was the promise of blogging and social media almost a decade ago anyway. During that time, reality TV had become too scripted and the Kardashians weren't at the zenith of their fame yet. There was a need for something that was at arm's reach, something relatable. It was fulfilled by the people who found YouTube as a platform for public discourse. And the subject of that discourse didn't need to be substantial. It could have just been a drugstore makeup haul. What mattered is that it was real and raw.
Now that the YouTube vloggers are slowly morphing into the mechanism they once opposed, the usual celebrities are scrambling to offer their version of what is real. Kris Aquino did it by showing how she struggled to edit down a massive makeup collection into a tiny weekend bag. It's a problem almost all makeup lovers face and the video made Kris *gasp* human.
Look at what we have today: Everyone from Rihanna to Gisele Bündchen has an Instagram account. People are losing their sh*t at Beyonce's yet to be known Snapchat account. Late night TV shows are segmented so they could be chopped up for quick YouTube consumption later that day.
It doesn't matter if the photo is blurry. Heck, look at how Photoshop faux pas make headlines. What matters is that we feel like these celebrities and personalities are just our friends, that we could easily slip in and out of their lives with a 15-second video.
What this all means, we have yet to find out. What we have now is the start of another change in how celebrities will connect with their audience. How YouTubers will stay relevant and how usual celebrities will stay out of the formulaic trap will keep us watching for sure. The story remains the same, however. We may look for escape in entertainment but ultimately, what entertains us is our own reality. As David Shields says in the book Reality Hunger: A Manifesto, "Every artistic movement from the beginning of time is an attempt to figure out a way to smuggle more of what the artist thinks is reality into the work of art."
Art by Yayie Motos
Follow Preen on Facebook, Instagram, Twitter, Snapchat, and Viber