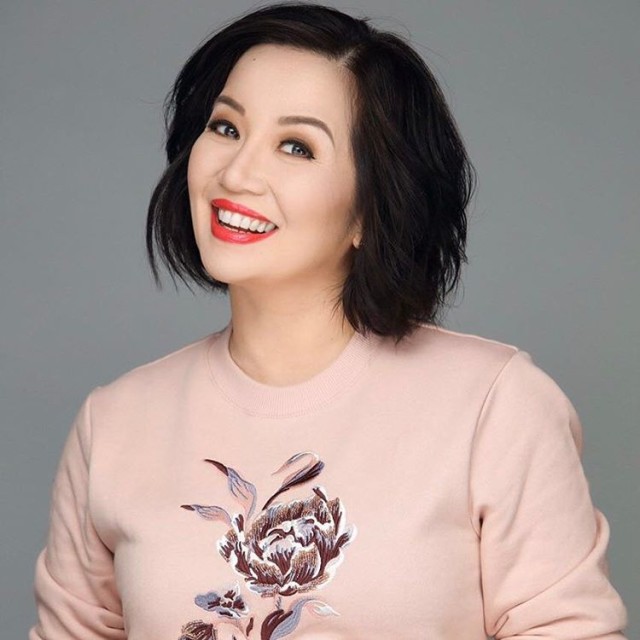 So there's this video that's been floating around on the Internet. You might have seen it? Kris Aquino going through her kikay kit like it's a bag of limited-edition M&Ms.
The talk show queen riffs on her beauty rules, like the importance of having four lip gloss options, and throwing out golden lines like "Oiliness is next to joblessness."
It's a pretty funny video and proves Kris still knows how to pander to an audience.
We'd like to live in her kikay kit. It's probably roomier and way more cushy than most people's starter apartments.
But here's what struck us about this entire affair.
Nine minutes and fifty five seconds into the video, Kris throws out a whopper of a one-liner.
On why she doesn't own red lipstick, Kris says she's simply following her son's advice. "'Mama, don't use red. You look slutty,'" Kris relates. "Okay. In-obey ko lang siya."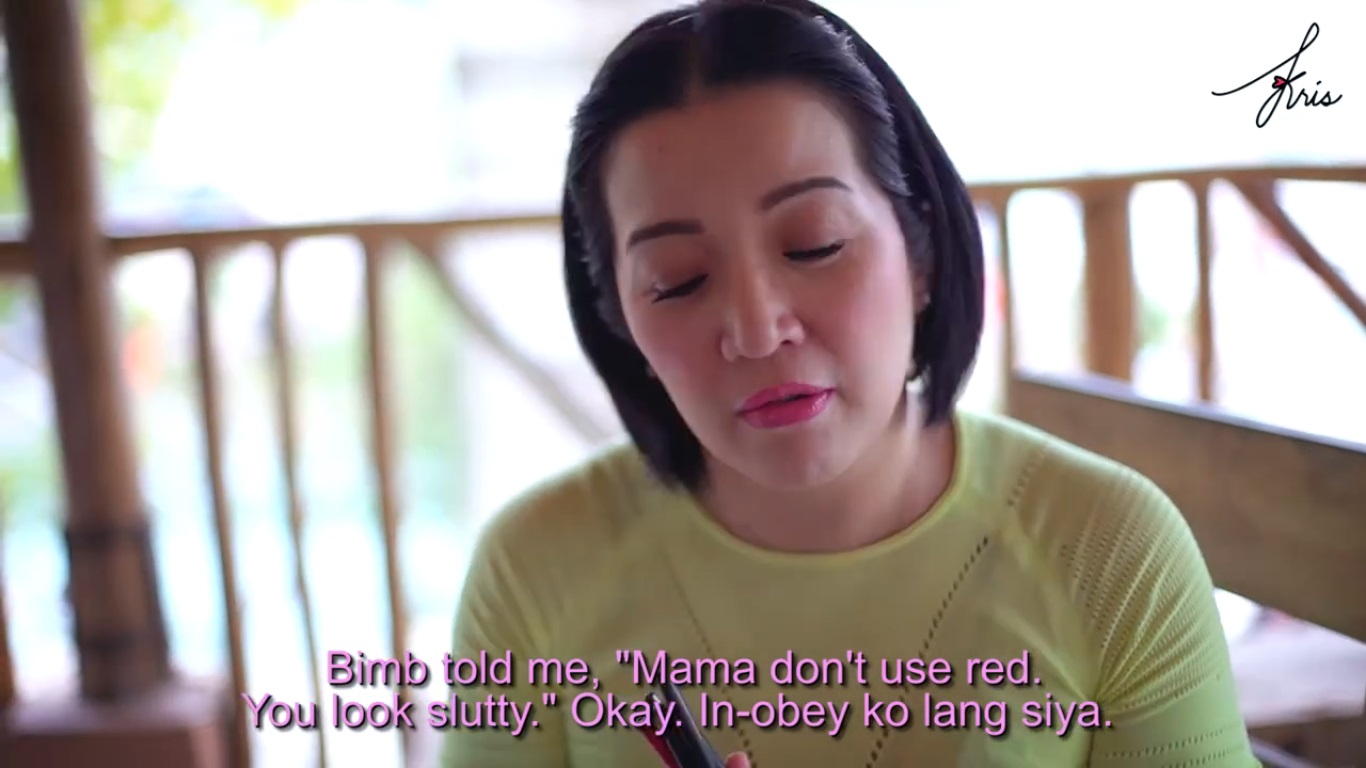 OK, hold the phone. (Or pause your Viber sticker selection process. Whatever works.)
Does nine-year-old Bimby even know what "slutty" means? And since when do adults "obey" their kids?
Feminist artist Nikki Luna weighs, telling us, "This makes me sad. I wish we could raise our boys [and teach] them not to stereotype women and educate them in a non-sexist environment."
Nikki counsels education, both for the child and the parent—as these sexist attitudes can be difficult to abandon.
"If parents contribute to reinforcing these ideas because they too are uninformed, then the harder it is to help our society unlearn slut shaming—whether it's judging a woman's appearance, clothes, sexual behavior, etc," Nikki explains. "If a parent participates in this, how else do we break the accepted 'proper' societal norms [regarding] sexuality dictated upon women?"
Our own Momhood columnist Marla Darwin wonders at the source of Bimby's language and his rigid notions of sexual mores. "Where on earth did Bimby pick up his notions of slutty?" Marla asks. "That's what I want to know! I'm more bothered about the kind of environment he's growing up in more than the comments that came out of his mouth. He feels entitled to talk that way because it's been shown to him that it's okay."
This isn't entirely an issue of parenting. Publisher Clara Balaguer concludes that misogyny is so deeply embedded in Philippine society, that many of us reaffirm these outdated ideas without realizing it. "Aquino or DU30, what's clear is that the patriarchy wins," she says.
But that doesn't mean we should let comments like Bimby's slide—whether it emerges from the mouth of a clearly uninformed child or a more "sophisticated" teen.
Developmental psychology counselor Russell Santos knows that bringing up issues like this with children can be tricky. "Teaching a child to be more aware about issues that pertain to misogyny is complex, especially with the gender norms society upholds."
Russell insists that we need to call out kids without shaming them, and for parents to be more discerning of what their kids are exposed to. "Whenever a child commits an act that is misogynistic in nature, regardless if it was done intentionally or not, the parent must first let the child realize, without being threatened, that the act makes the person involved feel bad."
"To make sure that the child fully understands this concept, the parent should let the child personally reflect by putting the child in the shoes of the [other side]. For instance, parents may ask their child, 'What if this happened to you?' or 'If someone teased you for (specific scenario) just because you are a boy or a girl, wouldn't you feel bad as well?"
"In this case, the child, having the opportunity to see the situation from their point of view, would have a better grasp as to why the corresponding gesture is not right," says Russell. "Since children are predisposed to be egocentric, using this as an advantage in shaping the child to be gender sensitive would be efficient, given that regularly providing them the necessary processing greatly aids them in forming the necessary behavioral outcome."
We understand Kris is a well-meaning mother, with her own set of challenges. And we salute her willingness to listen to her kid.
But her off-the-cuff observation is a lesson to us all on the pervasiveness of slut-shaming. And how it's easy to just let the other person off the hook when they make a seemingly well-meaning yet misogynistic remark—whether it's a son, spouse, friend or colleague.
The hard part is actively participating in changing the way we all think—and knowing that unlearning deeply rooted sexism is difficult.
But it must—and should—be done.
So how about we start with a simple fact: Red isn't a slutty color. It's a primary color.
See? Easy peasy.
Photo courtesy of Kris Aquino's Instagram account 
Follow Preen on Facebook, Instagram, Twitter, Snapchat, and Viber