It felt like I knew Lauren Young deeper than any other celebrity I have ever interviewed. For one, she generously allowed me to go through her closet, her shoes, her accessories, her photos—her everything, basically. Second, she gave off this aura that allowed us all to feel at home and be comfortable. How many times can you lay around someone's sofa unless it's your own or your friend's, right?
Lauren welcomed us in her humble, yet quirky, abode hours after she got home from taping. After giving us a quick rundown of what she has in her closet, she let us do our thing. While waiting, she simply played with her cute dogs Melo and Yogi, and in between, we caught her browsing through her phone—and she was shopping. No judgment (wink).
Her fashion sensibilities and shopping habits are very much similar to who she is as a person. Lauren is very relaxed, she's comfortable, she's super cool, spontaneous, but above all, she's confident. Lauren is the type of woman who can easily shift from high-tea feminine to laid-back streetwear, and she'll be able to pull it off.
Raiding Lauren's closet felt like another world we couldn't get out off—she just had a. lot. of. clothes. She's guilty of shopping for items she likes even without trying them on, ending up with a whole section of her closet filled with clothes with their tags still on. Some people even say your closet doubles when you have a sister, but in Lauren's case it probably, it triples as she shares pieces even with her friends. She pulled out her favorite oversized denim jacket, and after a few seconds she realized it's something she borrowed from her friend, then she laughed hard. "It's been five months!"
What's keeping you busy these days? 
Right now, I'm currently back in acting again with my newest show on GMA Afternoon Prime, Legally Blind. When I'm not acting, I work behind the scenes with a group of talented individuals from Stronghold MNL, which is a production company that I own with a bunch of friends from DLS-CSB. The newest addition to my schedule is that some of my friends and I are about to start a line of lounge sets, room scents, and candles—so watch out for that!
Describe your approach to style. 
I really try to keep things simple by staying away from a lot of prints and color. Keeping it basic and simple is key. I don't really like spending too much time on thinking about what to wear. If it looks good and I'm comfortable then that's about it.
Do you have style rules you follow?
Comfort before style.
How are your shopping habits?
Not so good! (Laughs) I usually end up buying the first thing I see—may it be online shopping or in a store.
How does offline and online shopping differ for you?
The difference is that online shopping is more convenient. It's less time-consuming and safer to shop online on apps like Shopee since they have a very secure payment method that does not make me worry, plus I don't have to brave through traffic to get a cute outfit anymore.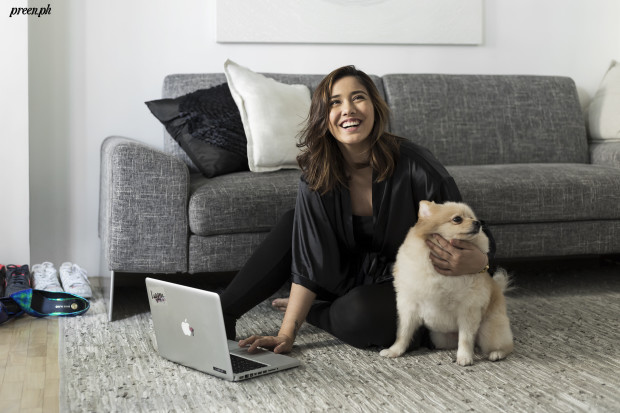 Another thing I love about online shopping is that there's a wider selection of products—I can look for clothes, beauty items, and even gadgets with just one app. It's also easier to compare products and their prices which helps me finds the best deals while I'm in bed or waiting on set.
What was the last best thing you bought? 
Black trousers. They just go with everything and they can work from day to night.
How about the worst—something you regret buying?
Silver Doc Martens. I felt like I needed to be inside a spaceship for that outfit to ever work.
Which brand is your latest discovery?
Not a specific brand but mostly the trend of seeing all these new and young entrepreneurs on Instagram or Shopee, selling their clothes. I love the whole minimalistic style that these brands are selling nowadays and it's nice to see young designers or entrepreneurs putting their stuff out there!
What item of clothing do you invest in? How about clothes you scrimp on?
I invest on basics: trousers, jeans, skirts, tops. Items that I can mix and match and classic pieces that I can wear over and over again. I don't spend a lot on trendy pieces since they'll just go out of style eventually.
Who is in your fashion black book?
I usually consult with my stylist Myrrh Lao To to see what best fits me and my personality, as well as the designers. I always see it best to listen to the professionals and then just give my input. Collaboration is always key but Pinterest always helps too. (Laughs)
Who are your style inspirations?
Kim Kardashian because of her body type and how she always wears clothes that are flattering to her shape.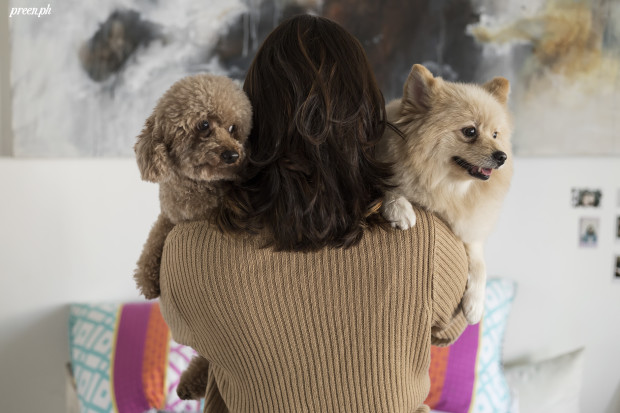 What's the best style advice you've ever received from your mother?
Wear clothes that make you look and feel good. Plus, don't waste your money on trendy stuff, you won't be able to wear them again and again.
What's your guilty pleasure?
Looking at designer bags that are wayyy over my style budget. And probably online shopping!
If you had a signature style trick, what would it be?
Pairing up sneakers with everything!
What is one ultimate style tip you can share?
You don't have to wear styles that everyone else is wearing. Finding a style that suits you and screams you—that's how you can become authentic and stay true to your style self.
Favorite shops?
Shopee and anything that has an online shopping feature!
Favorite vacation spot?
Right now I'm leaning towards Palawan. I've been there twice already and I'm planning to go back again this year to explore the other islands! It's just so picturesque and serene there.
Favorite dish and restaurant?
I'm a sucker for hot prawn salad from either Gloria Maris or Din Tai Fung.
Favorite person on Instagram?
Kimi Juan (@kimijuan)—I want live her life full of travel and food, plus she gets to do all these things with her boyfriend! Huhu, I sound like such a stalker. (Laughs) 
Favorite person, period?
Kim Kardashian. Don't judge me.
Video by Two Fold Media
Photos by RG Medestomas
Creative direction by Nimu Muallam
Produced by Jacque De Borja
Assisted by Olivia Estrada
Hair and makeup by Mharcie Puno
Follow Preen on Facebook, Instagram, Twitter, Snapchat, and Viber