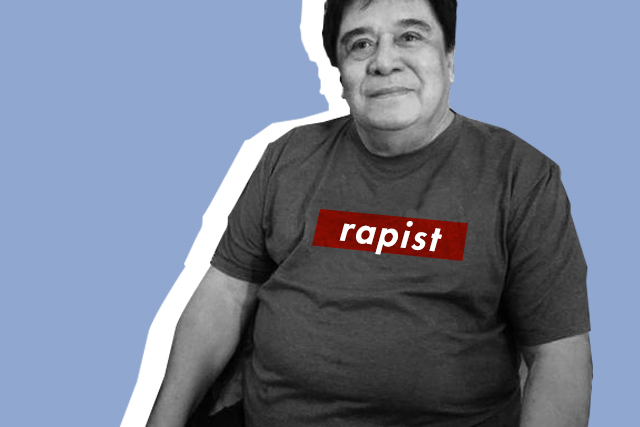 There's only one thing we will get if Romeo Jalosjos is granted pardon: the fact that a man can easily be forgiven for raping a woman as long as a.) he has the right contacts b.) he's a man. Period. We're letting misogyny and the idea that one person is superior over the other because of gender win.
A recap for those who are not up to speed: Romeo Jalosjos is a convicted child rapist. He molested an 11-year old girl in 1996. Yes, 11. You can read each horrible detail of it here in the copy of the court decision. Just make sure you have something to help you think of happy thoughts so you can sleep later at night. The decision of the court even stated that "Rape is particularly odious, one which figuratively scrapes the bottom of the barrel of moral depravity, when committed against a minor."
Here's a man who has done something that is at the "bottom of the barrel of moral depravity" and yet here he is with the guts to ask for pardon from the president so he can run for public office next year.
As a woman, I'm already aware of the comments which will be thrown against my opposition against Romeo's plea for pardon. The major one would be how I should forgive the man and move on since he's been convicted. Well, no. When a minor's life and innocence is taken away so ruthlessly, it's not a matter of forgiveness, it's a matter of justice. Part of the punishment for the crime is not just the sentence in jail but also being stripped of certain privileges. When Jalosjos took away that girl's virginity, he signed off any right he had to run for public office. He signed off the respect reserved for people in certain positions of authority. And as much as the victim cannot undo the damage done to her, Jalosjos can't just say he's sorry and get a fresh start. He needs to live with consequences of his mistakes. Yes, for the rest of his life.
That's what you call justice.
If you don't know how justice goes, it operates on the system of equity. All men are equal, hence a right to a fair trial is offered to everyone. It is also the reason why we believe that a person is innocent until proven guilty. Once a person is proven guilty, a punishment is carried out based on the crime. The punishment is what the court deems equivalent to the damage caused. If Jalosjos gets pardoned, then we're saying the well-being of an 11-year-old girl is just worth a few years of jail and a "don't do it again" note. Think about that.
When a rapist gets away with just a slap on the wrist (looking at you, Brock Turner), we're saying that as long as a man shows some sort of remorse, he can walk free. When we tolerate injustice like this, we infuse in women that the law doesn't protect their rights as much as men. There is no equality then, and the system falls on itself. Justice is only given to those who can afford it, or worst, to those who have the favor of the governing authority. We already saw it when Jalosjos' sentence was commuted by Pres. Arroyo.
Jalosjos, as it stands, has already gotten away with so much. During his time in jail, he was able to build a tennis court, a playground, a basketball court, and a bakery in the maximum security area. He didn't serve jail time, he had a government-paid vacation. Basically, we've told Jalosjos that his crime isn't that bad and he can still do whatever he wants, as long as he holds the façade of being behind bars.
We've told women across the country that rapists with money aren't going to pay for what they did.
We've told women that it doesn't matter if the man raped a child, he still gets the benefits afforded to law-abiding citizens.
Since we've treated Jalosjos so nicely in comparison to what he did, he sees no harm in asking for pardon and in seeking for a term in public office. The law hasn't been so stern in teaching Jalosjos a lesson. He's not even ashamed of himself because everyone else has treated him well.
And if the President does pardon him, we might as well tell every woman in this country that they're worthless and the people who violate their rights are even championed by those in power.
Art by Yayie Motos
Follow Preen on Facebook, Instagram, Twitter, Snapchat, and Viber