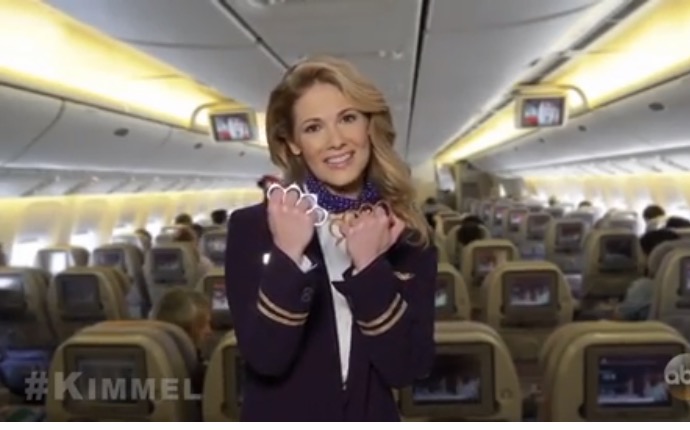 When things get bad and inexplicable, we turn to humor and the Internet for justice. Take a look at how everyone is making fun of United Airlines since they resorted to dragging and physically assaulting a passenger off an overbooked flight and the tone-deaf apology the CEO gave for it.
Late night host Jimmy Kimmel used it as material for his opening monologue in his recent episode of Jimmy Kimmel Live. "Can you imagine if this happened in any other industry?" asks Kimmel. "…United didn't even admit they did anything wrong," he says as he introduces a spoof ad of United Airlines that features a flight attendant that's wearing  knuckle rings.
Speaking of ads, some Redditors pointed out how other airlines can use the incident to their own advantage.
Merriam-Webster, who proved recently with Ivanka Trump that it's not just a master of defining words but also when to define them, also joined in. The dictionary's Twitter account gave the formal meaning to the word "volunteer" as it shared a headline about the United passenger incident.
📈'Volunteer' means "someone who does something without being forced to do it." https://t.co/qNAcMyplhZ

— Merriam-Webster (@MerriamWebster) April 11, 2017
On top of that, the airline has to deal with the trending hashtag #UnitedJourneys that shares the newest cabin class and other horrible in-flight stories netizens are drumming up in light of the issue.
Don't forget to bring a Pepsi. #united #unitedjourneys pic.twitter.com/zhdjSQitBK

— Herp Derp Merp (@DistractDaily) April 11, 2017
https://www.instagram.com/p/BSwPbqFhvkq/?tagged=unitedjourneys
https://www.twitter.com/BBallScientistX/status/851558947215552512
New emergency exit demonstration for United Airlines. @united #unitedjourneys #BoycottUnitedAirlines #NewUnitedAirlinesMottos pic.twitter.com/hpnbm1oY9m

— Hummingbird 🌺 (@sassansgirl) April 11, 2017
https://www.instagram.com/p/BSu0uakhfYR/?tagged=unitedjourneys
#TwitterPoll: what hashtag should go with the story of overbooked United #UnitedJourneys #Flight3411?

— 🚶🏻Curtis S. Chin (@CurtisSChin) April 10, 2017
https://www.twitter.com/TimdaDispatcher/status/851961013381586944
This is one huge nightmare for United's PR to say the least.
Follow Preen on Facebook, Instagram, Twitter, Snapchat, and Viber