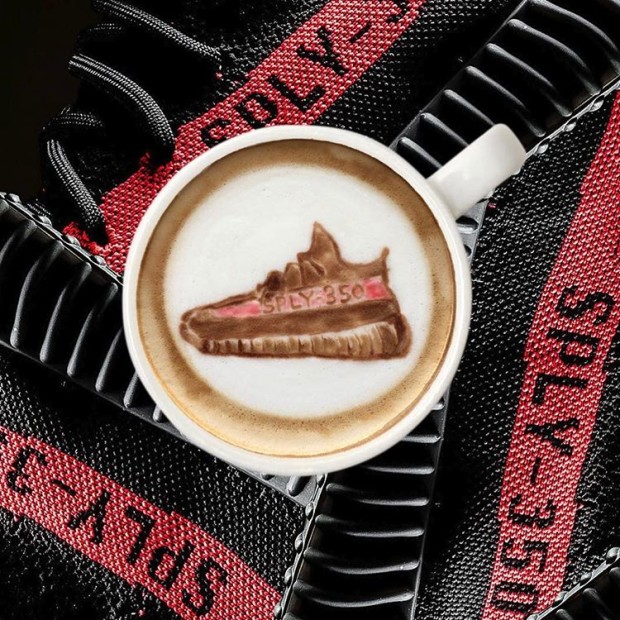 There are two things taking over our IG feed and even discover page: people wearing head-to-toe streetwear outfits and flatlays that include coffee. An Instagram account turned website has merged these to give us the lattes we didn't know we needed.
Coffee N' Clothes
, founded by
Ryan Glick
, started out as an account wherein he would post his coffee shop discoveries. Last January they posted photos of lattes that had logos of designer brands like Chanel and Gucci. The mugs were placed against patterned backgrounds to make them IG-worthy. Earlier last month, they went for a different approach by posting versions with streetwear brands etched in the froth.
We've listed some clothing items you could wear while drinking these designer lattes. If only they were available for purchase. Sigh.
Adidas
If you picture yourself having this latte on a lazy day, pair it with this reproduction of the original Three Stripes Tracksuit and Iniki runners. Who says you can't look stylish when you're on a coffee run? Available at Greenbelt 3
Supreme
We all know that Supreme is notorious for bomb releases, long lines, and selling out (in a good way, unless you're talking about the infamous brick). So why not wear these Rousden Creepers they made in collaboration with Dr. Martens while you sip on your box logo latte. Available online.
Comme des Garcons
 If you're in that I-hope-I-don't-bump-into-someone-I-know sort of mood, then this cap from Comme des Garcons has got you covered. If that isn't enough, the words "DREAMLAND SYNDICATE" stitched on the front should let people know that you would rather drink your latte in peace. Available at One Rockwell.
Champion
This jacket in millennial pink is sure to make any photo Instagram-ready when paired with the Champion logo coffee. Tip: have a friend take your photo while you pose for that perfect shot. Available online.