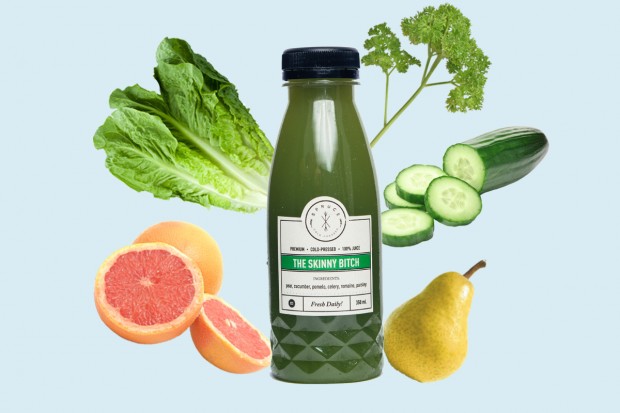 The next brand that's up on our Preen Food Series for cold-pressed juice deliveries is Spruce. Among all the local juice delivery services, Spruce approximates the L.A.-based counterparts BluePrintCleanse and Pressed Juicery in terms of aesthetic and overall hipness. Their bottles and labels are carefully designed, the copy on their website is informative and cheeky, and they're one of the few cold-pressed juiceries who have resisted giving their flavors corny names.
For those who take an anti-cleanse stance on juicing, Spruce offers a convincing argument: "A fun fact about fiber is that the human body wouldn't need it so much if the human body didn't consume so many toxins in the first place. Going on a Spruce cleanse will give your digestive system a well-deserved rest."
Judging from the way they package themselves, your digestive system isn't just going on a rest—it's going on an all-expense paid five-star vacation. On their website, they boast about using high-end Norfolk machines (the "Cadillac of juicers"), which ensure that all enzymes and nutrients stay intact, along with "single-use powder-free non-latex anti-microbial food-preparation gloves and organic hazelnuts." In other words, there's little that this company will scrimp on.
Ultimately, all that swag is going to cost you a pretty penny because Spruce—next to Juju and Juice Barista—is one of the more expensive juice delivery services around.
Program: Each bottle is 300 calories, so depending on your activity level and experience with juicing, a minimum of five bottles are recommended per day. If you're more active, then you can go up to eight bottles. Since they don't use any preservatives or processing, like pasteurization, their juice must be consumed within 48 hours.
A word to the not-so-wise: If you haven't made friends with your vegetables yet, you would do well to steer clear of flavors like Formula 1, Mean Green Machine, The Skinny Bitch, and Smooth Operator. You know that bitter after-taste that greens like malunggay, celery, parsley, and spinach leave in your mouth? Try concentrating that flavor in a 350 ml bottle of juice.
Don't get me wrong: When going on a cleanse, getting your greens is really important, but if you're new to the juicing game, try to break bad habits in by starting with some fruit juices. Lady Luck, Apple of My Eye, and C-Shot would be good flavors to start. If you're lactose-intolerant, Spruce also offers Almond Nut Dream (almond milk) and La Noisette (a chocolate milk substitute made with hazelnuts, dates, and raw cacao).
Rates: Spruce sells their juice at P250 per bottle if you're going to pick one up from their kiosk at Hole in the Wall in Century City Mall. However, if you want your juice delivered, they only accept a minimum order of six bottles at P1,500. This fee, however, does not include a thermal bag.
Delivery: Spruce delivers to the Makati and Fort areas for free, but if you live further, expect to pay between P100 to P400, depending on your location.
Spruce. Hole in the Wall, 4/F, Century City Mall, Kalayaan Avenue, Makati City. For orders, call or text (0917) 897-2108. For more information, visit www.drinkspruce.com
Photo by Patrick Segovia
Collage by Charlene Ng