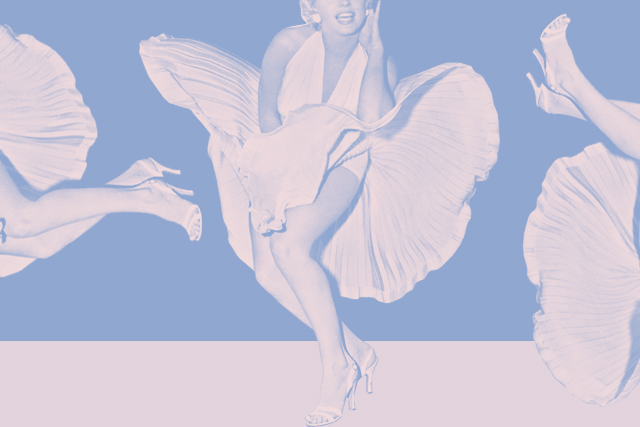 Every week, Preen tackles motherhood sans the rose-tinted glasses. Our columnists L. Juliano, Marla Darwin, Monica Eleazar-Manzano, Rossana Unson, and Ronna Capili-Bonifacio tell their personal experiences like it is—at times frustrating, oftentimes confusing, but always enlightening.
A long time ago, I had merienda with one of my mom's friends. I didn't know her that well but she expressed a desire to hang out with me. My mother isn't the most social of people. She's amazing at balancing books and managing budgets, but she's not a lady who lunches. I was intrigued about the idea of her having friends so I said yes.
We met at a chocolate café near where they hang out and I was nervous to meet her. She complimented me on my outfit and because I'm awkward, I started babbling about my choice of clothing.

"I'm top heavy and I don't like clothes that show my cleavage. I don't like people staring at my chest when they talk to me."
"I really love menswear! I feel most comfortable when I wear button up shirts and straight cut pants!"
"I have really long legs. I learned a long time ago that short shorts don't really work for my silhouette."
On and on I went—because that's what I do when my brain panics and I haven't figured out how to throw questions back.
My mom's friend kept smiling and seemed to like my answers—so much so that she asked me if I'd like to speak to the girls in my high school about clothing and style.
Freeze fame.
I forgot to mention that my mom's friend is on the board of the high school I attended. This is the same high school that told us to cover up our ankles and shoulders because showing them was immodest.
In my high school, it wasn't just about dress codes. To them, how you dress is tied to your morals. Their idea of modesty was woven together with chastity. To dress like a morally upright lady meant not drawing any attention that may be considered sexual. There's an obligation foisted on you to make sure you don't become an agent of evil and lead others to sin. And when I say "others," I mean BOYS.
When the burden of modesty is placed on women, it conveniently shifts the blame away from men. The guys over at the all-boys equivalent of our high weren't bombarded with the same messages about minding their clothing the way we were. The message becomes clear. Men are these virile, sexual creatures and women should stay clear if they don't want to fall victim to their primal urges. Men are allowed to have sexuality while women are not.
When you attach moral failure to your clothing choices, slut shaming and victim-blaming are the natural yields of this kind of belief system. In the high school context of sin, it becomes too easy to categorize someone a sinner for wearing skimpy clothes because she must be a bad person. In my day, we'd be whispering and buzzing about the girls who started wearing tank tops to parties. As we got older, we'd take notes on who were the first ones who moved away from one-piece swimsuits and donned bikinis. Underneath all the observation ran an undercurrent of judging each of the girls' virtue.
Unfreeze frame.
I smiled and nodded at my mom's friend, but I knew I couldn't do this talk.
How I typically dress these days isn't a result of modesty—it's informed by a desire to express myself through clean lines, better tailoring, and homages to my pop culture heroes. I have no desire to categorize ways of dressing as a measure of a person's worth.
I mentioned it to some girl friends over lunch and they kept telling me to do it. They told me to find a way to make it subversive—to show pictures of Patti Smith and Chloë Sevigny. To find a wake to wake up their spirit for self-expression and freedom under the guise of learning how to get creative with dress codes. I also said no to that because I'm not as passive aggressive as I used to be.
Now that I have a daughter of my own, I do wonder now how I would approach the subject of dressing up. There are parameters surrounding dressing appropriately and there's a way to do it without channeling your purity.
I plan to anchor self-expression as a concept that has to straddle propriety and respect. I'll be teaching her to identify the social cues the surround certain occasions and to follow these things is a demonstration of graciousness. I'll tell her that there will always be a time and place to get wild—it's why I wore retro polka-dotted dresses to gigs and wore sequined pair of high-waisted shorts with a neon bandeau top during one hot summer in Brooklyn.
And as her guardian, until she understands her sexuality and the power she wields over it, she is not allowed to dress for the male gaze or the societal standards of what's desirable while she's on my watch. I'll help her figure these things out and help her discern what values are important to her, to me, to us.
While she's with me, we'll learn the difference between fashion (which is temporal, fleeting) and style (which is personal and emanates from within). We'll study fashion as an art form and as an identifier for the times. Because her mother is a graphic designer, clothing will also be an avenue to discuss color theory, balance, proportion, and function. Because her mom believes in intersectionality, we'll also discuss where our clothes come from, who makes them, and how much we allocate to get a hold of them.
Then when she's out of my jurisdiction, I will hope and cross my fingers that my daughter retains valuable insights from her time with me. This is all with the understanding that there will come a time there her life and her decisions will eventually be out of my hands—and all I can do is hope and trust. I will still love her and think no less of her if she walks up to me in fishnets and platform heels. These would be the things I'd love to tell a bunch of high school girls.
Disclaimer: The views expressed here are solely those of the author in her private capacity and do not in any way represent the views of Preen.ph, or any other entity of the Inquirer Group of Companies.
Art by Yayie Motos
 Follow Preen on Facebook, Instagram, Twitter, Snapchat, and Viber